Spring Cleaning Tips that Make Garage Cleaning Easy
Spring Cleaning Tips that Make Garage Cleaning Easy – A garage's main purpose is to be a source of security and shelter in which to park a car, but they can also easily become a home's dumping ground storage area. Be it piles of clothes that are no longer worn or outgrown by the kids, broken items that can't just be easily tossed in the trash can and need to be hauled off somewhere, or piles of outdoor items that just don't have their own space yet. As we have come into the beginning of the spring season and the sunshine energizes us and encourages to bring new life to our home, there has never been a better time to get that garage cleaned up and organized.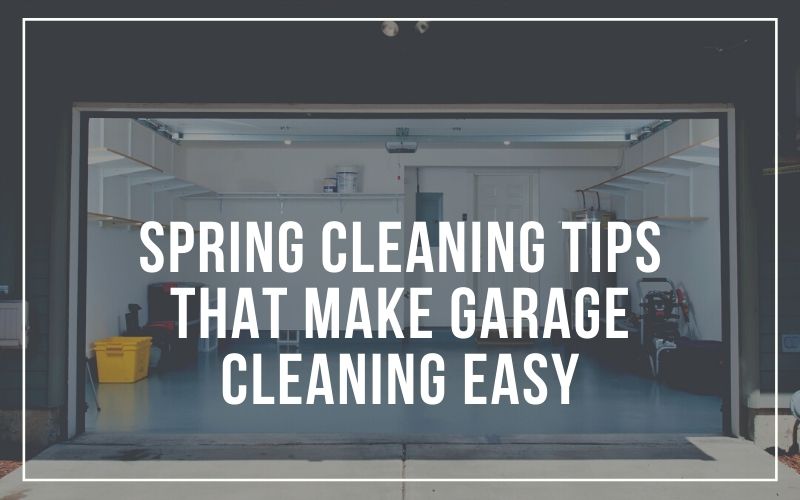 Here are some easy ways to get your garage cleaned and organized and working as a helpful space to store items in your home. Spring Cleaning Plan
Start with a Plan
Start with a main goal or main function for your garage in mind. Do you need easy access to spring sports gear for the kids? Do you need a better place to store tools that makes them easy to find when needed? Does the garage need to function as extra storage space because the attic is too small? Having a master plan and a picture of what you want the final product of your garage to be will help to make all of the next steps to getting the garage clean and organized and flowing more smoothly.
Pick a Process
Getting from where the garage currently is to where you want it to be can get quickly overwhelming. The best way to get yourself from point A (messy) to point B (main goal) is pick a process that works for you. Most professional organizers will tell you to start with getting everything out of the space and then organizing it into piles of what you will keep, trash, donate, and sell. This process can take a few days, so if this approach feels like too much to you consider trying it on a smaller scale, like pulling and categorizing all of the items in one smaller section like the front half of one wall.
Resist the Urge to Hold on to Things You Do Not Use
As you go through each item in the garage, if there are things you are debating about in your head if they should go, ask yourself, "when was the last time it was used and when do I plan to use it again?"
Choose an Organizational System
If your garage is just bare bones and you do not have an organizational system to put things back into, now it the time to pick one out. There are several different types to choose from so the best way to go about deciding on which one would work best is to remember your end goal and what you want the main function of your garage to be. A great choice for a garage is a system that has both shelves and utilizes wall space by hanging items. This frees up more floorspace.
Some Items Should Not Be Stored in the Garage
Unless your garage is insulated, there are some items that should not be stored in there because they are still subject to harsher weather as well as pests. This includes anything that is fabric or paper. A great tip for spring cleaning time.
Create a Smart Place to Put Everything Back Into
When putting items back into a home in the garage make sure there is a system to it. Ask yourself what items will you need to use the most and put those in the front. Additionally to find things easier put them in separate categories i.e. place like things together in sections. It may feel like you are overdoing it at first, but you and everyone in the home will appreciate being able to find something quickly when you need it. Especially, when you are in a rush to get to that soccer game.
For more information on custom-built sheds in Snohomish County and surrounding areas contact us any time or come and see us in the Smokey Point area.
We construct Custom Garages, Mini Cabins, Sheds, and Decks
More on Sheds and Garages: