Ideas to Make a Backyard Guesthouse Welcoming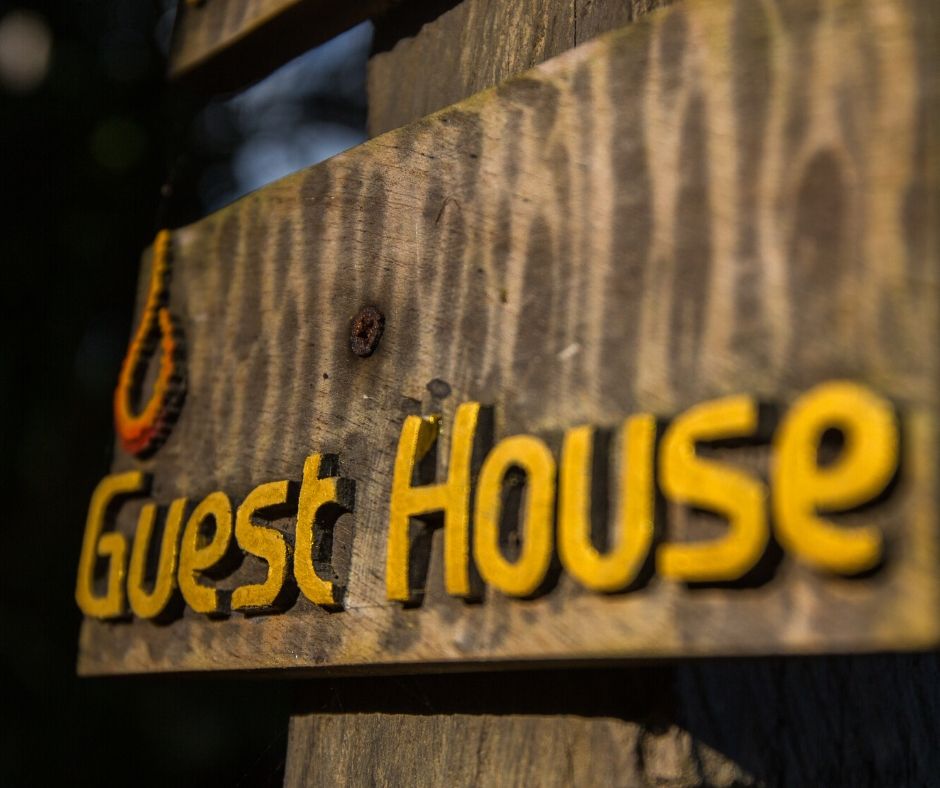 Guests houses are usually thought of as an amenity of super high-end luxury homes that have large yards. If your property is zoned for an accessory dwelling unit you can add a backyard house in almost any space. Think of it like this, if you have enough room for a medium size storage shed in the yard, you have plenty of space for a guest house.  
A guest house can have many beneficial uses from giving guests their own privacy and space to feel completely comfortable to make themselves at home, to a place to house elderly or college-age family members, to an opportunity to bring in extra income as a rental (as long as zoning laws permit.)  
If you are planning to build a guest home in your yard for the purpose of hosting overnight guests on several occasions you will want to turn it into a space that feels like home. Here are some ways to create a welcoming guest home.  
Imagine Yourself Staying in It 
When you think of the ultimate guest room that you would love to stay in what comes to mind? What would you expect from a top tier hotel? Try to make your space similar to this . Your budget may not be large enough to accommodate all of these ideas but you can incorporate some things.  
Get a Comfy Bed 
Don't just stick the old hand me down bed that your son/daughter no longer uses in there. There are actually a good number of highly-rated mattresses at affordable prices available today. Many people go with the bed in a box option as an affordable way to get a comfortable bed. Add some simple yet luxurious linens to add to the comfort and appeal.  
If you have the money to do so up your bedding game by offering a few different types of pillows or an extra blanket for those that get cold at night.  
Extra Linens  
Have an extra set of bed sheets handy just in case. And make sure to supply plenty of towels to account for the need for more than one shower a day if needed. 
Leave Space for Luggage 
Don't worry about filling every space in the room. Less is more in a guest space. More space gives guests a feeling they can relax and spread out. Plus they need somewhere to put their stuff. If they have to shove their bags in a tight corner and it is awkward to access their belongings that doesn't feel warm and welcoming.  
Provide a Comfy Place to Sit
Some guests do not want to hang out on the bed all the time. Provide a place to sit and relax when they just want to hang out in their room. An armchair with a small table and lamp nearby are a great way to provide space for hanging out.  
Put a Light Next to the Bed 
When you are in a room you are unfamiliar with the last thing you want to do is have to stumble through a dark room to get into bed. Allow your guests the ability to turn the lights out without having to get out of bed. This can be done with the use of bedside lamps or an extra light switch right next to the bed.  
Window Coverings 
Don't forget the window coverings for privacy and a sense of added security at night. The ability to cover up the windows while dressing is very important. If you have a separate living space in your guest room from the bedroom don't assume that it is good without window coverings. Some people prefer to close the window covering in the evening for privacy.  
Keys 
Give your guests extra security that they and their belongings are safe by giving them a set of keys to the guest house so that they can come and go and keep others out as they please.  
Share the House 411 
If you have a security system, wifi, Netflix login, community amenities like a pool, etc. Let your guests know how they can access and use these items while they are staying with you. A great and easy way to do this is with a welcome letter that you have a template for ready to print out and leave on the bed or night table or right inside the door as they walk in.  
Provide Snacks and Entertainment 
Help your guests feel extra warm and welcome by providing some snacks, bottled water, movies for the tv, games, and books. Provide them with things they may usually use at home when they are settling in for the night and getting ready to go to bed soon. Or things they may like to have when they first wake up in the morning and are hanging out before they are ready to join everyone else for the day. A small coffee pot or electric tea kettle and warm drink mixes with mugs and cream and sugar go a long way to help someone feel at home too.  
Filling your backyard guesthouse with these items will create a space that will have all of your friends and family wanting to come for a visit. If you are looking to build a backyard guest house please contact us anytime. We have great pre-built plans including mini cabins, garages, and more in our Marysville showroom to check out as  well as a build as you go program.  
More on Sheds and Outbuildings: