Reasons to Insulate Your Detached Garage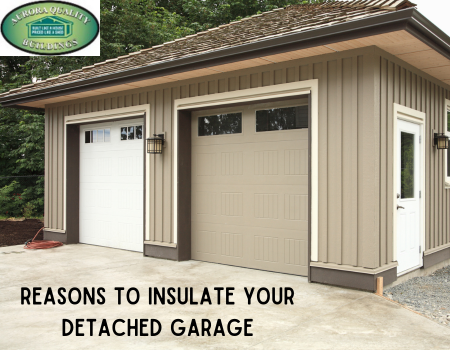 Adding a detached garage to your property can create storage solutions, protect your vehicle, provide valuable work space, and add value to your home. In order to get the most out of your detached garage design, it is essential to pay careful attention to the design process and thoughtfully select the features that will be most useful to you.
This includes thinking carefully about the right flooring for your detached garage and deciding if a second story or loft area might be right for you. Another choice to you need to make is whether your detached garage should be insulated.
Our detached garages are made from high quality materials and can be customized and upgraded to meet your unique needs. Contact us any time to learn more about designing a detached garage that's perfect for you, and consider these reasons that insulating the detached garage might be the right choice for you.
When to Insulate Your Detached Garage
1. The garage will double as a workspace
Many of our customers are designing a detached garage that can serve more than one purpose. In addition to providing protected parking for their vehicles, the detached garage will serve as a workshop space. If you plan to be spending time in the garage as your workspace, you will want to be comfortable.
Whether it's heating or cooling you're after, insulation is key to making sure you can keep the space at a comfortable spot so you can keep working on your project as long as you would like. Even if you opt for a space heater or small air conditioning unit, you will waste a significant amount of energy operating these solutions without insulation so support them.
2. You will store temperature-sensitive items in the garage
Consider what you plan to store in the garage and whether dramatic temperature changes might damage it or put anyone at risk. Many people plan to store flammable materials and chemicals in the garage, like cleaning supplies, fuel, or paint. An insulated garage can keep these hazardous materials at a safe temperature.
You may also decide to use your detached garage storage space for an emergency food and medical supply. Consistent temperatures will be essential for the safety of these items.
If you know you will only be storing your vehicles in the garage, this may not be an issue, but spend some time carefully considering how you plan to use the space.
3. There are more ways to use the garage in the future
If you insulate your garage, you will keep your options open. The detached garage may be used in different ways over the course of the time you have it. Even if your current plan is to have a place to park your vehicles and add some storage, you may decide to upgrade the space in the future to be a home gym, a guest house, or an office space.
When the garage is insulated, you're already one step closer to the space being ready to be used in another way. Whether you live in a climate with hot summers, cold winters, or both, the insulation will make it easier to use the space in the way you want without as much concern over comfortable temperatures.
4. It may help deter pests
When you pair insulating with overall sealing of the garage, including weatherstripping and paying careful attention to any gaps around doors and windows, you will likely be able to keep more pests out of the space. Insulation can be an added layer of protection in your pest control plan, protecting any vulnerable items you will store in the garage and keeping everything more hygienic.
Ready to begin designing your detached garage? Contact us any time to get started.