Choosing the Right Flooring for Your Detached Garage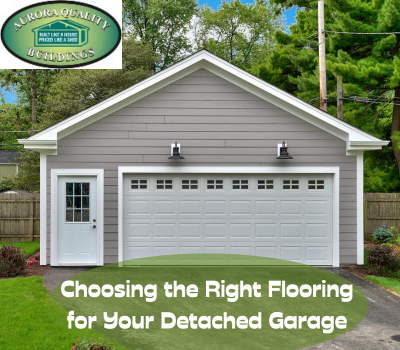 Our custom detached garages can solve many problems, including the need for extra storage space or a desire for a multi-purpose structure that can double as garage, workshop, and more. We can help you select a design that meets your needs and budget, and you may be surprised to see just how easy it is to finance the project.
To learn more about ordering a detached garage for your property, contact us any time. For more information about designing a garage that meets you needs, consider how you will finish the interior after the structure is built.
When it comes to designing and outfitting your detached garage, selecting the right flooring is a crucial decision that can greatly impact both the functionality and aesthetics of the space. Whether you plan to use your garage as a workshop, storage area, or even an extension of your living space, the flooring you choose should be durable, safe, and suited to your specific needs.
Purpose of the Garage
The first step in choosing the right flooring is to determine how you intend to use the garage. Are you planning to use it as a traditional parking space for your vehicles? Will it serve as a workshop for DIY projects, a home gym, a storage area, or even a recreational room? Different uses require different flooring options that offer the appropriate level of durability, comfort, and functionality.
Durability
Garage floors endure a significant amount of wear and tear due to heavy vehicles, foot traffic, tools, and equipment. Opt for flooring materials that are highly durable and capable of withstanding the weight and impact of vehicles and heavy objects. The flooring should also resist stains, chemicals, and oil spills that are common in a garage environment. While it makes sense to choose something with a look that you prefer, remember to prioritize resilience and durability in your selections.
Safety and Traction
Safety is paramount in a garage environment, especially if you're working with tools or equipment. Choose a flooring material that provides adequate traction to prevent slips and falls. Some options, like rubber flooring and textured epoxy coatings, offer good grip even when wet. After you have determined the purpose of the garage space, you can more easily select a flooring that will be most safe for the way you will use the space.
Climate Considerations
Consider the climate of your region when choosing garage flooring. If you live in an area with harsh winters, for example, you'll want a flooring material that can withstand temperature fluctuations, freeze-thaw cycles, and potential moisture. Epoxy coatings and rubber flooring are generally more resilient in such conditions.
Types of Flooring
Concrete
Concrete is the most common garage flooring material due to its durability and affordability. While plain concrete is durable, you can also consider options such as stamped concrete, stained concrete, or epoxy coatings for added protection and aesthetic appeal. If you prefer the natural look of concrete, you can consider using concrete stains and sealers to enhance its appearance while providing protection against stains and wear.
Epoxy Coatings
Epoxy coatings are applied as a liquid and cure into a hard, seamless surface. They provide excellent resistance to chemicals, stains, and impact. Epoxy coatings can also be customized with various colors and patterns, adding a touch of personalization to your garage.
Rubber Flooring
Rubber flooring is known for its impact-absorbing properties, making it a great choice for workshops or fitness areas. It's comfortable to stand on, easy to clean, and provides insulation against cold floors. This is also an easy flooring to install, ideal if you are looking for a DIY option.
Interlocking Tiles
Another garage flooring option that is easy to DIY is interlocking tiles. Tften made from materials like PVC or rubber, interlocking tiles are easy to install and come in various patterns and colors. They offer good durability, especially in areas where floor imperfections may be present.
Vinyl Flooring
Vinyl flooring is water-resistant, easy to clean, and available in a range of designs. It's a suitable option for garages used as recreational rooms or additional living spaces. While not best for parking vehicles, this is a great option for a low maintenance flooring in a garage that will supplement your home's living, work, and storage space.
When you are ready to design your detached garage, we are ready to help. Contact us any time!