10 Things to Consider When Buying an Outdoor Shed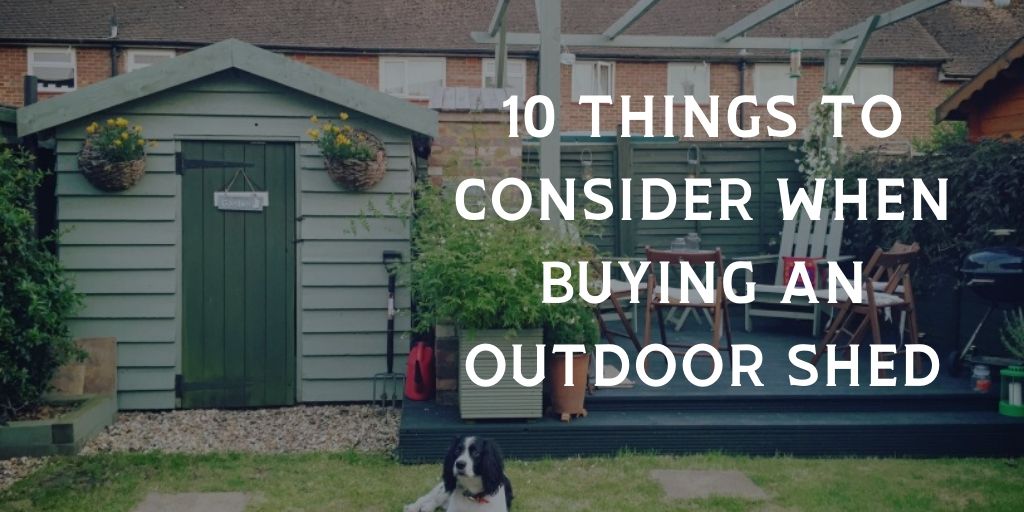 Are you planning to put a backyard shed on your property or maybe just an outbuilding? A shed can provide so much additional space and protection from the elements for garden supplies, equipment, hazardous materials, or anything you want to store outside of your garage, especially if you don't have a garage in general. If you're starting your search for outdoor sheds or outbuildings here are 10 things to consider when buying an outdoor shed.
#1. Price versus quality.
Don't let price be the determining factor in your outdoor shed. Remember, you want this thing to last for years and be durable against the elements, weather, people, pets, and wildlife so while you may not want to break the bank, cheapest is definitely not best when you're talking about an outdoor shed.
#2. Design.
Outdoor structures are not simply for storing unsightly items or for protection. Outdoor sheds can be a wonderful addition to the overall appearance of your property. It should complement the style of your home. If you have a country-style home, you want your shed to have a more rustic design with the board and batten siding. If your home is more formal, you may want an outdoor shed with more formal features.
#3. Is it going to blend into the landscape?
Consider where it's going and will it blend seamlessly into the landscape #or, maybe you don't want it to and you wanted to be a focal point in your backyard. However, you don't want it sticking out like a sore thumb so you can establish garden beds around a shed and complement them with annuals, perennials, and shrubs, however, don't let the shrubs and trees get too close to the siding as it can slowly wear away the durability of the siding, as with any building including your house.
#4. Which materials work best?
Are you going with wood, metal, or plastic? Metal can last for a very long time but wood sheds typically have stud framed walls like a house or garage then covered with plywood siding. They typically last just as long as a normal house would and would be just as durable. Plastic will eventually give way including vinyl or resin and metal can be flimsy. Metal sheds typically have a metal framework covered in a skin of factory painted vinyl or plastic.
#5. Consider HOA Rules.
Does your subdivision have zoning rules or homeowner association laws that need prior approval? There may be bylaws concerning sheds or outbuildings and it may be required to put it a certain distance from your property line or your house. The overall height may be another issue. You certainly don't want to buy something and realize the size simply won't work for your location or your subdivision.
#6. Flooring and foundation.
Some sheds don't have a floor at all but wood sheds will have standard framed floors with plywood flooring. This is the most secure and the way we install is on rails and treads making it secure, level, and durable. It's always best to install a shed on a foundation that keeps the shed off the soil or wet ground. We use pressure-treated wood timbers or concrete blocks.
#7. Will you install it yourself?
At Aurora Quality Builders we do everything for you and we can come in and out in one day leaving you with a beautiful backyard shed. However, if you select a shed from your local home improvement store you can ask it to be professionally installed or at least delivered, but again, having a quality shed from Aurora Quality Builders means that everything is done correctly and you won't have to worry about missing a part or two.
#8. Access.
You want to make sure that the entry to your shed is wide enough to accommodate your largest piece of equipment that you'll be storing it in. Lawn tractor, mower, or other equipment will need to fit so do some measurements on the items you'll be storing in your shed before finalizing your decision.
#9. Decorative.
Some of the little decorative touches can make all the difference in the world. Are you looking for custom doors, windows, decks, overhangs or window boxes? These little personal touches can really add to the charm of a backyard storage shed.
#10. Additional storage.
There are several ways to create your custom shed either with a vertical shed, horizontal shed, or corner shed and we can custom design any of these sheds to fit your lifestyle, budget, and what you'd like to store in it.
For more information feel free to give us a call or stop by our showroom on Smokey Point Blvd. in North Marysville. We have several backyard and outdoor sheds to choose from and explore and of course, we can customize any design when you're ready.
More on Sheds:
Should you Build Up or Build Out?
5 Great Ways to Use a Storage Shed
Builders: Construct the Shed Before the House
Landscaping for Subdivision Developers
8 things Never to Store in a Storage Shed