How to Pay for Your Detached Garage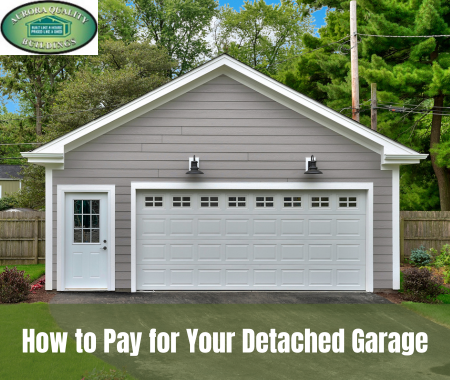 Adding a detached garage to your property will benefit you in many ways. It can increase your property value and resale appeal, greatly increase the storage in your home, and of course provide a place to park your vehicles.
Our detached garages can be fully customized for your unique needs, measurements, and location, and we can even discuss options such as attaching it to your existing house or adding on to an existing garage or carport. Contact us any time to learn more!
If you are considering adding one to your property, this post is for you. Your detached garage is an investment, and there are a few ways to fund it.
Refinancing
A detached garage can immediately increase your property value. Because of this, it is a good candidate for the use of your home equity. Cash out refinancing, a home equity loan, or opening up a home equity line of credit are all smart ways to fund the investment.
Because a shed can add value to your home, taking out some of the equity in your home to fund the investment is a wise choice for many homeowners. To make the best use of your equity, make sure you design a shed that will increase your property value as much as possible, by making sure to place it on a poured foundation or by adding features that allow the shed to be seen as additional living space, such as electricity and upgraded insulation.
Our Financing Available
For those interested in alternatives to paying cash or leveraging equity, we have financing available. Our loans are hassle free and require no down payment, with low interest rates if you have excellent credit and sign up for automatic payments. There are no fees, no equity requirements, and no appraisals required for these fixed rate, low-interest loans.
Our efficient turnaround times mean many people see their loan funded the same day they apply. The simple application process can be completed from your smart phone, tablet, or computer for amounts from $5,000 to $100,000. Take 5 minutes out of our day to find out what you qualify for and what your rate would be; we expect that you will be pleasantly surprised.
Create an Income Stream
Your detached garage can also be designed in a way that it can help pay for itself. Some of our garages can be designed with a loft area that can be transformed into an apartment. With the right design, this above garage loft can be listed as a rental property or short term vacation rental, and the revenue can be used to pay for the structure.
The loft apartment area can be fully insulated, with plumbing, electricity, and even air conditioning to make it a comfortable living space. Add windows, skylights, and a balcony to create a truly comfortable space for one or two people to live. If you live near a popular tourist attraction, you may be surprised just how much you can earn from offering this above garage apartment as a short term vacation rental.
To learn more about designing a detached garage that meets your budget and your needs, contact us any time.