7 Essential Items for a Tiny Home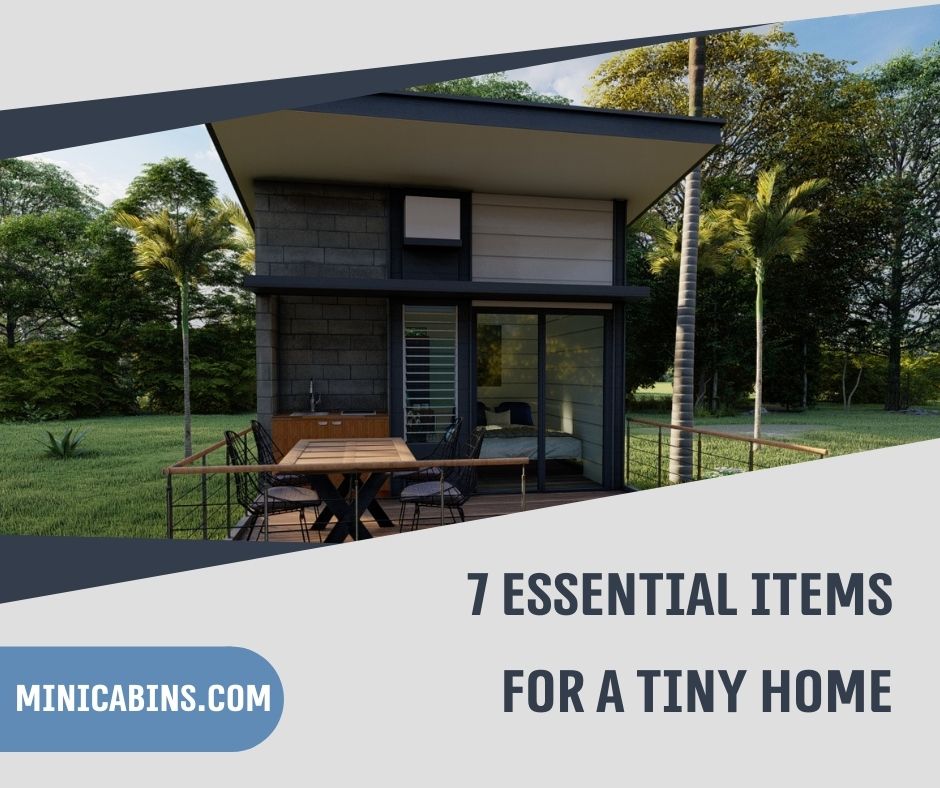 Thanks to the allure of a lower cost of living and the possibility of a more comfortable lifestyle of living within financial means, adorable tiny homes have become more popular than ever. When deciding to purchase a tiny home there are several things to consider above the dream of living a less hectic lifestyle with more money.
The majority of tiny homes measure less than 400 ft.² and owners must be aware of space limitations and how they will plan out carefully to continue to live a comfortable lifestyle with space restrictions. A tiny homeowner will need to be creative when it comes to fitting in storage space, appliances, furniture, and more into such a small area. But this could be the fun part, Who said a challenge was a bad thing?
If you are planning to build a tiny home and design it from scratch here are seven essentials you want to make sure you have.
Composting toilet
If you plan to live the off-grid lifestyle and will not be going the longer route of hooking up your home to the standard sewer lines in your area then a composting toilet is a great way to go.  We can all agree a toilet is a non-negotiable necessity in your home. A majority of tiny homeowners are unable to have their homes in a location that allows for full sewage hook up and easy disposal. A composting toilet allows you to have a waterless toilet that is environmentally friendly to use.
Hooks
This one may sound silly or very not glamorous or unimportant. Hooks are actually very useful within tiny homes as they allow you to use walls as a storage space and get more things off of the floor. Hooks can be your best friend in a tiny home. They can hang clothes, kitchen utensils, pots, and pans shoes, and much, much more. You'll be surprised at how essential and useful a hook is in a tiny home.
Combination washer and dryer made for a tiny home
One of the best ways to fit a washer and dryer into a tiny home and have clean fresh clothes is to go with a washer and dryer that is made for a small unit. Some people like to go with a separate washing and drying unit that is stackable and others like to go with a machine that does both the washing and drying. These are both nice space-saving solutions for a very practical everyday job that's got to get done. Though some tiny homeowners would say to opt for the stackable separate washer and dryer as the dryer will be able to dry your clothing much more quickly.
Shelves
Again, any storage solution that can help you make use of your vertical space to make it feel like you have more horizontal space is a lifesaver in a tiny home. Adding a shelf to every possible area can help to get more items off the floors and make use of those walls that we tend to forget about in a traditional larger space.
Stovetop and oven
When it comes to tiny home kitchens many people think that they have to give up a huge number of traditional items found in a home's kitchen. But you actually have several creative items to choose from when designing a tiny home kitchen. Especially as tiny homes become more and more popular and more companies begin making items for tiny homes. You can actually get a very nice stove and oven for a tiny home kitchen that can rival even the highest quality full-size counterparts for traditional homes.
Sofa bed
If you plan to have a guest over, a futon or other means of a pull-out couch that turns into a bed is going to be essential for making a creative and comfortable guest space. A sofa bed of some kind allows you to have double duty in your living room. If you go with a futon, make sure that it is comfortable enough to both sit on and sleep. Don't just focus on one aspect of its functions, or you will have buyer's remorse.
Compact refrigerator
When storing and keeping food, you either need to get extremely creative or you will want to have a refrigerator. Finding the best fridge for a tiny home of course will depend upon its size and the amount of electricity that it needs. Some people advise you to pick out your fridge before designing your kitchen space. This allows for making sure that you can fit the fridge you want and need into your home. Many times, tiny homeowners will opt for the smallest fridge they can find, but end up not loving their kitchen because there is not enough food storage for comfortable living.
For more information on tiny homes in North Snohomish County come by and see us anytime or contact us via email or phone.
More on Tiny Homes in the Pacific Northwest