Hosting Thanksgiving in a Tiny Home
When you live in a tiny home, hosting Thanksgiving dinner can seem like a funny joke or a stressful daunting task. With just a few hundred square feet, and no actual dining furniture, as well as small appliances, and very little space per person, it may seem impossible. But with the right plan you can throw a fun and successful Thanksgiving feast that everybody will be grateful for.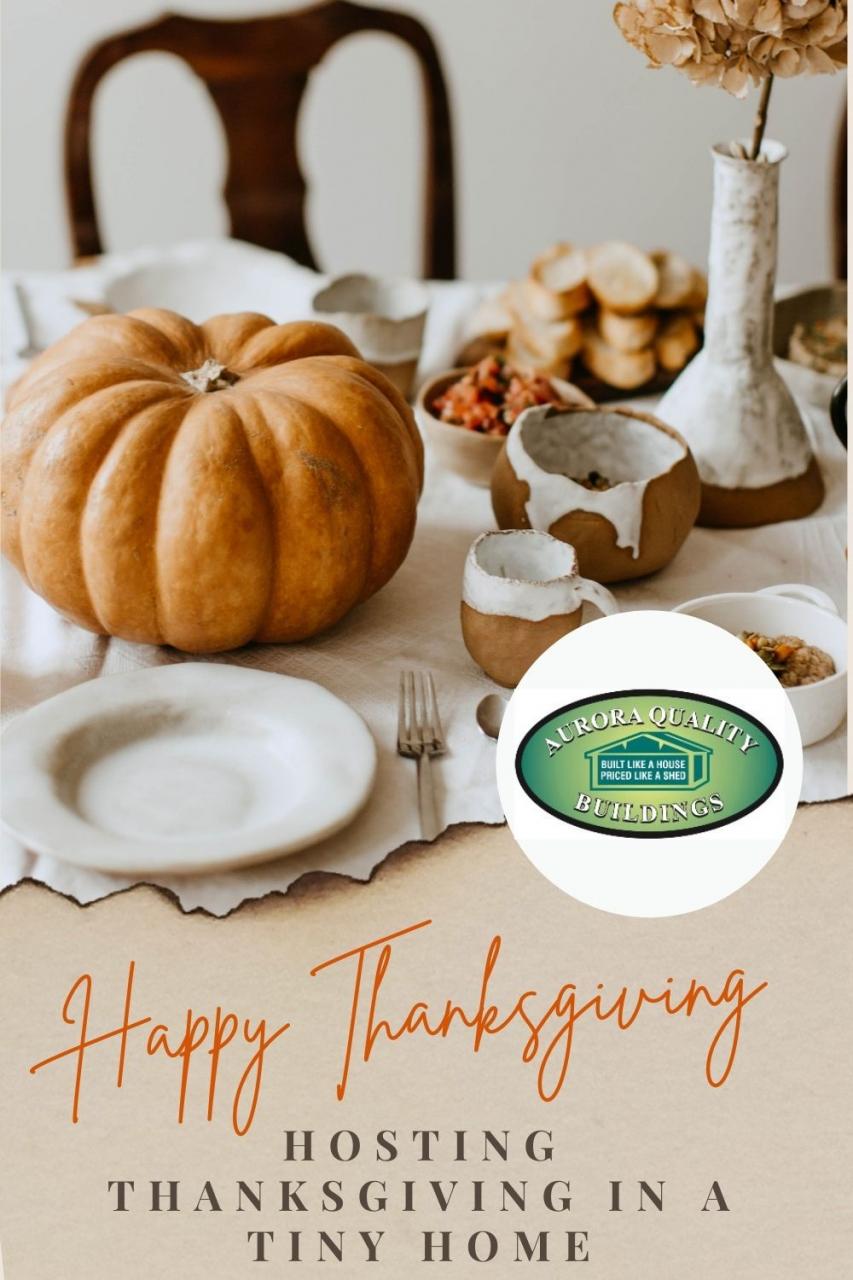 Make a detailed menu plan, but keep it simple
All the items needed for a traditional Thanksgiving meal can be a little much for a tiny home. You want to make sure that you develop a strategy that fits into your cooking space before just going out to get all the traditional items and becoming overwhelmed. It is OK to keep things simple, especially the menu, like sticking to four of your favorite holiday traditional menu items.
Make a list of every ingredient you need to pull off your favorite dishes and think about how much space you have in your refrigerator and pantry to hold those items until you need to begin cooking. You will also want to consider how much space you will have to keep those items fresh until you serve them.
To help with a need for space and keep things within a time schedule that is not stressful, you could choose some side dishes that are easy to make ahead of time and easy to reheat right before dinner. You could also choose a menu item that is served at room temperature to help with oven space, like a salad.
Let your guests know the menu items you plan to cook, and if they would like to bring one of their favorite items, invite them to do so. The first Thanksgiving was all about sharing and bringing things to the table, so why not keep with tradition.
Getting creative with seating arrangements
If you do not have a large designated dining space as is the case in many tiny homes, it is no reason to panic or believe that you cannot host an enjoyable meal for other people. Many times, a casual dinner where everyone can sit wherever they please is enough, because the day is all about the company in which you are keeping.
You could even help people to find a creative place to sit, like on a stepstool or even the ladder that goes up to the loft. Just make sure that you clear out as much clutter from the area in which your guests will be eating to create as much comfortable space as possible. It is also good to have a plan for coats and bags that your guests will have with them, so they do not get into the way.
Think ahead about a cleanup plan
One of the biggest clutter causers on the day of Thanksgiving is the aftermath and leftovers from the meal. A few ways that you can reduce the clutter, or being stressed out by too much food hanging out in your tiny fridge, is to ask your guests to bring some Tupperware with them to take home some leftover yumminess to enjoy the next day.
Another way to help keep your sanity and keep the clutter down in your tiny space is to clean up items as you go, like tidying up your workspace through the process of making a dish. As soon as you are done with an ingredient you can put it back in its home, and as soon as you are done with the preparation of the entire dish you can clean up the other dishes that you used to create it before getting more dishes dirty.
For more information on tiny home living, including tiny homes in North Snohomish County, please contact us anytime or stop by and see us to see our products in person.
More on Tiny Homes in the Pacific Northwest