What to Know About Building a Tiny Home on a Foundation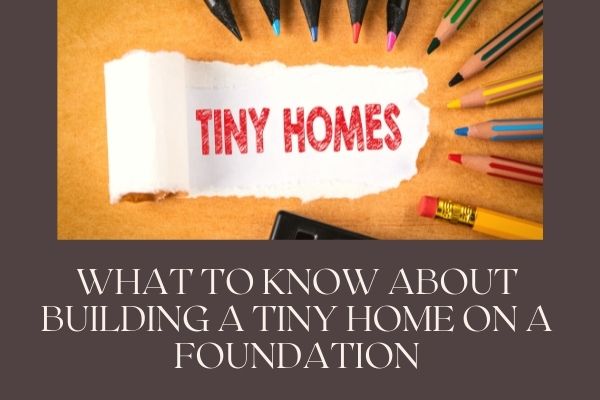 When tiny homes were first being built they most often were put on a trailer to make them mobile. In fact, some tiny homeowners didn't even consider the possibility of building a permanent structure on a traditional foundation. But, as tiny homes become more and more popular, building homes directly on a foundation has become more common.
Here are some types of foundations to consider if you were thinking about building a tiny home on a foundation.
Types of foundations possible for tiny homes
Slab foundation
A slab foundation is probably the easiest tiny home foundation option to use. A slab foundation is simply a concrete slab poured over a level area of land. It is created by first putting together a wood frame called a form and then filling it with concrete to create a slab or platform. In some cases you may need to inlay some rebar or wire mesh to reinforce the pad but this is not always necessary. In most cases a 4 to 6 inch thick slab is all you need for a tiny home.
Vented crawlspace foundation
A vented crawlspace is formed with short walls that you build your home upon. To build this foundation footers are poured around the edge of the foundation and walls are built around those 2 to 3 foot tall footers. Crawlspace foundations can be great to run wires and plumbing underneath a home. If there are any issues with these systems in the home you can gain easy access by crawling under the home to address issues. The crawlspace walls will have vents to allow moisture to get out and a small opening for you to crawl in. There is a downside though in that a crawlspace can typically be dark, dirty, and be a home for moisture.
Sealed crawlspaces
A sealed crawlspace is basically another way of describing a mini basement on a tiny home. This sealed in space differs from the vented crawlspace because there are no ventilation openings to let in the free flow of air from outside. A sealed crawlspace is preferred to cut down on moisture issues and keep bugs out of the foundation or from entering the home from the foundation. A bonus to a sealed in crawlspace or basement area is that you can use it for storage. This is built much like a vented crawlspace with the walls, but a floor is poured after the walls are built. It is important also to make sure a vapor barrier is installed.
Basement foundation
This is the most costly of tiny home foundation options because you'll be building down into the ground and this requires more engineering and planning for your tiny home. The additional square footage that you will gain from a basement is a perk for extra storage or additional living space. Using a full basement foundation for your tiny home could create more hoops to jump through with building codes and zoning requirements though as well as extra costs to make sure that it is constructed properly and safely.
Skids or runners
Skids or runners are another options for a tiny house foundation that can serve for a semi-permanent foundation that still gives you the option to be able to move the tiny home to another position should you want to later on. A skid or runner foundation is a large group of timbers placed on the bottom of the house that act as runners to drag the house on. Sometimes these skids or runners are made out of steel or a combination of lumber and steel.
Piers or tube foundations
This type of foundation is probably the least heard of type of foundation. It is a footing placed in a grid pattern into the ground with a bracket on top. The bracket connects to the under frame of the tiny home. The piers are rows of poles laid out in a grid with large timbers running between them to form the subfloor framing of the actual tiny home. This type of foundation is not heard of as often but can be a great option for a tiny home being placed on a sloped property where the placement could be a challenge.
For more information on tiny homes or our mini cabins in Snohomish County please contact us anytime or come by and see us in the northern part of the county near Arlington and Marysville.
More Tips on Sheds: