Why Our Mini Cabins are Better than a DIY Tiny Home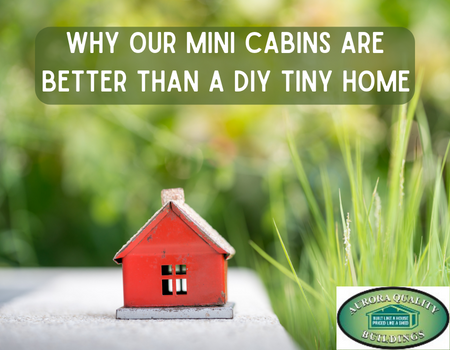 The tiny home revolution is real, and we think this new way of living is here to stay. Whether you are considering building a tiny home for your new primary residence, a guest house on your property, a new rental property, or a temporary living solution while you build a home, our mini cabins can provide the perfect canvas for your plans.
When you set out to build a tiny home, you will have to decide between buying something already built, a DIY design, or a custom building like ours. We believe our mini cabins, which can be customized and upgraded to fit your needs and preferences, are the best of both worlds between your own custom project and something pre-fabricated. Contact us any time with your questions about the design process and quality of this style of tiny home.
Wondering why we believe our mini cabins are better than a DIY tiny home project? Here are some of the reasons.
1. You control the design without worrying about what you don't know
Setting out to design and construct your own tiny home might be daunting. Unless you have a large amount of relevant experience, you might be in for lots of surprises in the construction process.
When you design a tiny home with us, you get to have that customization and personalization without having to worry about something you might be missing.
2. The timeline will be more predictable
If you have any experience with DIY projects, you know the timeline is often much different from your original expectation. This is particularly common with people who decide to build their own tiny home. The time required to design the home, make sure it's going to be safe, stable, and long-lasting, and then the time to order the supplies can all take a significant amount of time. And that's before you've even begun construction!
Chances are, you don't have as much time to work on this design as you may think. Ordering one of our custom mini cabins allows you to get the customization and features you want with a more predictable timeline and outcome.
3. You can still get the custom design you want
When you buy one of our mini cabins, it's not like many of the pre-fab options you will find online. These are totally customizable, with standard features to ensure high quality construction and plenty of flexibility beyond.
If you like a certain tiny home but wish it had a loft, we can add one. If you need it to be me accessible for someone with mobility challenges, we can get creative to find a solution. Whatever you are dreaming for your tiny home, let us know and watch as we find a creative design that works for you.
4. Our decades of experience work to your benefit
We've been building these structures since 1989. That means you get to benefit from decades of experience we have had, rather than learning things the hard way. We can help advise you about features you may wish you had added, insulation and ventilation you need based on your climate, the type of foundation you need, where to place it on your property, and many other factors that will make a significant difference in your experience.
5. No unpleasant expenses and surprises
The price of your tiny home as a DIY project can be virtually impossible to predict. Even if you have a good ballpark estimate, it is almost certain that you will run into unpleasant surprises during the building process that result in equally unpleasant surprise expenses.
When you buy a tiny home with us, we work together to create a design that fits your needs and your budget. The cost will be predictable based on our base prices and any customization or upgraded features. You can check out the cost of the building options and upgrades here, and let us know what your budget is so we can find a design that meets your needs. We can also help you access financing, which is often much more challenging when you are looking to get a loan for building supplies.
Ready to begin designing your own tiny home with us? Contact us any time.