Decorate Your Tiny Home for the Holidays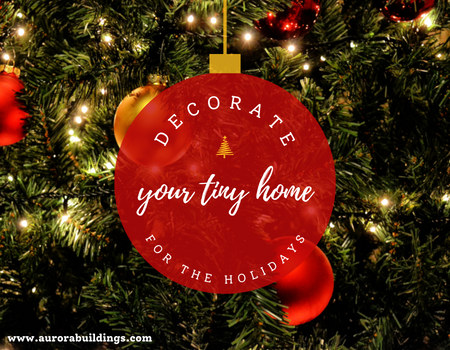 One factor holding people back from moving into a tiny home is the concern that their favorite traditions might have to change. You might wonder how you will be able to host friends in a tiny home, or what your holiday celebrations will be like in a smaller atmosphere.
Of course tiny home living is going to be different for everyone, and it won't be the right long term fit for every family, but if you are considering a move into one of our mini cabins for a time or the foreseeable future, there is no reason to worry about missing out on your favorite things.
We can help you customize a tiny home design that is everything you need it to be, whether you need multiple bathrooms, outdoor entertaining space, extra insulation, wheelchair accessibility, or a long list of other customization and upgrade options. Contact us any time to get started on your design.
To make your tiny house feel like home for the holidays, consider these 3 tips.
1. Downsize your decor
Everything you love to use as holiday decor in your larger home can be downsized to scale in your tiny home. Take you Christmas tree, for example. You can still have that same feel, whether it's an eclectic collection of sentimental ornaments or a carefully curated theme, just done on a smaller tree. The tree can be set on a side table or even placed outside on the porch if you don't have room in the living area.
In a smaller space, a little decor goes a long way. You may be surprised just how much festive impact you can make with a small amount of greenery, twinkle lights hung from the ceiling, or a petite wreath on the door. Because the scale of the entire home is smaller, it's easy to make a relatively big statement with little versions of your favorites. If being cost-efficient and minimalistic is appealing to you, you will love this transition to a less-is-more decor approach.
2. Use your vertical space
We say it often as we share tips about how to maximize your tiny home, but that's because it is a tried and true strategy. Taking full advantage of the vertical space in your home is key to decorating it well.
For holiday decor, your vertical space might be used in a variety of ways. String something festive, like faux leaves for thanksgiving or lightweight ornaments for Christmas, from twine and attach it to the ceiling. You can either hang many of these decorative strings around the ceiling in a short enough length to still easily walk around, or just hang them along the walls.
You also might decide to use a wall-mounted tree instead of a traditional one. Attach lights and ornaments to a 2 dimensional Christmas tree to enjoy the festive visual impact without losing any floor space.
3. Look to texture and color
Don't underestimate the holiday cheer that can come from swapping out textures and colors. This won't take up any extra space, but can completely change the vibe of the space.
Bedding, throw pillows, rugs, and even bath towels or kitchen linens can be changed to reflect the season. In a tiny home, it might even be reasonable and cost effective to swap out your curtains for the holidays. Look around your home for textures that could be changed seasonally.
Color is an easy way to change the atmosphere of the home. Consider swapping out your dishes, coasters, or picture frames for a new and more festive color scheme. This subtle change can make your home feel full of holiday cheer.
Ready to design your dream tiny home? Contact us any time.