10 Ideas for Your One Room Tiny Home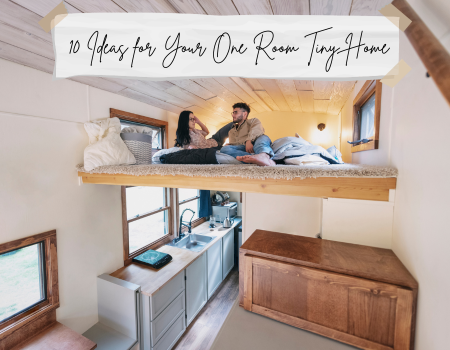 A tiny home can vary significantly in size. Our mini cabins can feel quite spacious, with a lofted area, full bathroom, kitchen, and more. However, some people are working within a tight budget or space and are going to design a one room tiny home. If you are planning on this, we have 10 ideas for your one room tiny home to help it feel more comfortable and functional. Maximizing every square inch is key, and with the right strategy and design, you can do just that.
Contact us any time to learn more about our design process, our mini cabins, upgrades we offer, and financing options.We are here to help.
Ready for those tips? Check out these 10 ideas.
1. Consider a room divider
If you are designing a one room tiny home but would like the feel of more than one room sometimes, look for a folding room divider that will give you this flexibility. There are many different styles to suit your preferred aesthetic, all serving the same purpose to give you the ability to change the way the space is used or provide privacy when you want it.
2. Install floating shelves
Floating shelves are a great option for tiny spaces because they don't require any floor space. You can store almost anything on a floating shelf without getting in the way of valuable walkways or storage.
3. Choose multi-functional pieces
Multi-functional furniture is essential in a tiny home. Look for tables that can be raised or lowered to serve multiple purposes as a coffee table, desk, or dining area. Consider a couch that opens to store extra pillows and bedding. A kitchen island can double as an eat-in kitchen area by being both prep space and dining space.
4. Add a lofted bed
You may think of a lofted bed as something that harkens back to your college, days, but it can be a great way to use the space efficiently. Look for a loft that has stairs instead of a ladder to feel more sturdy and permanent, using the empty space in the stairs as shelving or other storage.
5. Consider a multi-tasking bed
A Murphy bed or other similarly creative solution can be a great way to maximize your space. Look for a multi-tasking bed, taking ideas from RVs and studio apartments to create a sleeping solution that can be stowed away or become something else during the day time. Even a day bed can be a great way to have both a bed and a seating area in the same space depending on how it is set up in the moment.
6. Leave no space unused
Look for spaces that may be unlikely to be used, like under the sofa or in a narrow crack between the wall and cabinet. Even just a small space can become useful storage if you get creative. Consider where you might be able to design a custom storage solution on wheels that can slide in and out of a small space, making it functional.
7. Utilize vertical space
Vertical space in any home is often neglected, but it can be just as useful as floor space. Look for ways you can store or add decorative flair without adding anything to the ground. This might include:
Hanging plants
Pot racks mounted on the ceiling
Mounting lamps on the wall instead of placing them on a table
Store knives or spices on magnetic wall storage in the kitchen area
8. Upgrade with a loft
We can add a loft to any of our tiny homes to create more space. There are many ways you can use a loft in your tiny home, all adding functionality and comfort without increasing the footprint of the tiny home at all.
9. Digitize your storage
One of the frustrating sources of clutter in a tiny home can be paper; whether it's mail, homework, or any other kind of paperwork, you may just not have the space to store it all in your one room tiny home. Instead, consider digitizing this storage by scanning everything instead. Make sure you back up any important documents onto an additional hard drive, and look for things you can scan and store that you may not have originally thought of, like children's artwork or even your favorite recipes.
10. Design an outdoor living space
Take advantage of any outdoor areas you have to increase your living space. This is especially effective if you live in a mild enough climate to enjoy being outside all year round, but even if you do not you will benefit from adding a seating area, outdoor kitchen, or fire pit. Consider making it more comfortable during the colder months by adding a space heater, fireplace, or even just bundling up. For more tips to make your tiny home's outdoor area a comfortable oasis, check out this post. 
To learn more about designing your one room tiny home, contact us any time. We are here to help you design the high quality building you want.