Can a Tiny Home Be Wheelchair Accessible?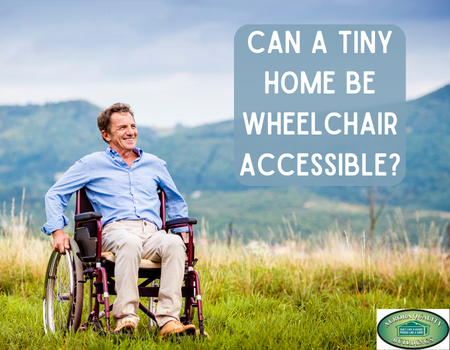 The tiny home movement is here to stay, with many tiny homeowners ready to live in their petite dwelling for the foreseeable future. This cost efficient and sustainable housing option is appealing to a wide range of people for a wide variety of reasons.
Some of our customers wonder if a tiny home can be wheelchair accessible. This might be for a variety of reasons, like:
Personal need for wheelchair accessibility
Hoping to offer an accessible short term vacation rental
Plans to care for an aging parent who may have mobility challenges in the future
Our mini cabins are ready to customize and upgrade to meet your unique needs. Contact us any time to learn more about how we can design something that works for you. The great news is, while tiny home layouts are not necessarily spacious, the design is already created with functionality in mind. Every square inch of a tiny home design is intentional, and efficient use of space is a built-in feature. Whatever your reason, here are some of the things you can do to make sure your tiny home is wheelchair accessible.
Entrance and Exits
After you decide on the type of foundation you will use for your tiny home, take a look at your entrances and exits. Some tiny homes just have one, while others like to add a back porch or something similar. Consider the space a ramp will take up to make your entrances wheelchair accessible as you determine the location and orientation of the tiny home on your property.
A small, subtle ramp that is barely more than the size of a welcome mat won't be a big deal, but if you need a longer ramp to reach a big higher, factor this into your design.
Pocket Doors
Your tiny home design may feature just one door, usually to the bathroom, or a few. A pocket door can be best for many reasons, even without considering the wheelchair accessibility. It is an efficient use of space that avoids unnecessary traffic jam situations.
Pocket doors are particularly useful for individuals using a wheelchair because they disappear into the wall and provide the maximum space for maneuverability.
Floor Space
The floors of a tiny home need to have the required width for wheelchair accessibility, and that is the primary concern for many wheelchair users. Your tiny home does not have to feature any narrow hallways or pass throughs, and can be designed with flooring that is entirely flush.
One simple way to achieve this goal is to choose one flooring type for the entire design. Something like a high quality LVP can be installed throughout, working well even in bathroom and kitchen spaces where water damage might be a concern. This way, you won't have any subtle changes in elevation or transition strips.
Vertical Space
A common recommendation for tiny home organization and maximizing the space is to look up. Using vertical space for storage is efficient and practical for many people, but may not be so for a wheelchair user.
If you plan to use vertical space, consider how you might make the storage moveable to be lowered. Otherwise, use that vertical space for hanging faux plants, lights, or other items that will add to the aesthetic and function without needing to be frequently accessed.
Bathroom
In any wheelchair accessible home, the bathroom is always a primary concern. We can help you adapt the design to make sure even in this small space the bathroom is wheelchair accessible. A walk-in shower with grab bars, a permanent shower chair, or other accessible features can be added to make this home work for everyone.
Ready to design your own tiny home? Contact us any time.