Hobby Sheds Offer Emotional Benefits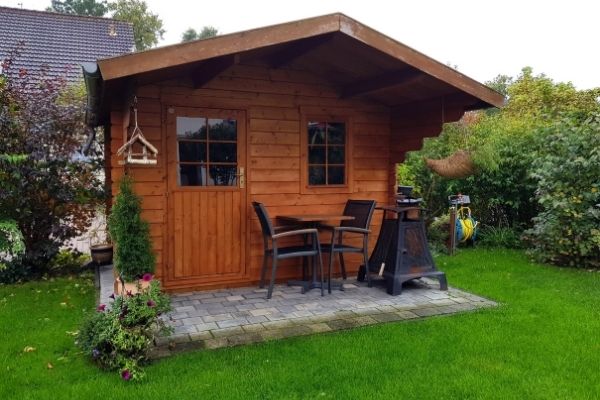 The he-shed or she-shed has long been popular and in some real estate markets, homebuyers are actually hoping to find homes that have these hobby sheds in the backyard. Right now as many people continue to spend more of their time at home they are discovering that there are several benefits to putting up a he-shed or a she-shed on their property. One of those benefits is a higher sense of stress relief and emotional well-being.
Here are some ways that having your very own space away from the home can help give you an emotional boost- Hobby Sheds Offer Emotional Benefits
Helps physical well-being that can be caused by emotional triggers
It is not uncommon for many of us to carry around high blood pressure or have other ailments such as headaches that are caused by stress especially from several different factors over the last year in our society. Spending some time in a relaxed environment that you've put together with all of your favorite things offers time to decompress, get away and breathe, and alleviate or completely diminish anxiety and stress leaving you refreshed and ready to face the world again.
Reduces resentment
Many times when we are constantly on the go or feel that there is someone always around or in our space and become deprived of alone time we can fill up with anger and resentment. This can make us more irritable and easily annoyed frustrated and with short patience. It can help us to know that there is a space where if we hold on for just a little bit we can retreat and regroup. A place like a hobby shed in the backyard where we can do whatever we want for just a few moments.
Offers privacy for kidless friend activities
Not that we don't love our children, we all do, but at some point we need some time to just relax and be an adult and enjoy the company of other like-minded grown-up individuals. Having a hobby shed in the backyard gives you a space to be able to enjoy some time with your friends without kids around. Time where you don't have to take out focus from fun social gatherings to make sure that the kids are doing OK. You can leave the kids inside with your spouse and just relax and truly feel like you can be yourself with your friends and just enjoy some time to be you, which is very emotionally freeing.
Gives you a piece of your identity back
We love who we are as a part of our family, but sometimes we need some time to just be who we are on our own. A shed filled with all of your favorite things where you can take a little time to be just a bit selfish in a healthy way will help you to feel like you are not losing your identity or giving up a piece of who you are. So many of us can quickly feel overwhelmed or like we have lost ourselves in the hustle and rush of our jobs and meeting the needs of those around us.
Each of us deserve some time alone to regroup and refresh no matter if we are introverted or extroverted we need some time to be able to just do what we want to do for a small amount of time. Having a space to be able to do this is very helpful and many people have realized the amazing benefits of having their very own he shed or a she shed to be able to get away for just a little while.
For more information on custom built sheds in the Puget Sound area please contact us anytime or come by and see us in North Snohomish County on the north end of Marysville.
More Tips on Sheds: