Caring for Your Shed Roof
The roof of your shed is the first line of defense from many different types of weather, especially rain, which we have plenty of here in the Pacific Northwest. A roof also plays a big role in the overall look and design aesthetic of the shed. Caring for your shed roof is important. 
There are many different materials that can be used to roof a shed. Here at Aurora Quality Buildings, we use 3-tab composition roofing.  This is the same type of roofing you see on most houses. Let's take a look at how to care for 3-tab composition roofing on a shed.  
Keep them Clean
Roof shingles should be cleaned every few years, but inspected every 6 to 12 months to determine if they need a good cleaning. If you plan to use a pressure washer to do so, make sure to use the lowest pressure possible and be extra careful.  
Problems with Mold Or Fungus 
It is not common for the roofing to take on mold or fungus unless it is exposed to high levels of moisture. Should you notice mold or fungus on your roofing a bleach solution will be enough to clean it up. You can purchase a special bleach made for cleaning shingles at a hardware store. The formula comes in a pump ready to spray on the roofing. Make sure to follow the directions on the label carefully and not to skip the rinsing step. If there are plants around your shed be careful not to get any spray on them or it could damage or even kill them. You can protect plants by covering them up before cleaning the roof. 
If you have a certain area that is prone to mold and fungus on the roof you can purchase zinc strips to help with the problem. Zinc strips are placed at the top of the roof on the peak so that when it rains the zinc will run down the roof and leave a light coating over the shingles to prevent fungus from forming.  
Replace Damaged Shingles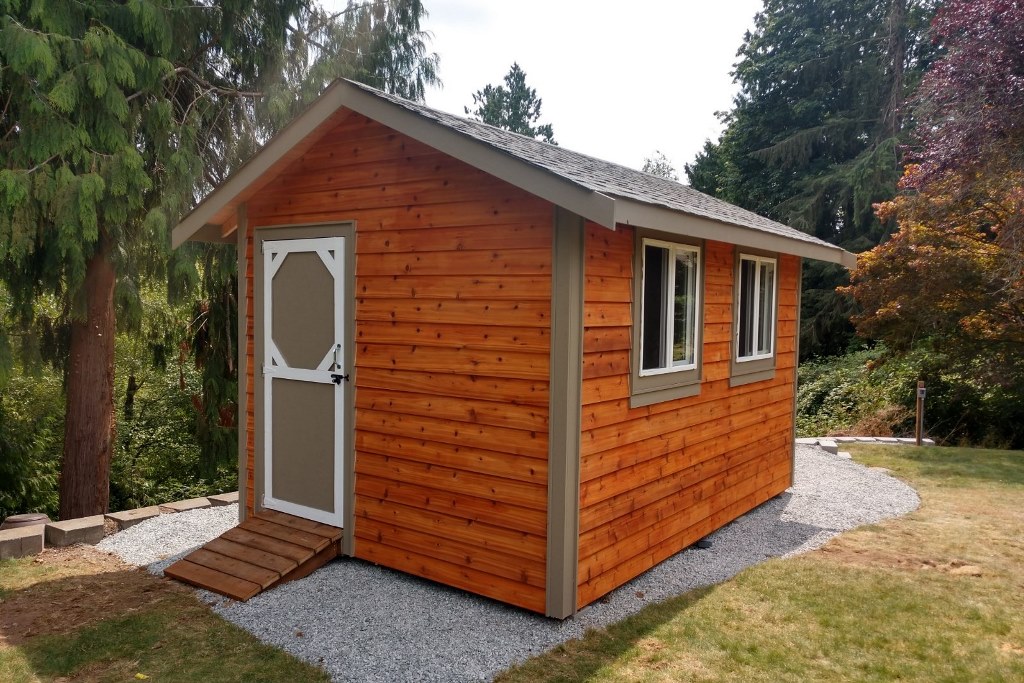 Harsh weather such as high winds, and storms can cause a shingle or two to become damaged. If you notice a shingle that needs repair during your 6 to 12 month maintenance inspection, it is best to repair it right away before it becomes a bigger issue. If you see shingles that are popping up or have broken corners the will need some attention. Shingles that are popping up can simply be glued back down. If they are cracking or missing corners or have any other damage it is best to remove that shingle and replace it with a new one.  
Shed Placement 
Where you place your shed on your property matters greatly to the longevity and usability of it. For the function of the roof, you want to make sure that your shed is not underneath any low hanging trees where it would catch things falling from the tree, be subject to branches falling during a storm, or make it easier for tree climbing animals and insects to have easy access to the roof line.  
Additionally, you do not want to place the shed in an area of the yard where water pools up as this will cause damage from the bottom up.  
Taking care of a shed roof is much like taking care of the roof on your home. So when you take a few minutes out of your year to check your home's roof, don't forget about your shed.  
For more information and tips on custom built sheds please browse our website. To begin building a shed on your property come and visit us in Marysville or contact via phone or email.  
We construct Custom Garages, Mini Cabins, Sheds, and Decks
More on Sheds and Garages: