8 Things You Should Never Store in a Garden Shed
"Having a garden shed is a great addition to any backyard landscape. We offer several standard designs or you can custom build your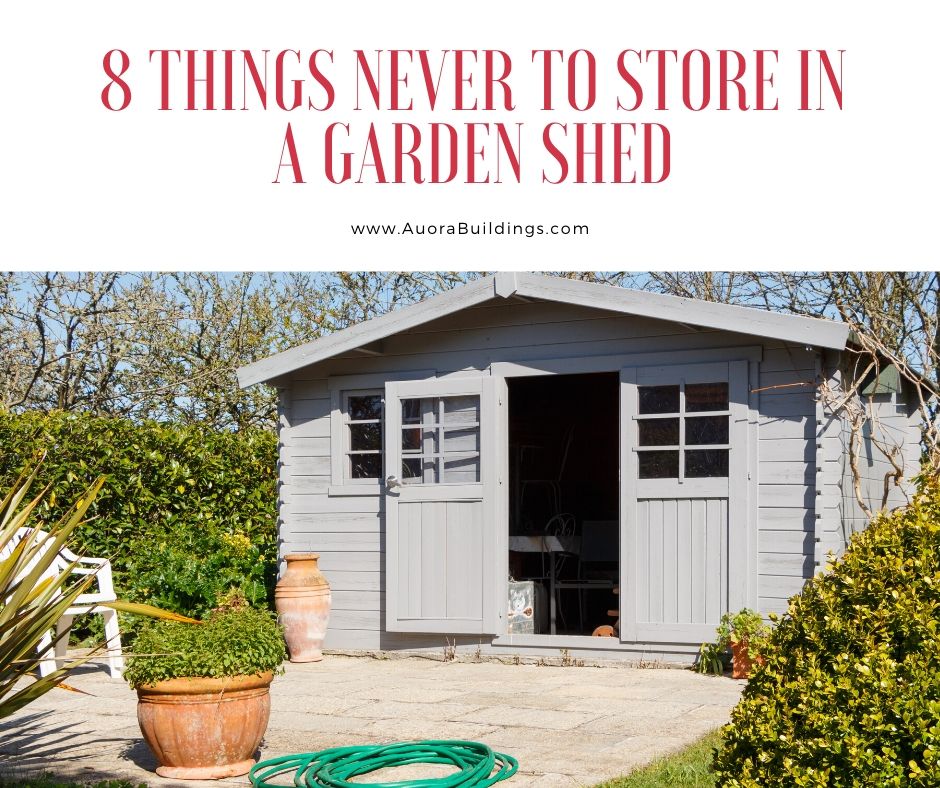 own but a garden shed isn't for everything you may want to store outside. With humidity control, access, and the weather, garden sheds are not designed to hold everything you want. So here are the 8 things you should never store in a garden shed.
#1. Canned food.
Or really any food. Any food container that has metal can be subject to rest, cause holes, and could spill out, which causes mold, bacteria, and pests to invade. Keep all canned food and nonperishable items in a more temperature controlled environment like your garage.
#2. Paint.
Paint is subject to extreme temperatures and unless you have insulated your garden shed, it's best to keep paint in a more temperature controlled environment like your garage or basement. Freezing temperatures can cause paint to be unusable. Related: Here's why you should never paint your brick
#3. Glue
Glue is another thing that should not be stored in a garden shed. Freezing temperatures can make the glue lumpy and unable to be used. Related: How to get glue off the carpet
#4. Photographs or pictures.
Any family photos or paintings should be stored in a dry, safe place. Humidity, high temperatures, or low temperatures could cause the pictures or photographs to stick together, grow mold, and basically ruin the picture.
#5. Clothing and linens.
Again, unless you're working with an insulated shed, it's best to keep clothing and bedding in a temperature controlled environment or in the house. Fabric can end up smelling must-see, being attracted to insects, moths, and pests, and downgrade the integrity of the fabric.
#6. Wine and spirits.
You may want that wine to stay cool, but without it being temperature controlled at consistent temperatures, wine can have a metallic taste. Wine and alcohol should be stored somewhere dark and cool but not the garden shed. Think basement or wine cellar.
#7. Musical instruments.
Instruments, as well, can be affected by heat, freezing temperatures, and humidity. These items should be stored inside, especially if they are crafted from wood, brass, or certain metals.
#8. Electronics.
Even if your records are covered, rest can't ruin the internal wiring of electronics. Plasma televisions require consistent temperature control and screens can get badly destroyed if the temperature changes constantly. To store electronics, make sure you take out the batteries and store in a clean, dry environment.Garden sheds, however, are perfect for garden equipment such as lawnmowers, weed eaters, pesticides and herbicides, and garden tools as well as some equipment like gloves as long as there's not a lot of fabric on the gloves.Looking to create a custom garden shed? Call us today for a quote or stop by our showroom in Smokey point and browse some of our on-site model custom sheds."