Skirting a Tiny House
A big issue for tiny homes is keeping them safe and warm during freezing temperatures. As we get into colder months it is a good idea to know everything you can to keep your tiny home warm. One method of helping to keep your tiny home warm is skirting.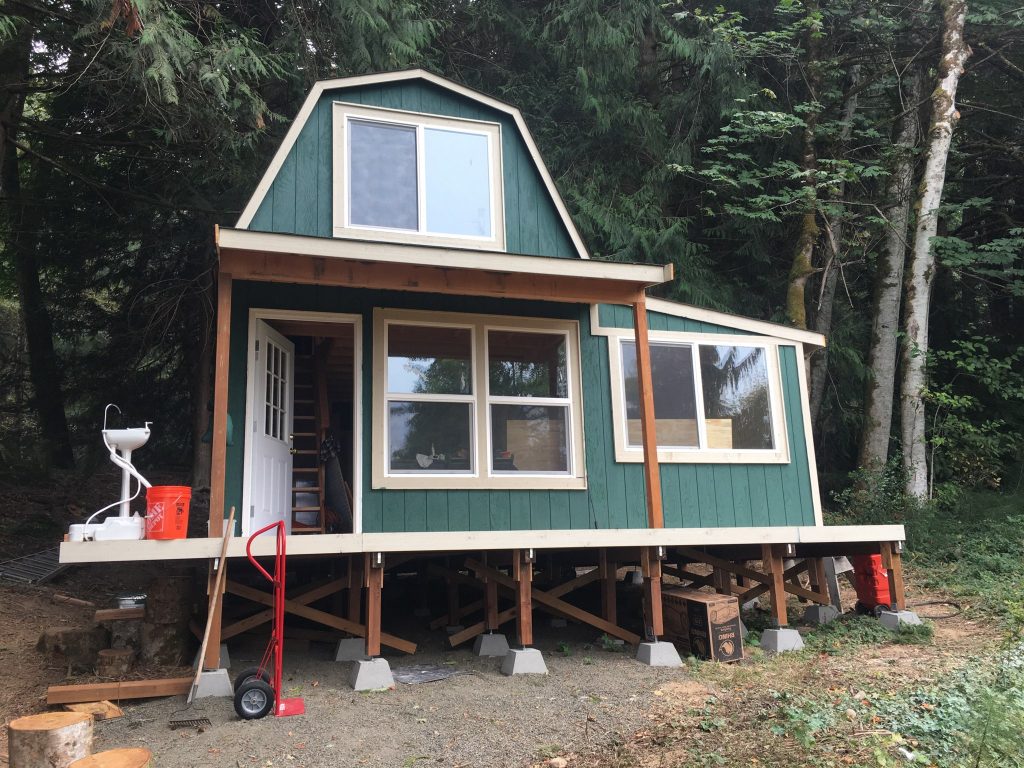 Skirting a tiny home simply means to put a material that wraps around the base of the home to help seal off the undercarriage and keep anything like plumbing pipes from freezing underneath the home. By enclosing the area underneath your tiny home, it keeps cold air out and allows a tiny home to easily warm up the enclosed air. Skirting provides a way to close off the undercarriage of a tiny house and keep it warm enough to prevent anything under there from freezing and also provides a little bit more warmth inside the home as there is warm air underneath it instead of cold rushing air.
What material should you use to skirt your tiny home?
The most common tiny home skirting materials include rigid foam insulation panels, sheets of plywood, hay bales, snow, and vinyl skirting. Here is a look at each skirting material method and how it might work, to help you make a decision on how to skirt your tiny home.
Rigid foam insulation
This is one of the most popular and widely used methods of skirting a tiny home because it's inexpensive and relatively easy to cut and install as a skirt. One of the biggest drawbacks to using the rigid from insulation is that the panels are so light weight they can easily be blown about in harsh weather so they will need to be reinforced. Many people reinforce their insulation skirting by building a frame and attaching the panels to it. Another drawback to using insulation is that it is not the most stylish in appearance so you will need to do some extra creative work to make it more aesthetically pleasing around your tiny home. This method requires a little extra work, but can be a great option for those who do not plan to move their tiny home as the skirting can be hard to reposition.
Plywood
Buying large sheets of plywood and cutting them down to size is another common method for skirting a tiny home. The upside to plywood is that it is fairly inexpensive and very durable and can be found anywhere at most lumberyards and hardware stores. It does not require a ton of skill to put up a plywood skirt and can be easily installed. Some home-improvement stores will also cut your plywood for free down to the exact size that you need as long as the cuts are straight and simple. Though plywood is simple and pretty cost-effective it can also be unsightly so you will need to think about the styling anesthetic when it is applied to your home. Plywood is also heavy and bulky so it is best to use on tiny homes that do not plan to be moved.
Hay
Hay bales are a low-cost and easy option for providing a barrier of skirting around a tiny home. It can be a lightweight and easily movable option for mobile tiny homes. There are some drawbacks to using hay though as bales can pose a fire hazard and can be very attractive to small pests looking for somewhere warm to hang out like mice.
Snow
This is of course the cheapest skirting material that can be used as it is completely free if you live in an area that actually gets a good amount of snow every year. A snow skirt can be made by piling and packing snow around the base of a tiny house and surprisingly it acts as a pretty effective insulator to skirt the area around the base of a tiny home. Of course, the drawback to this method is that it only works in areas where there is plenty of snowfall that will stick around for a good amount of time.
Vinyl
Vinyl might just be the best option for skirting a tiny home. Vinyl is a lightweight and versatile material to use for tiny home skirting. It is easy to customize the size and shape to your particular home. If you need to move your home you can easily roll it up, pack it, and take it with you to the next location. Some companies even offer easy-to-install pre-made vinyl skirting kits.
For more information on tiny homes in Puget Sound please contact us any time or stop by and see us in North Snohomish County.
More on Tiny Homes in the Pacific Northwest