Should You Choose a Raised or Grade Level Deck?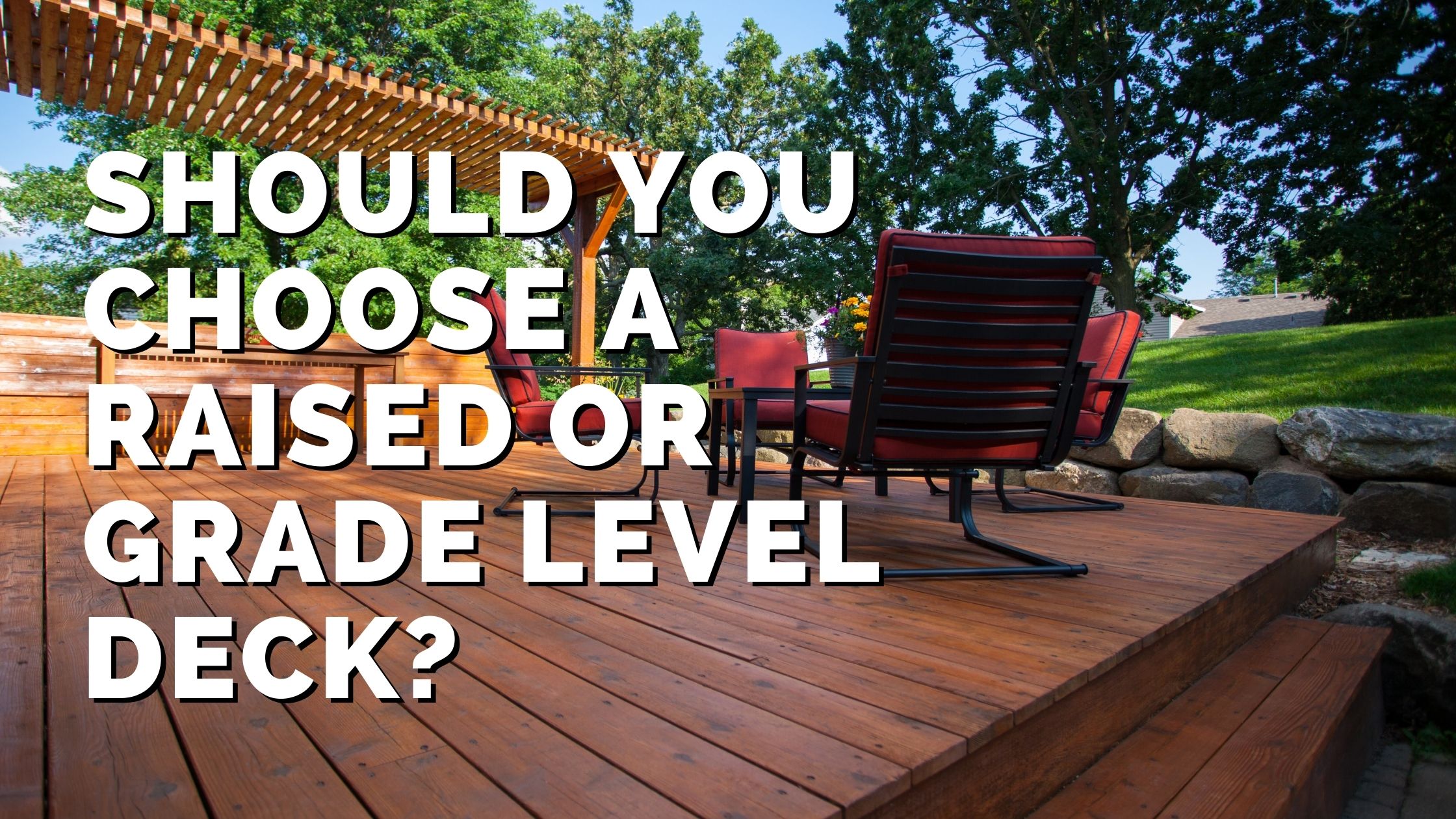 How high off the ground should you choose to build your backyard deck? Though all decks are somewhat raised off of ground level, there are some considerations to take in choosing just how high off the ground you may want to build your outdoor living space.
Raised Decks
The design of your home will ultimately define the overall height of your deck. A split level or raised ranch-style home often has a main living area on a second floor or one higher up from ground level. Many times, this means the back door to the home that leads to the deck will be well above ground level. Most often attached to the second story of the home. While a house with the main living area on the ground level most often will have a raised foundation but only require the deck to sit a few feet above ground level.
Ground Level Decks
In some situations, a homeowner may choose to go with a ground-level deck where the stairs are built up to meet the back door. Building this type of deck will depend upon the drainage around your home and the foundation work.
Not all decks have to be attached to the home structure, some decks are being built toward the back of a yard in a corner to create more usable space for entertaining and extensions of indoor living space in more creative areas of landscaping. Ground-level decks are simply boxed frames that floorboards are placed across the top. These decks can be placed on any level surface anywhere in the yard. Many times, they are referred to as floating decks because they are set in the middle of a yard and attached to any other structure.
What type of deck should you build?
The type of deck that will be best for you to build really depends upon your home style and the overall look you hope to go for as well as how you hope to use your deck. There are some yards that are large enough to build both a raised deck attached to the home and a floating deck in another space in the yard to create multiple areas to hang out and have the ultimate backyard for hosting guests.
The nice thing about building a floating unattached ground-level deck is that in many cases a permit is not required. Before building one of these decks however it is always a very good idea to check with the local zoning codes for your specific address.
A great thing about choosing a raised deck that extends straight out from your back door is that it feels like you have just made your home much larger. When the floor inside your home seamlessly extends to the outside of your home through the back door it can feel like you just built whole brand-new living space. The space simply is open to all of the amazing natural elements of your backyard. It makes it feel much easier to just walk outside and use this new living space.
One of the newest trends in custom-built decks is to have a multilevel raised deck where each separate raised level serves its own unique purpose such as a sitting area and a separate level for a kitchen and dining area, and maybe even another separate area used for a fire feature.
For more information on custom-built decks in Snohomish County and surrounding areas of Puget Sound and beyond please contact us anytime or stop by and see us in the Arlington/Marysville area.
Stop By or Schedule a Consulation
More Advice on Decks