Creating Easy Access to Your Deck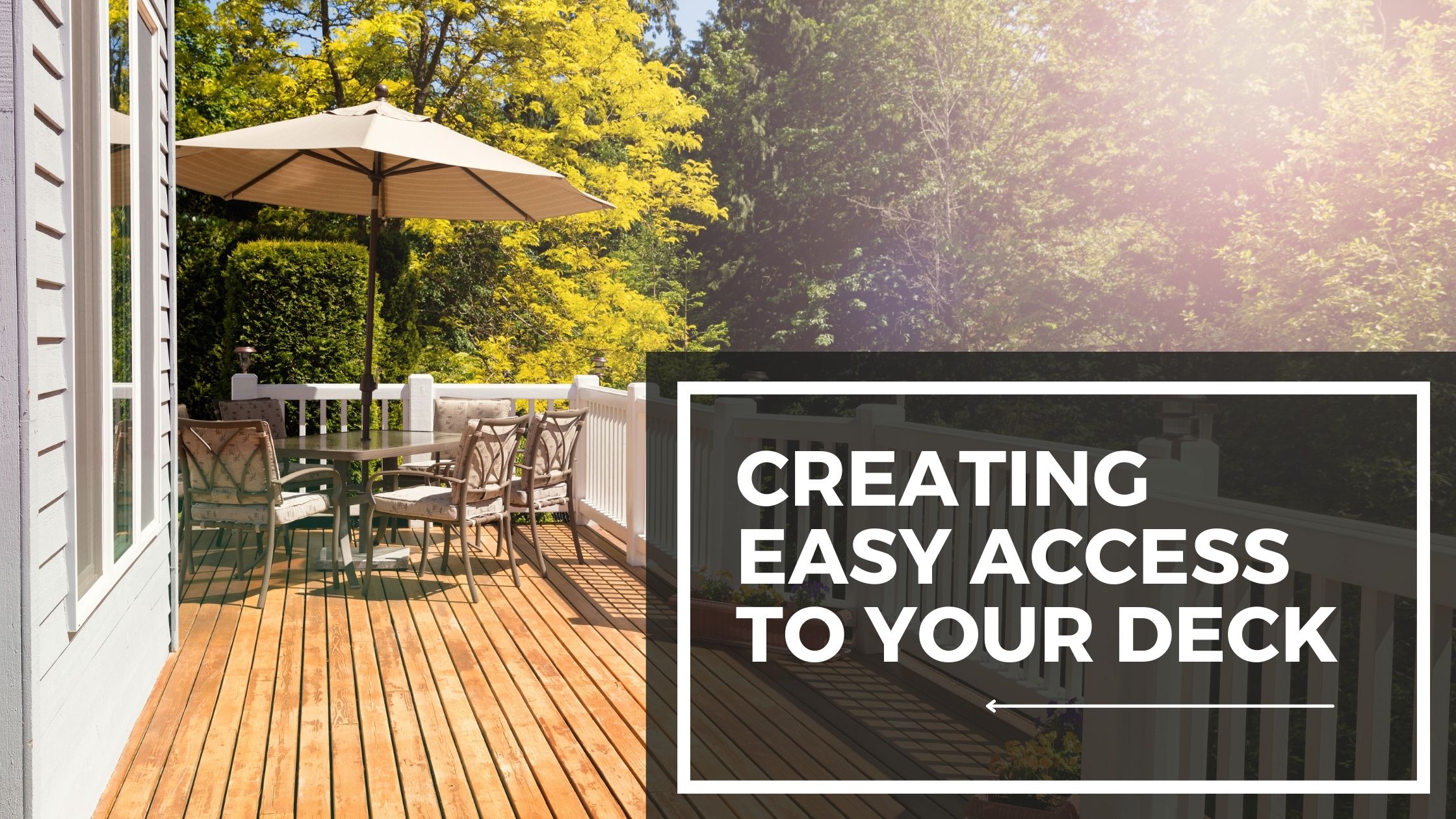 Creating Easy Access to Your Deck – When it comes to designing a deck, we often get caught up in the exciting elements of it like what we will place on the deck or how large it will be or the material it will be made out of. Sometimes what is forgotten or left till the end are the fine details like how you will access the deck once it is built. How can you create a way to easily get onto the deck while still staying within your design aesthetic? What will create easy access to the deck to make it feel like it is fun and readily available for use?
Accessing the deck from the house
Depending upon your home's layout it may be less than straightforward as putting in a back door to walk from the inside of the home to the exterior and onto the deck. Choosing where to place your back door for access between the deck and the home, you want to consider how you plan to use the deck.
If you hope to incorporate a hot tub into the space you might want to have a door leading from a bedroom or hallway that leads to the bathroom for more comfort in exiting the hot tub and to help avoid dripping water across the entire home.
The deck essentially extends and expands the floor plan of your home. It is just more floor without any walls. Some homeowners really like the idea of making sure spaces seem to blend seamlessly by installing a large panel of sliding doors. This is especially popular during warm months.
Access to the deck from the yard
Stairs are allowed to be any width as long as they adhere to the minimum building code within your local zoning laws. Wider staircases make for a more dramatic statement. It can be a good idea for decks that are elevated a significant amount to break up the rise with two smaller staircases and a landing between. This allows for safer use during inclement weather.
Lighting the stairs
If you plan to use your deck after dark, it could be a great idea to add some lights to the stairs. Lights on stairs not only add more visibility and safety, but they can add dramatic visual interest as well.
Consider a landing pad
It can be a nice design element to create an area for landing at the bottom of the stairs for your deck. A nice landing pad could be made of concrete or pavers and could connect into a walkway that leads around the house to the front yard in the same material. This helps to make walking around the yard convenient and easy especially if you plan to entertain from your deck and would like your guests to access the deck through the yard.
For more information on building the fine details into a custom deck that feels like it has always been part of your house, you can contact us anytime. We build custom decks all over Puget Sound and beyond. You can contact us by email or phone or stop by and see us in person and check out our products in the north Marysville area.
Stop By or Schedule a Consulation
More Advice on Decks