Ways to Enjoy Your Custom Deck All Year Long
Some people believe that the end of summer marks the final days of enjoying your outdoor custom deck. The last time to have a barbecue, host an outdoor party, have friends over and just hang out on the deck with a cold drink, and more. But by simply adding a few design elements to your outdoor space you can extend the useful life of your custom deck into the fall and even the winter.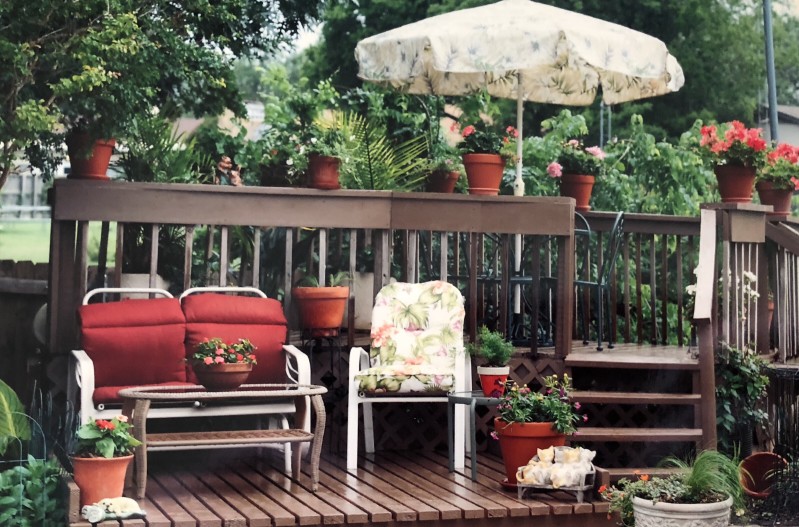 Here are some easy design elements you can add to your custom deck to make it useful all year long even here in the Northwest where we have crazy weather.
Bring the heat
Of course one of the best ways to extend the usefulness of your deck as the weather begins to get colder is to bring in some heat. You can do this with a safe and controlled fire pit table such as a gas-powered table. You can also do this with some of those great outdoor heaters. Or you can go all out with a safely designed outdoor chimney fireplace. Just make sure that the fireplace is sitting on something that is able to catch flying embers.
Add more lighting
One of the great things about summer, especially here in the Northwest, is that it doesn't get dark until almost 10 PM some nights. You can extend the usefulness of your deck as it begins to get dark earlier by simply adding some festive lighting. You could even go eco-friendly with some great solar lights or LED lights.
Weatherproof furniture
If you were going to use your custom deck all year long you will want to be leaving your furniture out. It is unwise to leave just any outdoor furniture out in the weather all year long to be beaten down by harsh elements like high winds, monsoon-like rains, or the occasional snow. It is best to make sure that you are purchasing quality furniture that is weather-resistant made from materials such as powder-coated steel, teak, polyresin wicker, and the like.
Bump up the luxury with a hot tub
Hot tubs are popular year-round as you can use them in nice weather or in chilly weather it is a great way to relax at any time of the year. It is especially nice on a very chilly winter night.
Add in some cozy elements
Adding small sources of heat and some lighting will help to bring in some coziness, but to add even more warmth to your custom deck bring in some rugs and some pillows and some nice cozy blankets. A hot beverage enjoyed while wrapped up in a blanket right next to a fire table or an outdoor heater makes things feel so exciting on a crisp fall night.
Year-round gardening
There are several plants that are seasonal, but some that are great to have out all year round. Add both seasonal and year-round plants to pots and stick them on your custom deck to create a warm inviting and life-filled atmosphere. There's just something so inviting about the presence of plants on your custom deck.
Decorate for the seasons in the holidays
Just as within your house, bringing in seasonal elements and holiday decorations brightens and lifts a mood for the time of year that you are in. You can do the same with your outdoor custom deck living space. Put out some pumpkins in the fall you don't even have to carve them they can sit on your deck and last quite a long time. In the winter you could hang up some evergreen garland's full of holiday lights on the railing.
Roofs or enclosures
You can put up a structure to keep you covered and your furniture covered from elements like rain, snow, or even searing sun rays. Adding some outdoor curtains to these shelters can even add some privacy and keep the chill away on windy evenings.
There are so many great things you can do to help make your deck useful all year long so that you can enjoy your outdoor space for much longer than the typical spring and summer seasons that we most enjoy our decks.
For more information on custom decks in Puget Sound and surrounding areas please contact us anytime or come by and visit us in North Snohomish County.
More Tips for Decks