Most Common Wood Materials for Decks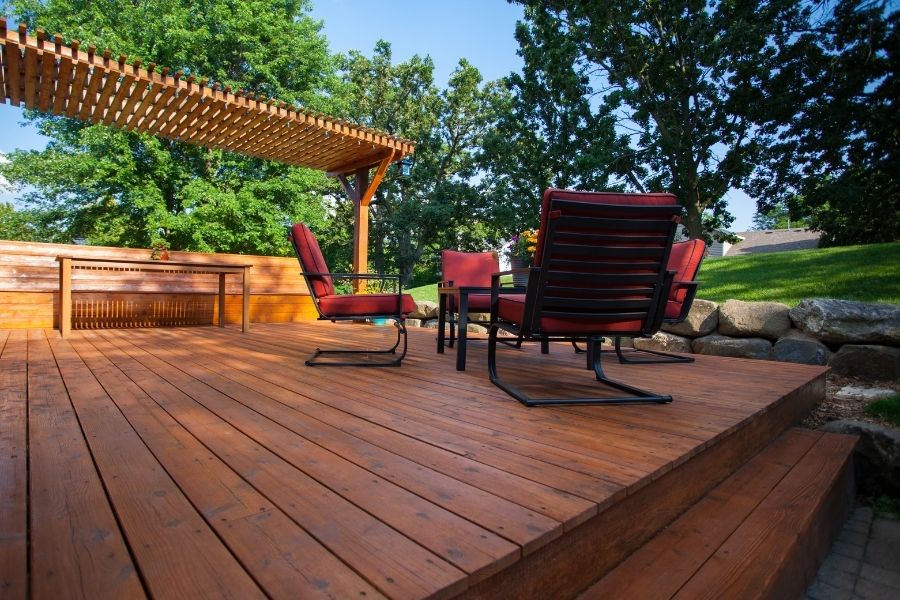 The majority of a deck structure is built with pressure-treated lumber and maybe a steel beam or two depending upon the design. But the decking that you see and walk across is what you notice the most. This could be made of several different materials one of the most reliable is wood.
Here is a look into the three most common wood choices when it comes to the finished part of your decking
Redwood
Redwood is very stunning to the eyes material that can be maintained by applying a sealer and reapplying it with regular maintenance to continue to keep it in top condition. A great thing about Redwood is if you live on the West Coast it is going to be cheaper to find as compared to other areas of the country because this is the area where redwood trees live.
Redwood is a very stable and sturdy decking material because it resists warping which is a great attribute for the wet weather of the Pacific Northwest. The stability of redwood helps it to maintain a beautiful look for a longer time as compared to other materials. This wood contains little to no resin which also helps it to more easily absorb finish stains and maintain beauty.
Cedar
Cedarwood is what is considered as a soft wood and has been used very widely for many years. It has a natural resistance to rotting and insects which makes it a good choice for decking, but it could be too soft having a tendency to splinter on decks that are used often.
Cedar is better used for a railing that will not be stepped on or have furniture dragged across it. It also makes for good privacy fencing elements like a pergola or a trellis.
Pressure-treated Lumber
This type of wood for the top of your decking is both rot and insect resistant and comes at a lower price point than redwood and cedar. One of the reasons for this lower price point is that it is readily available in every area of the United States. Pressure-treated lumber is what is most widely used to build the supporting structural elements of a deck. It is often used for the underside structural elements because it holds up very well and is masked by the deck flooring.
There is a downside to using pressure-treated lumber for the top of a deck in that it can be unstable and have issues like shrinking or warping or twisting as it can often be made with a lesser grade of wood. If you decide to use pressure-treated lumber on the finish areas of your deck it is good to make sure that you are working with a trusted deck professional that will know which cuts of wood are higher quality and treated at trustworthy areas like a mill.
Other Types of Wood
There are other types of wood that are used in decking but they are not as dependable or reliable as the three materials listed above. Some people choose to use mahogany or teak. Mahogany is a great and very strong wood, but it comes out at a very high price point, this should be taken into consideration if you are building a very large deck. It is also said that mahogany is most often imported from other countries and cut down from less-than-ideal means.
One type of wood to watch out for is Ipe. This is a natural hardwood that was used very widely during the 60s and in the 80s to build heavily walked across areas like the Coney Island boardwalk in New York. But today this type of wood is illegally logged from old-growth forests in South America. If you do find some of this wood that is responsibly resourced it is durable and affordable but very difficult to work with.
For more information on building your dream custom deck in the Puget Sound and surrounding areas please contact us anytime or stop by and see us in the north Marysville area.
Stop By or Schedule a Consulation
More Advice on Decks