Recreational Mini Cabins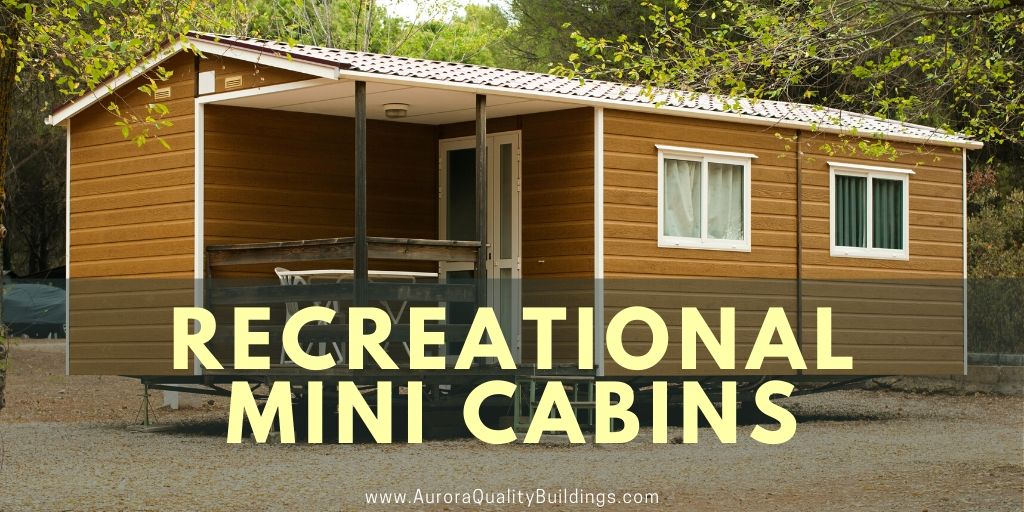 Our mini cabins make the ideal recreational house or cabin in the woods whether you're building something on recreational land or looking to build out a tiny house community or recreational resort. We offer custom designs for all of our cabins perfect for anyone building out a campground and looking to add some cabins on-site, a recreational cabin on land by a lake or a river that has restrictions on building more permanent structures, or just for attaining recreational cabin on your property. The possibilities are endless.
Our recreational mini cabins are perfectly designed to come as simplistic as possible. We build the framing, complete solid wood construction, composite roof either with a pitched roof or slanted or sloped roof, deck, windows, full-size doors, and even those with a loft space, perfect for a bedroom.
Imagine this, we build out a 400 square-foot mini cabin on your property, campground, or recreational lot complete with an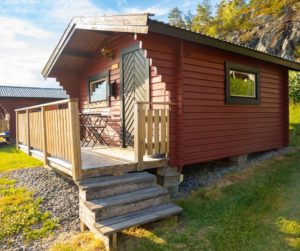 upstairs, workbench, deck, windows, skylights, and more.
This is one of the best things about going with Aurora Quality Buildings. You can choose the custom design or standard design and have us build it right on site. We have recently returned from the Seattle Home Show where we designed and created a unique slanted roof cabin. Some of us have called it the fishing cabin or the stable cabin but as it has decking and railing that almost mimics a small stable. You can step up onto the deck, put your lounge chairs and a table out, enjoy the weather, and go through the glass door into your private little oasis.
Create Your Own Tiny House Community Like These Folks
Aurora Quality Buildings creates the basic framework and we have contractors we can recommend to finish off the inside. We can offer tips and suggestions on heating and cooling, electricity, fireplaces, skylights, insulation, drywall, and flooring.
Perfect for campgrounds wanting to expand.
There are a lot of campgrounds throughout Western Washington that are looking to expand and provide cabins for guests. This is where Aurora Quality Buildings could come in, map out a plan, discuss options and design capabilities and what the campground owner really wants. We would then create everything for you and offer either multiple cabins that are all the same or each one can be customized per owner requirements.
This is a great way to maximize profits on vacationers. You can offer a two-story cabin that can hold at least five or six people or a small, intimate cabin, ideal for just two. With so many options, endless possibilities, and your customizations, we can create a recreational mini cabin perfect for your needs.
Related: The Difference between Urban Design and Landscape Restoration 
Personal getaways.
Do you have some land that has restrictions on permanent structures? This is where our recreational mini cabin would be ideal. These can be used for hunting cabins, we can retreats, or a personal getaways. These are not primary residences, however, some of our homes have been turned into a "tiny house" but certain exemptions and permits may be required depending on the location and what you are looking to do with the property.
When you're ready to put a cabin on your property, expand your campground, or create a little retreat full of multiple rentable cabins, contact Aurora Quality Buildings. Stop by our showroom up in Smokey point to see some examples of how we build and how we can create the recreational mini cabin of your dreams.
Get a Quote or Stop By To See How We Can Design the Perfect Place For You
More Great Stuff
5 Great Ways to Use a Storage Shed 
Custom Fishing Cabins Built On-Site
DEVELOPERS: Build a Shed Before Completing the House