Mini Cabins Can Create Your Own Tiny House Community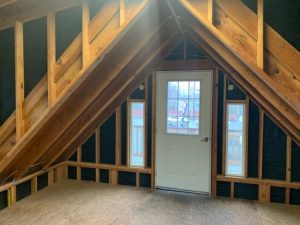 "Looking to start a compound? Okay, just kidding… Or maybe not. That's really up to you but a recent article I found from Insider talked about a family of four that built a private tiny house Village where their kids can actually have their own homes and I thought, what would be better than mini cabins?
Tiny houses are popping up all over the country and this leads to tiny house communities. But for Keli and Ryan Brinks, their Kentucky land gave way to more of a family community than one house for everyone.
There's only four of them but they've created a si- home community, one each for their 18-year-old daughter Lenox and their 16-year-old son Brodey. The goal is sustainable living. They have moved from their 2200 ft.² home in Michigan and now live more sustainably in their tiny house community. Visit the Article to See all the images
Why tiny houses?
Tiny houses produce less waste, require less heating, and can be more environmentally friendly. While everyone usually once their own room, very few kids get their own house. But for the privacy factor and because the kids are no longer completely dependent on their parents, this was a viable option for the family.  In 2015, this family about a 21 acre piece of land in Kentucky for just $57,000 and turned it into their tiny house Village for their family. There are fewer restrictions for housing and land was much cheaper and for just $20,000, the family bought six tiny houses and place them on the land.
The first house in the village is where the parents live and it's just as darling as can be. At just 280 ft.², this house is actually the biggest on the property and cost just $9000. Extra amenities included windows, and exit door, dormers, and features to add more light. Vaulted ceilings make the rooms feel more spacious. Inside, there's a kitchen with stainless steel appliances, and a latter that leads to the couples lofted bedroom. Beneath the loft is the bathroom, which even has a full-size.  Next-door is a house that includes two bathrooms for each of their kids. This also includes a guest bedroom inside the house as well as a washer and dryer.  Adjacent to that house is the pool house with a family comes together to connect. It's just 180 ft.² and has a few areas and is open to the outside family game night for access to the swimming pool.  Next-door to that is where 16-year-old Brodey lives in his own tiny house.
This 160 square-foot house is a wood cabin featuring a small porch out front and includes a couch, a king size bed in the loft, and even space for friends and guests.  Lenox lives next door in her own little 160 square-foot house featuring a couch, dresser, TV, and a loft with a full-size bed.
Do most people find it odd that the family doesn't live together?
Sometimes, but being that the kids are becoming more adult, having their own space and responsibility is a great factor. Instead of having a bedroom in a large house, it's a house in a small community.
I mean, how often do your teenagers come out of their own rooms?
In addition to the livable houses, the property also features a barn, a chicken coop, and fenced pasture for their gates making their property even more self-sustaining.
So, does this type of lifestyle appeal to you?
We can help make that dream a reality. Not only do are mini cabins offer all types of customizations, but you can truly turn this into a tiny house of your own.
We have contractors to finish off just about any type of custom work and can help build you the design and functionality you're looking for. Browse our mini cabins page or stop by our showroom in Arlington Washington for more information."