Custom Fishing Cabins Built On-Site
Have waterfront property but can't build that close to the water? This is where one of our custom fishing cabins or mini cabins come in perfectly!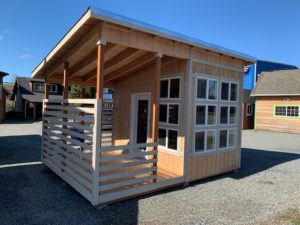 We just returned from the Seattle Home Show and decided to build something unique and custom for the event. This is what we are calling our stable shed or fishing cabin / shed. This great little cabin is ideal for those looking for a fishing cabin or smaller And yet you might want to put next to a lake or on some recreational waterfront property. It has a simple design with a one-pitch roof, windows, full-size door, and a protected little porch area. This is ideal for a pool house, lake house, or even a beach house.
One of the best things about these types of buildings is that they are all custom-built. We offer a variety of different designs to choose from or pre-existing mini cabins and sheds, but you can also get creative and we can design just about any type of small shed or mini cabin that you'd like. Want some extra shelves? We can do that.
Your Custom Build and Design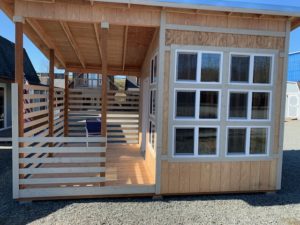 We technically build these with a composite roof as it is less expensive to build but any of these can be built with a metal roof as well, making it ideal for lakefront property and riverfront property a little further up into the mountains. The snow will simply slide right off.
We don't necessarily have a name for this type of building yet, we often refer to it as the stable cabin as it almost looks a little bit like a horse stable or barn. But, we talked to many people at the Home Show about how they would use their cabin and got a lot of great ideas.
What would you use your Mini Cabin for?
The man cave and she shed options are very popular these days but you can also just turn it into a workshop, home office, or storage shed. A lot of people don't like to use their garage is for storing garden equipment or just added storage so one of these mini cabins can make an excellent alternative.
We talk to people that are using our sheds to turn into a high-tech design studio and finish out the inside, wire it for electricity, and turn it into a music room or tech shed. Perhaps you'd like to finish it out completely and turn it into a great little business opportunity. We had people purchase some of our mini cabins and completely finish off the inside to turn it into a massage studio, pet grooming parlor or hair salon.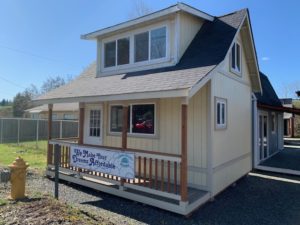 However, all of these options are when you take the extra step to finish it out. Here at Aurora Quality Buildings, we focus on framing only. We will design the exterior and interior as is and then we have other options and contractors that can finish out the inside should you choose. But, in its raw state, we create unpainted, simple frame design, in the size, and footprint you are looking for.
But, back to the lakefront fishing cabin; are cabins, right out of the box, so to speak, are perfect for a lakefront or riverfront fishing cabin. If you own some recreational land that has restrictions on permanent stick buildings, these cabins might be ideal. We can place them on-site, secure them, and offer whatever design you want with shelving, stairs, and upstairs, additional storage, or pretty much anything you can dream up.
From here, the skies the limit. You can build shelving, have storage spaces, create bins, a workbench to fix fishing tackle, or even wire it with a generator and put in freezers or refrigerators to hold your catch until you are ready to take it home.
Related: 8 things you should never store in a garden shed.
There are literally thousands of uses for our mini cabins and a lakefront or riverfront fishing cabin or recreational cabin is just one of the many. Stop by our showroom in Smokey point at any time to see some examples of custom sheds, custom-built garages, many cabins, and storage or garden sheds. Would love to help design a plan and a cabin that you love.