Should You Invest in a Tiny House?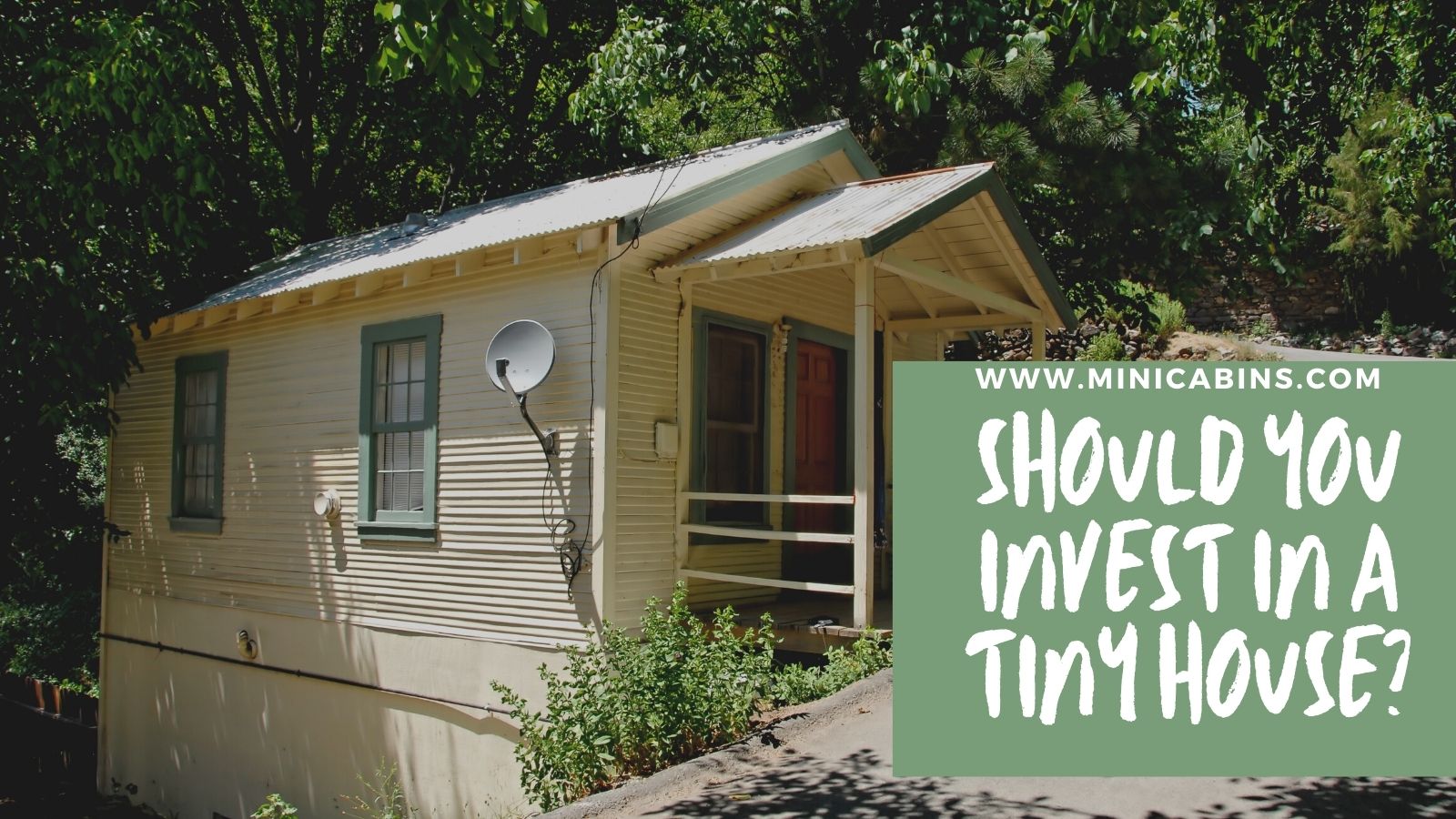 Pros and Cons to Investing in a Tiny House – With the prices of homes climbing and a shortage of inventory as compared to previous years as well as an increase in the popularity of living with less stuff, tiny homes are getting more notice and more people are seriously considering the tiny home lifestyle.
A survey conducted by the National Association of Home Builders found that more than 50% of Americans would consider moving to a tiny home. In the right locations tiny homes can be used as a solid real estate investment as well. They can be a way to make extra income by using them as a short-term rental, a vacation property, or even a long-term rental.
Is a tiny home worth the monetary investment for you? Here is a look at the Pros and Cons of purchasing a tiny home.
Pros of Buying a Tiny Home
The largest benefit of investing in a tiny home is the lesser cost as compared to investing in a traditional single-family home. Tiny Society states that the average cost of a tiny home is just above $46,000 which is extremely lower than the average cost of a single family home. The nation's median home price according to the end of quarter 3 in 2019 was $310,000.
If you plan to do a large portion of the work putting your tiny home together, Realtor.com says it can be done for as little as $15,000.
Some other perks of owning or purchasing a tiny home include:
Less maintenance/upkeep
The opportunity to keep the home mobile and move it to different locations
Extra income if it is used as a rental
Other lower monthly bills such as utility bills
Friendlier to the environment
Simpler way of life/less stuff to take care of
Tiny homes have also shown to increase in value, some at a faster pace than larger properties. Realtor.com reported that homes under 1,200 feet tend to have a steady value growth of 7% per year whereas homes over 2,400 only tend to appreciate at a rate of 3.8% per year.
Cons of Purchasing a Tiny Home
Though there are some really positive and great things about investing in a tiny home, there are some drawbacks as well. The first drawback many people come by is zoning laws. Though tiny homes are easy to place and can be easily portable when built on a trailer chasse, you can run into issues of where you can legally place and live in a tiny home. Zoning laws commonly have a minimum square footage requirement as well as regulations about utility hook ups. These laws can be more challenging in urban areas.
Other drawbacks of tiny homes include:
Space: Tiny homes are, well, tiny. They limit you on what activities you can get done inside your home while also limiting how much stuff you can own and sort of force the inhabitant to be much more organized so that their belongings are not quickly overtaking their space.
Getting a Loan: if you do not have the funds sitting around in cash to build a tiny home securing financing can be difficult. Most tiny homes do not cost enough to qualify for a mortgage. There are a few loans on the market specifically for tiny homes, but they are limited. Some tiny home purchasers use an RV or personal loan to secure the funds.
The Want for Tiny Homes: tiny homes are currently trendy, but will they be trendy forever? If people are no longer looking to live in a tiny home it could be hard to rent or sell down the road.
A Good Way to Know for Sure is to Try It First
A great way to be extra certain you want to invest a significant amount of money into a tiny home is to try one out for a little bit. Sites like Airbnb, VRBO, and Glamping Hub offer tiny home rentals across the country. It can be a good way to decide if you can live in a tiny home long term or what a person might like to have if you are deciding to invest in a tiny home as a rental property.
Once you have decided to make the move and invest in a tiny home, come and visit us in Marysville. We have a number of great structure options for tiny homes. Come and check out the options for beginning your tiny home adventure today.
At Aurora Quality Buildings we have several great building options to turn into tiny homes. If you are interested in custom shed to turn into a tiny home or maybe even a mini cabin please come and visit us in Marysville to see some structures in person.  Come and visit us in Marysville today or contact us via phone or email to get started on that perfect private backyard office. We construct Custom Garages, Mini Cabins, Sheds, and Decks
More on Mini Cabins and Tiny Houses: