Choosing a Style for Your Deck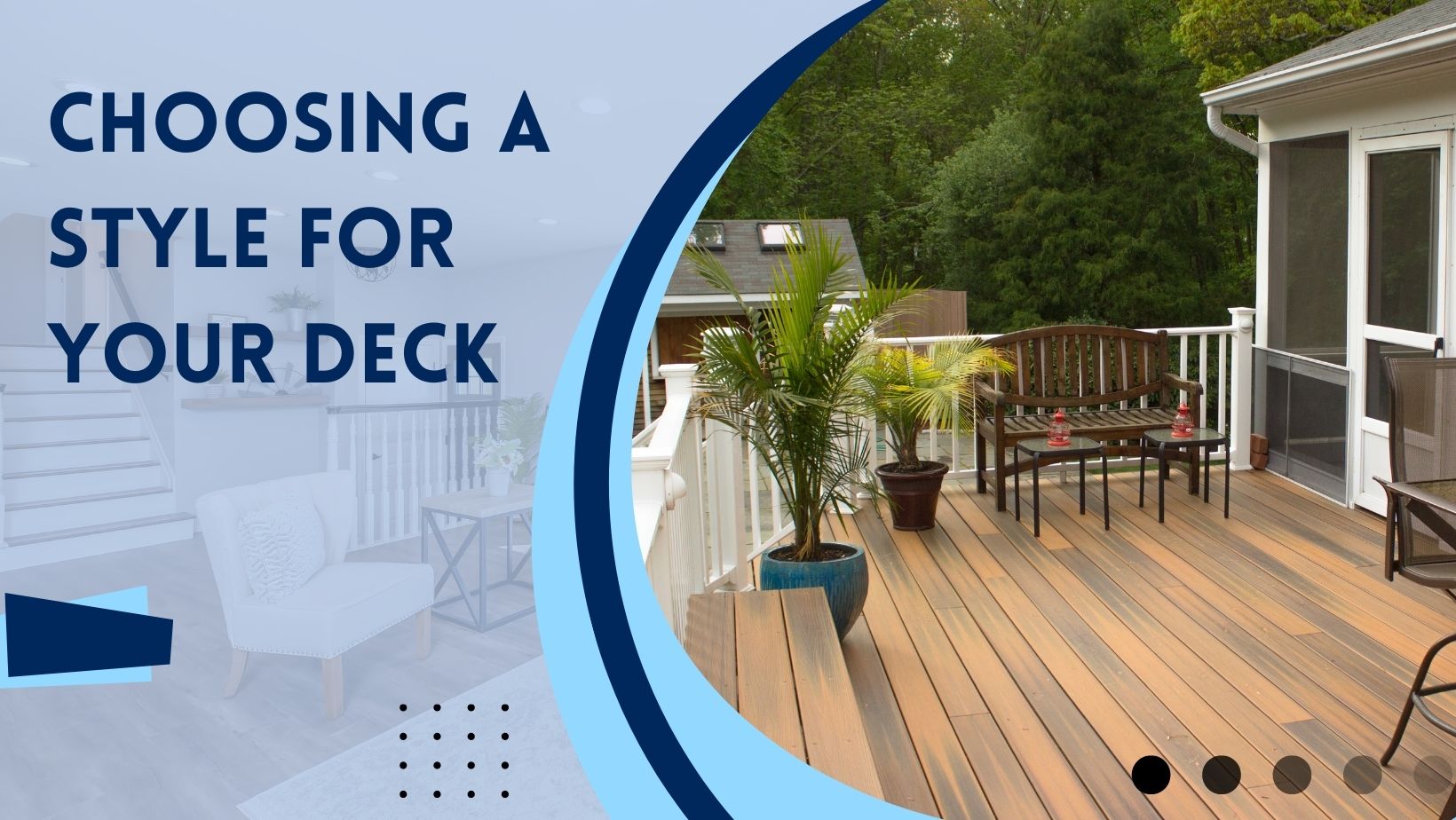 When it comes to having a custom deck built there are endless possibilities. You can choose to go with a simple box design that will still look great or you can go all out and elaborate with plenty of small custom detail. You could choose one single level or go with multiple.
So how do you decide what you want your custom deck to look like? How do you choose what your perfect outdoor living space will be?
It is a good idea to start by getting out a camera and taking a picture of the full-back portion of your home or the full side of your home your deck will be built. Next, get out a piece of tracing paper and start to make some sketches of what your dream custom deck may look like.
Of course, you want to make sure that you are taking a clear photo of your home and that you are printing it out so that it can be traced onto your paper and help you with your deck sketch. Make sure you are lightly sketching in pencil and don't be afraid to dream big and have an eraser handy. Don't be afraid to try something out and erase and re-draw.
What do you want your deck to do?
One driving factor that will help you to determine part of the style and architecture of a deck is what you dream and envision doing on your deck. Maybe you want an area right up next to the house for building an outdoor kitchen and placing a table. Maybe you want to separate and define that area by a pergola. Maybe you want an area where you can sit around a fire feature in super comfy chairs. And maybe you want this to be on a separate level to make it feel like it's a separate relaxation space.
Whatever it is you dream of doing outdoors on your deck, make sure that this is a big part of the planning process. You want to love your custom deck and in order to do so, you want to create a space that feels perfect for doing exactly what you want to do out there otherwise you will probably never use it.
Consider your home's architecture when designing your deck
You may have a general idea of what you want your deck to function as or be able to help you carry out certain activities. But what you want to make sure you do not forget is the style of your home's architecture. You want to make sure that the style of the deck blends and works alongside the architecture of your home. You do not want it to become a monstrous eyesore stuck to the back of your house.
For a contemporary home, you might choose to stick with a deck that is stained all one color and has clean and sharp lines and angles. For a traditional home, you could go with a striking dark color deck that has white railing and dark rail caps. You want to make sure that it continues to tell the exterior design story of your home.
Try not to get too carried away
Sometimes people can get very excited about designing their dream custom deck and it leads them to something that is overly complicated and becomes frustrating that they abandon it before it is ever finished. Remember if you stay pretty much simple and neutral you can always go all out in other design elements when it comes to finalizing your space.
You can bring in furniture or decorations that will finish it off nicely. The bonus to this approach is that these items can be changed out when you become tired and want a different design aesthetic. It is better to go this route if you are unsure of exactly what you want your deck to look like than to build expensive custom features that you may not love if you are years down the road.
For more information on building a custom deck in the Puget Sound area and surrounding areas please contact us anytime or stop by and visit us in the North Snohomish County area.
Stop By or Schedule a Consulation
More Advice on Decks