Reasons to Add a Playhouse to the Backyard
A backyard playhouse can be the perfect way to free up space in your home and create a dreamy place for your children to make lifelong memories. There are plenty of reasons to add a playhouse to your backyard, transforming a shed or mini cabin into a dream playhouse to be enjoyed for years to come.
To learn more about ordering a custom backyard playhouse, contact us any time!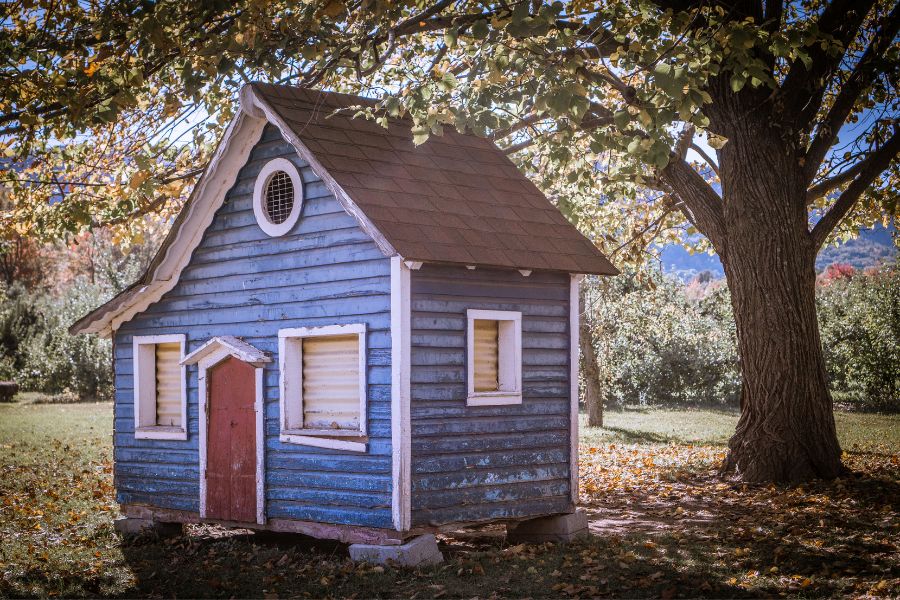 Not sure if a backyard playhouse is right for you? Here are a few reasons we think you might love this addition to your property.
1. Remove clutter from the house
When you create a playhouse, of course the kids will be thrilled. But it's more than just a gift for your kids or grandkids! By moving a substantial amount of toys, art supplies, and kid furniture to the playhouse, you may be able to free up a significant amount of space in the house.
If you current house has a playroom or a dedicated toy corner, the backyard playhouse will likely eliminate the need for that part of the house. This means you get to re-designate that space as a home office, additional bedroom, or whatever else your home is lacking.
2. The playhouse can be transformed over time
Some people wonder if investing in a backyard playhouse is worthwhile, since kids will eventually outgrow it. If you carefully design yours, however, it will be able to grow with you. Making sure to incorporate good insulation, power, and lighting into the design, you will be able to easily transform it into another space when the kids outgrow the need for a playhouse.
In it's next life, your playhouse might become:
A home office
A workout space
An art studio
A guest house
3. Eliminate the need to move
If you are feeling the pinch of outgrowing your home, sometimes all it takes to eliminate the need to move is some creative thinking. By moving some or all of your kids' toys out to the playhouse, you may find that the new, decluttered home is significantly more functional for your life.
4. Increase your entertaining and hospitality potential
Some families find that entertaining their friends with children is challenging without a dedicated place to kids to play. When you add a backyard playhouse, extending hospitality to other families with young children becomes far more convenient and realistic. Happily welcome your friends and send the crew of kids out to enjoy the playhouse while the grownups enjoy some quiet conversation in the home. Doesn't that sound like the dream?
5. A backyard playhouse is an affordable alternative to a room addition
Are you starting to feel like you've outgrown your home now that you have a couple of kids in it? When faced with the option of a room addition, many families wonder if the expense of a massive project like that is how they want to invest their money. A backyard shed or mini cabin may present a far more affordable solution that will require just a fraction of the timeline, making the home more functional without the need to hire a contract and add on to the house.
Ready to get started with your design? Contact us any time to learn more.
Stop By or Schedule a Consulation
More Advice on Decks