How to Find the Right Spot for Your Fishing Cabin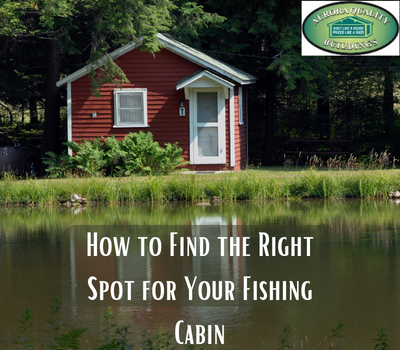 Imagine waking up to the serene sounds of nature, stepping outside your cabin, and casting your line into a pristine lake or river. Building a fishing cabin is a dream for many outdoor enthusiasts, providing a tranquil escape to nature's beauty.
If you dream of owning a small fishing cabin out by one of your favorite fishing spots, that dream may be closer than you think. We have mini cabins ready to be upgraded, customized, and personalized to be everything you need. Our cabins are built with high quality materials and craftsmanship you can trust, and our base price includes the labor and 100% wood construction. To learn more about our mini cabins, contact us any time.
For tips about finding the right location for your fishing cabin, keep reading.
Location, Location, Location
The first step in finding the right property for your fishing cabin is choosing the ideal location. Consider factors such as the proximity to fishing spots, the types of fish available, and the overall fishing experience. Research nearby lakes, rivers, and other bodies of water known for their fishing opportunities. Look for properties with water access or within a reasonable distance to your preferred fishing destinations.
Local Regulations
Before purchasing a property, familiarize yourself with the fishing regulations and licensing requirements in the area. Different regions may have specific rules regarding fishing seasons, catch limits, and permitted fishing methods. Make sure your chosen location aligns with your fishing preferences and follows ethical fishing practices.
Accessibility
Ensure that the property is easily accessible, especially if you plan to visit frequently. Check the quality of roads, proximity to major highways, and availability of nearby amenities such as grocery stores, medical facilities, and recreational activities.
This will also come into play for delivering your cabin to the property, in addition to any furnishings or supplies you will need. Make sure the road in is not going to present a problem.
Topography
Evaluate the topography and landscape of the property. Flat or gently sloping land can make construction easier, while rugged terrain might offer more seclusion and unique vistas. Consider how the landscape will affect your cabin's placement, views, and access to fishing areas. It may also be worth learning more about soil compaction and erosion in the area before you choose the spot on the property to place your cabin's foundation.
Legal Considerations
Research any legal restrictions, zoning regulations, and building codes that might apply to the property. Check if there are any limitations on building near water bodies, setback requirements, or restrictions on altering the natural landscape.
Infrastructure and Utilities
Determine the availability of essential utilities such as water, electricity, and sewage systems. If these utilities are not readily available, consider the cost and feasibility of installing them. Our mini cabins are a great option for an off-grid construction, but might require additional planning and investment.
Future Development
Consider your long-term plans for the property. Are you building a cabin for personal use, or do you envision it as a potential vacation rental? Think about how the property's location, amenities, and features align with your future goals.
Many people find that our mini cabins are the ideal first step in their development plans. You can set the cabin on the property as you wait to build your dream house on the land, and then continue to use the cabin in the future as a guest house.
Finding the right shed just might end up being the easiest part! Contact us any time to learn more about which of our buildings will be perfect for your new fishing cabin.