Check Out These Guest House Design Ideas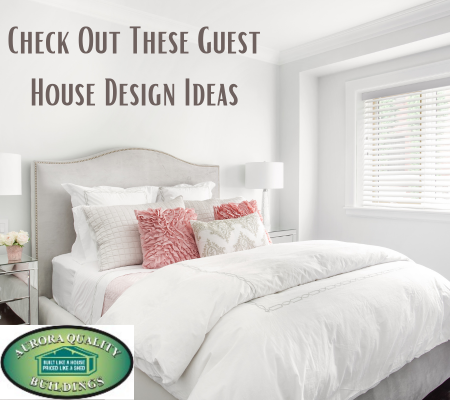 Adding a guest house to your property is a great way to add to your property value, in addition to making your home more functional. Our mini cabins can be customized to ideally suit your guest house plans, even doubling as an income property for short term renters or tourists when you do not have guests in town. If you would like to learn more about our mini cabins, contact us any time.
A guest house is the perfect place to explore a unique interior design aesthetic that might feel too bold for your primary home. If you are ready to make a bold design choice in your guest house, consider these vibrant choices.
Bohemian Oasis
The Bohemian theme exudes a sense of free-spiritedness and creativity. Incorporate vibrant colors, eclectic patterns, and an abundance of textiles such as Moroccan rugs, throw pillows, and tapestries. Consider using mismatched furniture and embracing vintage and handmade items.
This theme encourages a relaxed and inviting atmosphere where guests can kick back and embrace a carefree vibe. It is also a convenient option for a unique or compact space like our mini cabins, because you can find eclectic choices that fit your guest house, and even if they are quirky they will fit right in.
Industrial Chic
Industrial design has gained popularity for its raw and edgy aesthetics. Expose brick walls, concrete floors, and open ceiling beams to create an urban loft-like ambiance. Use steel and reclaimed wood furniture, pendant lights, and minimalistic decor to achieve an industrial chic look. This theme is perfect for a guest house with a contemporary edge.
If you choose this aesthetic, consider how the exterior might blend with the interior, and make sure it is all cohesive with the exterior of your primary house.
Coastal Retreat
Whether you live near the beach or you simply want to evoke a coastal ambiance, consider a coastal retreat theme. Utilize a soothing color palette of blues and whites, complemented by natural materials like driftwood, seashells, and rattan furniture. Nautical decor elements such as ship wheels, anchors, and sailcloth textiles can enhance the maritime atmosphere.
Vintage Elegance
Embrace the charm of yesteryears with a vintage elegance theme. Incorporate antique furniture, crystal chandeliers, and ornate mirrors to create an atmosphere of timeless sophistication. Rich, muted colors like deep burgundy, forest green, or royal blue can add a touch of opulence to the space. Vintage prints, lace curtains, and plush upholstery complete the look.
Modern Minimalism
For a guest house with a sleek and contemporary vibe, opt for a modern minimalist theme. Keep the design clean and clutter-free with a neutral color palette dominated by whites, grays, and blacks. Choose furniture with clean lines and minimalistic shapes. The focus here is on simplicity, functionality, and a sense of spaciousness. It's a great way to make the guest house feel larger and be more functional.
Rustic Retreat
A rustic retreat theme can transform your guest house into a cozy and inviting sanctuary. Use natural materials such as wood, stone, and leather to create warmth and texture. Incorporate earthy tones like browns and greens, and add rugged elements like exposed beams and log furniture. Cozy throws, animal hides, and a crackling fireplace contribute to the rustic charm.
Artistic Expression
One of the best ways to take full advantage of your guest house space is to make it multi-functional. Design a space that can be both extra living space for you and a place for guests to relax when they visit. If you are an artist, consider making your mini cabin both an art studio and a guest house.
Unleash your artistic side by decorating your guest house with an artistic expression theme. This theme allows you to showcase your personal creativity and passion for art. Hang your own artwork or display a collection of unique pieces from local artists. Choose a color palette that complements the artwork, and let the guest house become a gallery of your own making.
To learn more about designing a mini cabin for your guest house dreams, contact us any time.