Giving a New Life to Your College Student's Tiny Home
It is no secret that making the transition into the adult world has become increasingly expensive in recent years. With housing costs rising, some parents of teenage or young adult children are looking for alternative ways to support their kids during this time, without shelling out tens of thousands for room and board or an apartment but still offering an independent living space.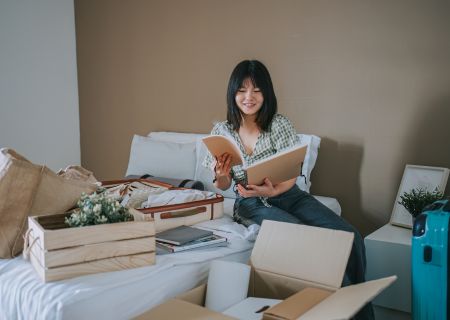 This is where an ADU or tiny home on the property can be the perfect solution. During the time your child needs some support while they finish college or get started in their career, you can provide an affordable, private, and independent living space by adding one of our mini cabins to your property.
If this is part of your plan, you may be concerned about the investment for only a few years of use, but there are numerous ways to repurpose your student's tiny home to continue benefiting from the investment.
Income Property
After your adult child moves out, the tiny home can be transitioned into an income property. Check first with your HOA, if applicable, to make sure you are not breaking any local guidelines as you formulate your strategy. After finding out if there are any limitations, consider giving new life to the tiny home to make it into a rental property.
There are two routes your can take: long term lease or a short term/nightly rental. The former will require less furnishing and ongoing maintenance, but will likely be a bit less lucrative. The latter has the potential to earn significantly more, but will require full furnishing and ongoing property management and hospitality services.
Either way, this can be a wonderful strategy to leverage your investment and create a stream of passive income.
Elderly Parents
Just as you and your adult child likely enjoyed the blend between support and independence the mini cabin provided, your elderly parents may feel the same. If you are considering becoming caretakers for your parents as they age, a backyard tiny home can be ideal. This provides the privacy and space you will all want, while allowing you to be close by for emergencies or ongoing daily care as needs arise.
Guest House
Have you ever dreamed of having a luxurious guest space to offer your friends and family when they come to town? A separate guest house takes your hospitality game to the next level. This will make it more comfortable to invite guests to stay a while, without anyone feeling they are in each other's space.
Redecorate the space to become a welcoming and comfortable guest house, taking advantage of the opportunity to try out some bold design choices or an aesthetic that does not blend well with the rest of your home.
Your guest house can serve as additional entertaining space or a place to relax away from the rest of the household when you don't have guests in town, too.
Ready to learn more about our mini cabins? We would love to answer your questions. Contact us any time to get started.