How to Transform a Garden Shed into an Art Studio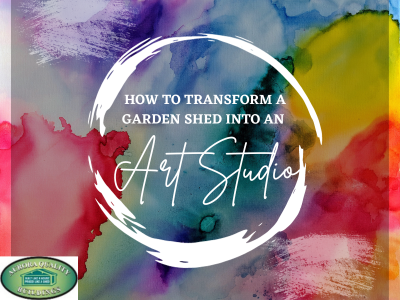 Our garden sheds are built with quality materials and construction so that they are suitable for far more than just outdoor storage. The more creative you are, the more ways you can find to transform your garden shed to add value to your home and functionality to your life.
One of the ways our garden sheds can be customized is to become your home art studio. If you enjoy creating art, have a business that depends on creating original artwork, or want to start a new hobby, consider these tips for transforming your garden shed into your dream art studio.
Choosing Your Location
Finding the right location on your property for your art studio requires some careful consideration. Some of the factors you want to keep in mind include:
Placing the shed on a poured concrete foundation if possible, but on pea gravel at least. A poured foundation will allow the shed to be more pest-resistant, stable, and possibly even add to your property value.
Consider your view from outside the windows of the shed. You want to have something inspiring to look at, like your garden, mountains in the distance, or your favorite tree.
Choose a spot on the property that will offer the best possible light for your art for as much of the day as possible.
Prioritize Natural Light
There are plenty of ways one person's art might differ from another's, but all artists have one thing in common: the need for great light. Prioritize good lighting in your home art studio by making sure there is plenty of natural light coming in through windows, skylights, and glass doors.
You may also want to incorporate multiple artificial lighting sources to make it easy to continue working on your art after dark or on a cloudy day. A combination of overhead lighting, spotlights, and lamps can let you create the atmosphere that is most practical and inspiring for you.
Prepare for All Seasons
The best way to make sure you get to enjoy your art studio to the fullest is to make sure it is comfortable to use any time. Depending on your location, there may be a variety of features you should incorporate into the design, like:
A space heater
HVAC
Fans
Mini fridge
Coffee maker
Upgraded insulation
Keep it Organized
Design an organization system that will allow you to keep your supplies and projects organized. Invest in efficient storage solutions to keep your tools organized and readily accessible.
Wall-mounted shelves, pegboards, and drawer units can help maximize the use of your space, and don't forget to label your storage containers for quick identification. You can also create a system for displaying and/or storing projects when they are finished.
Choose Practical Flooring
The choice of flooring can greatly impact your comfort and the functionality of your art studio. Opt for easy-to-clean flooring such as laminate, hardwood, or vinyl, which is ideal for an art space where spills and splatters are common. If this doesn't feel comfortable for you, consider washable rugs and mats to make the space feel more cozy.
Safety First
Don't forget to prioritize safety in your art studio. Store hazardous materials properly and have a first-aid kit on hand. Install smoke detectors and a fire extinguisher for added safety.
Proper ventilation is also crucial in an art studio, especially if you work with mediums that release fumes or dust. Install a ventilation system or ensure that your shed has good airflow through windows and vents to maintain a healthy environment.
Ready to learn more about ordering a custom garden shed to turn into an art studio? Contact us any time.