Wood Door Shopping Checklist: How To Source the Right Doors for Your Home
Replacing your doors, especially the front door, is a big purchase, and can be difficult to shop for. If you're like most people, it can feel overwhelming to educate yourself on the options and make a smart decision. Don't worry – you don't need to be super familiar with technical terms to find doors that are right for your home.
If you've settled on getting wood doors, you've already made one good decision. Wood offers many benefits as a door material and has a beautiful, authentic style that other materials just can't replicate. Wood is durable and strong; it won't rust like metal doors, and it can be repaired and refinished if the door gets scratched or dented. Wood is also less prone to condensation than materials like metal or fiberglass, so it's a great option for a shed, garage or even a cabin, which are becoming increasingly popular. If you take care of your wood doors, they'll stay pristine and beautiful for many years.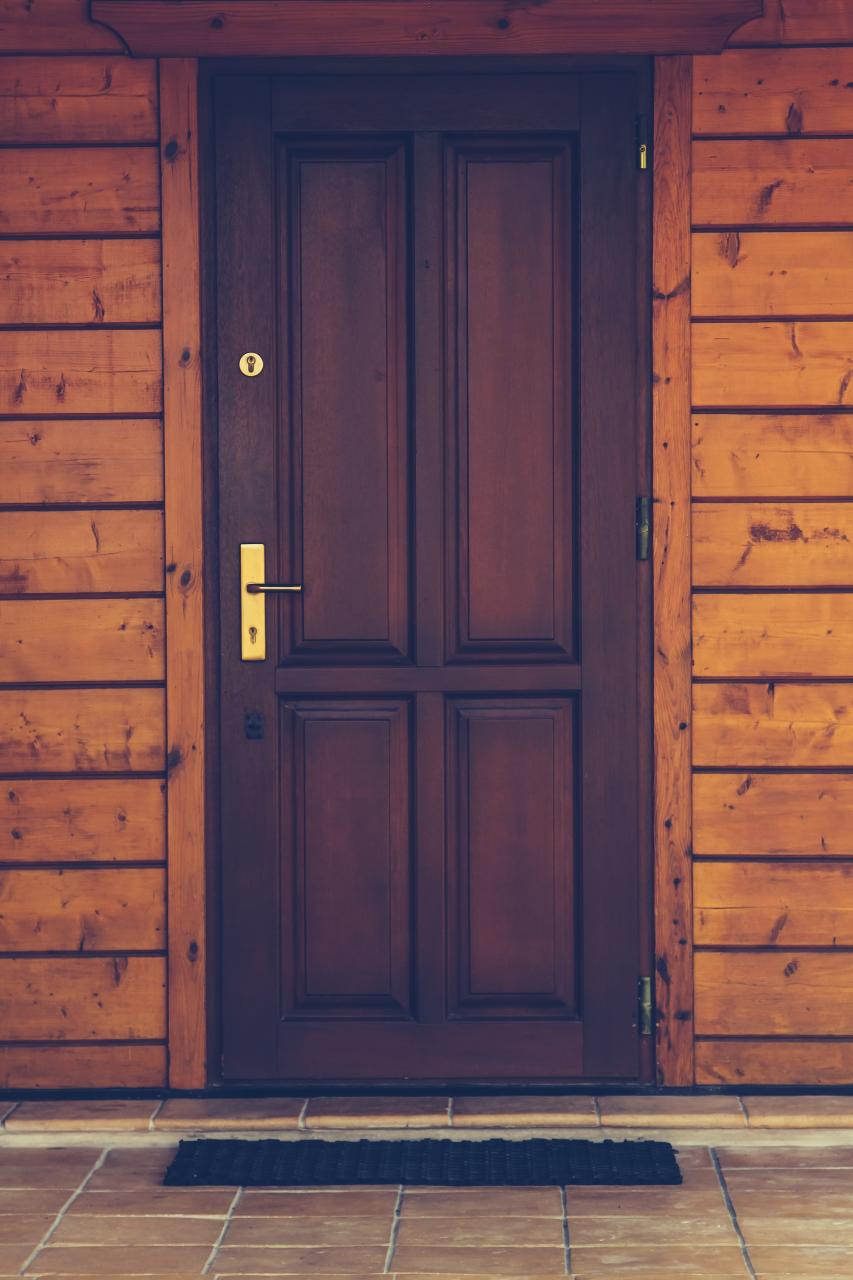 There are a number of factors to consider in order to find a door that suits your needs, complements your home, and has high quality construction. Before buying a door, run through this checklist:
Photo by Lucas Santos on Unsplash
When it comes to wood doors, there are many different species to choose from. ETO Doors specialize in wooden doors, and they shared with us the ins and out of popular wood species used in doors:
Mahogany: Sometimes referred to as the King of Woods, mahogany has been a preferred wood for doors and furniture for centuries. This dark wood features a tight, straight grain, and is well known for its rich color. Native to the tropics, mahogany is resistant to humidity, making it a great option for exterior doors, especially in more humid locations.
Douglas fir: One of the most common wood species for doors worldwide, Douglas fir has a fine red-brown grain. It is a more abundant species, making it more affordable than other types, although it is durable and moisture-resistant.
Knotty alder: Known for its rustic and unique knots naturally formed in the wood, knotty alder is one of the more sustainable wood species, and stains extremely well.
Walnut: The most highly regarded American hardwood, walnut is energy efficient and a great sound insulator, making it ideal for interior doors. With a well-developed grain and rich dark brown color, you'll be amazed by the natural spirals and swirls in a walnut door.

Solid Core or Hollow Core
When shopping for doors, you'll see them labeled as either solid core or hollow core. This refers to the internal construction of the door. Hollow core doors have a plastic or paperboard core with a wood shell. This makes for a lightweight and easily damaged door that should only be used for interiors. If you're on a budget, you can opt for hollow core interior doors, but if you want a high quality door, always choose solid core. These are engineered with natural wood veneer on the inside for a sturdier door that will resist damage and warping and offer better sound insulation.
On the practical end, you'll have to decide if you want a slab or prehung door. A slab door is just that — a door, and no more. Prehung doors come with the frame already attached. There are pros and cons to both of these options.
Getting a prehung door ensures that the door fits perfectly within the frame, and you won't have to do any tedious measuring to ensure you get a door that matches the frame in your house. If you want a unique shape, like an arched door, you'll have to order it prehung if it doesn't match your current frame. Prehung doors are preferred for exteriors because they'll already be fitted with weatherstripping. Additionally, if you plan on having the door professionally installed, this is a good opportunity to get a prehung door.
If you don't want to replace your existing frame because it's in good shape or you want to preserve the original construction of your home, then opt for a slab door. Keep in mind that having the right measurements is essential. If the door is too small, you won't get a proper seal when the door is closed, and if there isn't enough space around the edges, you'll damage both the door and the frame by forcing it open and closed. In some cases, having a slab door cut to fit your frame might be more expensive than getting a prehung door. You also may need to drill additional holes in your frame if the current ones don't align with the doorknob and deadbolt. Slab doors are a good option for those who love DIY, as you can install them yourself, if you want to.
Most run-of-the-mill door suppliers sell doors that have a 1-1/2″ thickness. If you want a door that will last, find a seller that offers doors with a 1-3/4″ thickness. While this may not seem like a big difference, that quarter-inch makes for a door that is more durable, resistant to warping, blocks more sound, and lasts longer. A high quality door supplier such as ETO Doors will offer 1-3/4″ solid core doors that are just as affordable as 1-1/2″ doors from other companies.
Unfinished, Primed, or Finished
The terms unfinished, primed, and finished refer to the paint status of the door when it arrives. An unfinished door has been sanded, but is completely untouched in terms of paint, so you can do whatever you like to it. However, don't just slap a coat of paint on an unfinished door. First it needs to be primed; make sure to do your research on how to properly paint a door if you opt for an unfinished door, or have it done professionally. You'll definitely want an unfinished door if you plan on varnishing, oiling, or waxing your wood door rather than painting it.
A finished door is just the opposite — this door has already been primed and painted, so it's ready to be installed. Finished doors are convenient, but it can be difficult to tell the exact color of the door if you haven't seen it in person, so be wary of ordering finished doors online.
If you're looking for something in between, a primed door has been primed and is ready for a coat of paint. Primed doors are typically easier to paint yourself, so if you already have a color in mind, this is a more convenient option than an unfinished door.
When talking about lumber, it's important to address sustainability. To make sure your wood door is sustainably sourced, look for an FSC certification. This means the company meets Forest Stewardship Council standards for sustainable forestry and ethical wood sourcing. You can also look for an LEED certification. A Leadership in Energy and Environmental Design certification is a recognition created by the U.S. Green Building Council that identifies green building projects and the manufacturers involved in them. If a company has received an LEED certification, this means they have contributed to environmentally sustainable projects and have a positive ecological reputation.