Designing a Home Office Space with Clients in Mind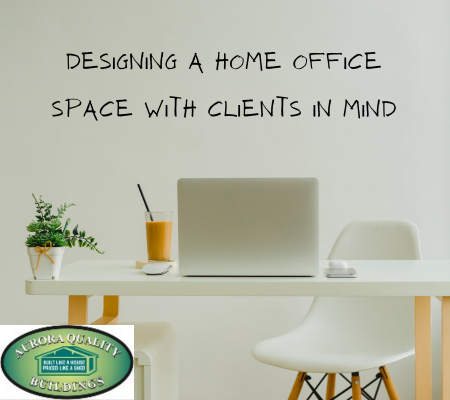 A backyard building can be the perfect place for a home office. Using one of our high quality garden sheds, you can design a space that is customized to your needs and preferences and take advantage of the many benefits associated with a home office in the backyard.
These benefits include avoiding a commute, which saves both time and stress, and still having a dedicated work space that is separate from your home. Many people find that this solution offers the best of both worlds. If you have questions about designing a backyard office that will work for your unique needs, contact us any time.
If you have a job that involves meeting with clients or networking with other professionals, you may be wondering if this strategy will work for you. In some cases, a backyard home office can feel unprofessional or not well-suited to meeting with clients. To make sure that your office works for you, here are some things you can do to design it with clients in mind.
Consider the First Impressions
As you consider where to place your home office on your property, keep the clients' first impression in mind. You may want to choose a space that is not too close to your own home, as close proximity can sometimes create an unprofessional setting. This is particularly true if you have children in the home or there will be lots of activity and noise in the main house.
You should also provide a paved path from the street or wherever your clients will park, with clearly marked direction to the office space to not leave anyone confused about where to enter.
The exterior of the office should be well maintained, and beautifully designed with landscaping or an outdoor space that sets a professional tone. In addition, your personal home will be a noticeable part of the first impression. Make sure that you are prepared to take good care of the exterior of our home, keeping things tidy and well maintained in any part of the property clients will see.
If you have pets, take extra care to be sure they are not wandering around the yard to potentially scare or bother your clients. Even if you have gentle and well behaved pets, your client may be caught off guard or may have an allergy or phobia. It is best to keep pets away from your home office unless you explicitly know your client will be happy to see them.
Prioritize Comfort
Make sure that your home office in a garden shed feels just as comfortable as meeting in an office building. You can design your office space to feature everything you need to comfortably host a client, including:
Mini fridge, coffee machine, or other refreshments
Upgraded insulation, heat, and air conditioning to keep temperatures comfortable
Seating that comfortably fits the space
Plenty of windows for natural light
Wheelchair accessible entrance or other accommodations, depending on the scope of your business
Storage that makes it easy to keep things neat and organized
Clear Communication
Make sure to provide clear communication to your clients with plenty of time for them to understand where they are meeting. Be clear about the fact that your office is in the backyard of your home, and consider creating an email you can supply to all of your clients with directions and photos that cover where to park, how to enter, and any other relevant information.
Professional Decor
Designing your own home office space is exciting because you can make it whatever you want it to be. Rather than being confined by an office building and any decor that is existing, your backyard home office can be uniquely customized to suit your comfort and taste.
As you choose furniture and decor, remember to keep the home office space professional by staying away from too much clutter or lots of personal items. Making the space uniquely yours can be combined with an awareness of keeping a professional tone.
To learn more about designing a garden shed that can become your dream office space, contact us any time.