Take Advantage of Vertical Storage in Your Backyard Shed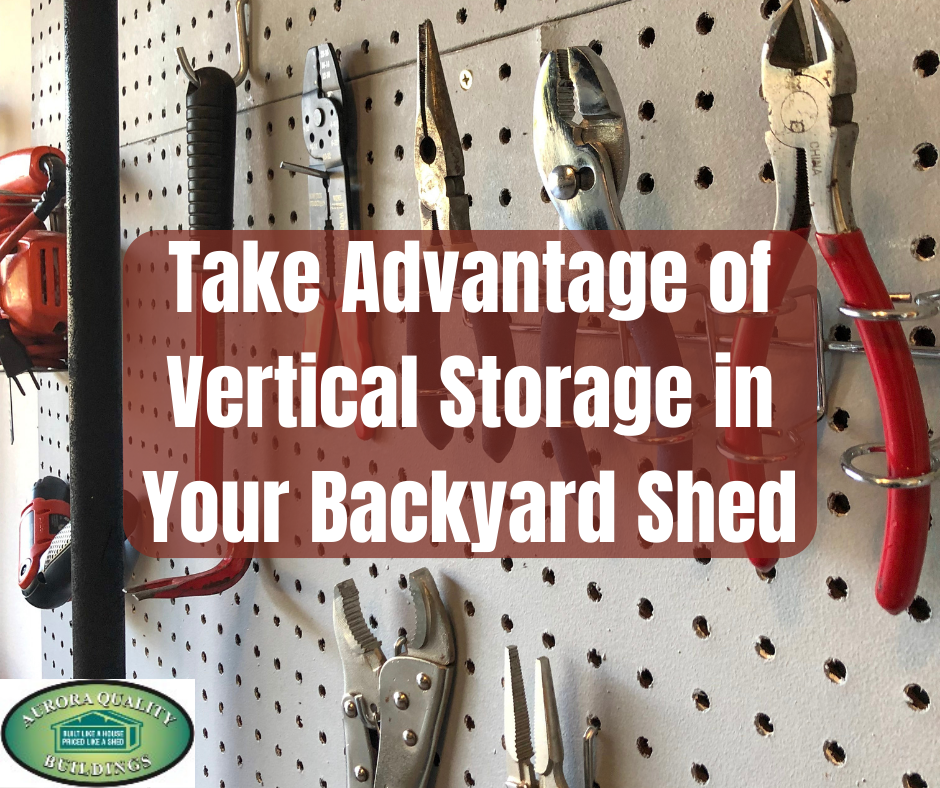 Does your home feel cramped or lacking in storage? Adding a garden shed or detached garage to your property can increase the efficiency of your home. Maximizing your shed or garage space should include taking full advantage of the vertical storage space. Without increasing the footprint of the building at all, you can increase the storage space by customizing it to be taller, either adding a loft space over the detached garage or upgrading your shed to a taller model.
To design a shed, detached garage, or other backyard building to meet your needs, contact us any time. We use high quality materials and tried and true designs to make sure you get the building you need to increase the functionality of your property.
When it comes to maximizing storage space in your shed, utilizing vertical space is a smart strategy. Here are several tips to help you take advantage of it:
Shelving
Consider adding sturdy shelves along the walls of your shed. Adjustable shelving units are particularly useful as they allow you to customize the spacing according to your storage needs as they evolve. Make sure the shelves are securely anchored to the wall or supported by brackets to ensure stability, and don't be afraid to install them higher than you can reach to take full advantage of wall space. A folding step stool will make it easy to access what you need.
Pegboards and Slatwalls
Mounting pegboards or slatwalls on the shed walls provides a versatile storage solution. You can hang various hooks, pegs, and baskets on them to store tools, gardening equipment, or other small items. These systems allow for easy customization and rearrangement of your storage setup as needed, and can be swapped out seasonally for convenience.
Overhead Storage
Take advantage of the overhead space in your shed by installing overhead storage racks or utilizing ceiling hooks. These are ideal for storing items that are not frequently used, such as seasonal decorations or bulky equipment. Maintain balance by keeping heavier items closer to the walls and lighter items towards the center of the racks.
Hang Bicycles
Bicycles and long-handled tools can tend to take up a lot of floor space. Install bike racks or hooks on the walls to hang bicycles and scooters vertically, and use wall-mounted tool holders or brackets to keep your long-handled tools organized and easily accessible.
Stacking Containers
Be sure to stack any containers you can to maximize the floor space taken up. Invest in stackable plastic bins or storage containers to optimize vertical storage space. Group similar items together and label the containers for easy identification. Stack them securely, with the heaviest containers at the bottom, to create vertical storage columns.
Add a Loft
Our sheds can be upgrades by adding a loft area. This elevated platform can provide additional storage space for items that are not needed regularly. Ensure the loft is designed and constructed safely, adhering to local building codes and regulations.
Think Outside the Box
Get creative with your vertical storage solutions. Look for unused spaces, such as the back of the shed door, the side of shelving units, or gaps between larger items. Install hooks, racks, or other organizers to make the most of these spaces.
Maintaining a well-organized shed by decluttering regularly, disposing of unused or broken items, and donating items you no longer need will allow you to take full advantage of the space. By implementing these strategies, you can effectively utilize the vertical storage space in your shed and create a more efficient and functional storage solution.
Ready to learn more about designing your shed? Contact us any time.