Upgrade Your Backyard Workshop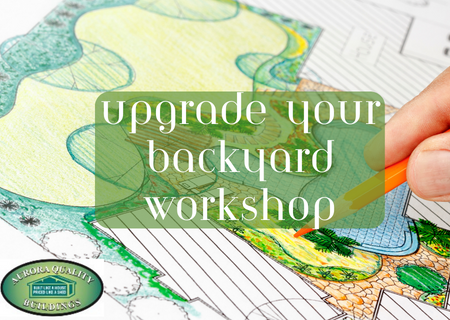 Do you have a garden shed or backyard workshop you want to spruce up? Or maybe you are ready to order a detached garage or shed that you can transform into the workshop of your dreams. These upgrade ideas can help take your workshop space to the next level, making is a space you can comfortably spend your time working on your newest project, tinkering, or just relaxing in.
We offer a variety of choices for your backyard workshop space, from small garden sheds to spacious detached garages with a loft space. Contact us any time to learn more about designing a backyard building that will meet your unique space and needs.
Looking for ideas to upgrade your backyard workshop? We have some to help you get inspired.
1. Add heating and cooling
To make sure you can get the most out of your space all year long, add heating and cooling to your backyard workshop. This way, you will not be limited to working when the climate allows, waiting for the temperatures to rise or stopping work before the heat of the day.
2. Make sure you have great lighting
Lighting is one of the most underrated features of any design. There are numerous reasons to include ample lighting, with both artificial and natural sources, including:
Make sure you can see equally well no matter what time of day you are working on your latest project
Good lighting will allow you to accurately see the color of the stain, paint, or materials you are working with
Plenty of natural light will keep the space from feeling gloomy
3. Keep things organized with built-in storage
A disorganized workspace is one of the top ways people waste time, money, and energy. When you cannot find the materials you need, you may waste money by purchasing something you forgot already have or waste time searching for something you know you have and cannot find.
To combat this, plan ahead for an organized workshop by including storage solutions in the design plan. Consider the types of tools and materials you expect to keep on hand and plan accordingly. This might mean adding built in shelving with drawers and bins, or you may want to leave space for a workbench with numerous small spaces for your particular tools.
4. Add proper ventilaton
Depending on the types of projects you plan to do, adding proper ventilation may be key. If you will be staining, glueing, painting, or using any chemicals in the workshop, plan to upgrade the ventilation in your workshop for your safety. The easiest time to do this is during the initial construction, so that you do not have to rely on always leaving windows and doors open.
5. Choose quality flooring
Flooring is often an afterthought in a backyard workshop, but it shouldn't be. Consider whether upgrading the flooring to something like epoxy or another super durable surface will make your workshop more functional. Choose something that will last for years to come, as taking everything out of your workshop to replace the flooring in the future is a chore you won't want to take on.
Ready to get started on designing the backyard workshop of your dreams? We can help. Contact us any time to learn more.