Tips for Insulating Your Shed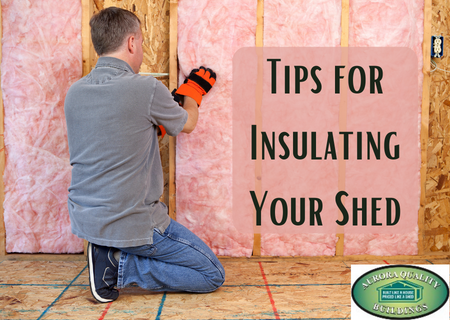 Depending on how you plan to use your backyard or garden shed, and the climate you live in, insulating it may be an upgrade option you should prioritize. Our sheds can be customized to meet your unique needs and suit your property, so contact us any time to learn more about selecting a backyard building that will work for you.
If you are wondering how to insulate your shed, we have some tips to help you determine which method is right for you.
Why Insulate Your Shed?
Insulating a shed helps regulate the temperature inside, making it more comfortable year-round. In colder climates, insulation helps retain heat, preventing extreme temperature drops and protecting items stored inside from freezing. In warmer climates, insulation helps reduce heat transfer, keeping the interior cooler and preventing the shed from becoming excessively hot.
Insulation provides an additional layer of protection for items stored in the shed. Extreme temperature fluctuations can be damaging to sensitive items such as electronics, wooden furniture, artwork, or delicate tools. Insulation helps maintain a more stable environment, reducing the risk of damage caused by temperature changes, condensation, or humidity.
Some of the uses for a shed that will need insulation include:
Temperature-sensitive storage
Guest house
Homeschool room
Types of Shed Insulation
There are a two main options for shed insulation to choose from, each with their own pros and cons.
Fiberglass
Fiberglass insulation is the less expensive of the two. It also comes with an attached vapor barrier, is relatively easy to install (though it requires proper protective equipment), and is easy to find.
The downsides of fiberglass insulation are the need for full protective equipment during insulation, as it presents a risk if any fibers are breathed in or get into your skin, and the fact that it can sometimes absorb moisture.
Mineral Wool
Mineral wool is a less common alternative to fiberglass insulation, and is spun from molten basalt or slag. It is more expensive than fiberglass and does not come with a vapor retarder. It is a safer product to work with, and does not require any protective equipment during insulation. It is also hydrophobic and non-combustible, as well as offering some sound-proofing. Keep in mind that if you choose mineral wool it may be more difficult to source and will require the purchasing of a separate vapor barrier.
Vapor Barriers
A vapor barrier, also known as a moisture barrier or vapor retarder, is a material used in building construction to control the movement of moisture vapor. It is installed along with insulation to minimize the risk of condensation and moisture-related issues within the building envelope.
The primary function of a vapor barrier is to prevent water vapor from passing through the building materials and reaching areas where it can cause damage. Much like insulation will protect whatever is in your shed from temperature fluctuations, the vapor barrier completes that protective layer by preventing excessive moisture to be able to build up in the shed.
If you have questions about how to design a shed that ideally suits your climate, budget, and plans, contact us any time. We would love to help you create your perfect backyard building.