Create a System for Your Emergency Food Storage in 2023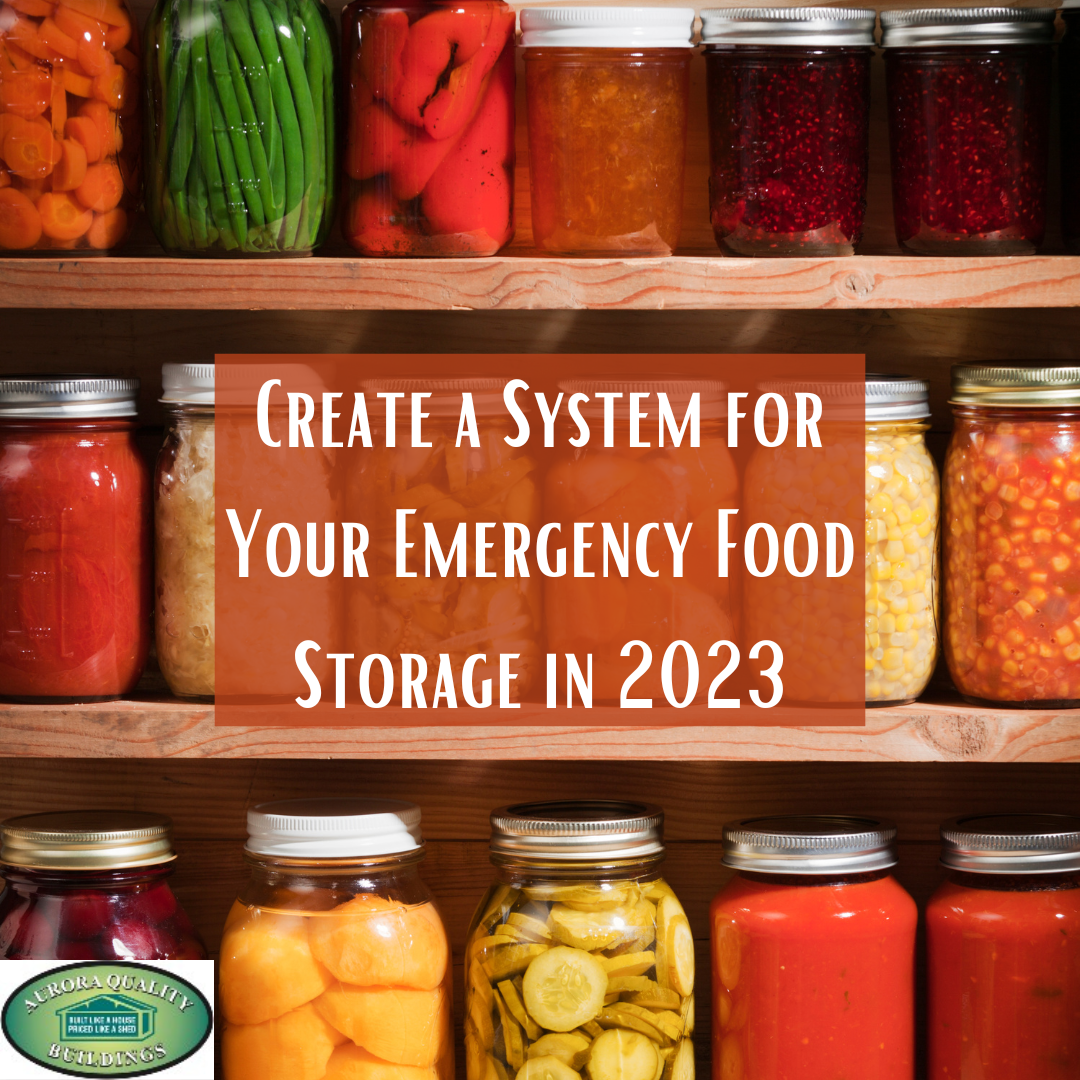 In recent years, many Americans have increased their emergency food storage and emergency preparedness by investing in food and supplies to have on hand. One of the primary obstacles to creating the emergency food and supply storage you want is having enough space.
If you do not have a basement or spacious pantry, finding the space inside your home to accommodate a substantial supply and food storage system may not be possible. Instead, consider adding a shed to the property where you can set up a dedicated and organized storage system. We can help you select and customize a design that works for you, choosing from our high quality garden sheds to meet your budget and needs. Contact us any time to learn more!
Here are some things to keep in mind as you design your emergency storage shed.
Protect Your Investment
The investment into food and medical supply storage is substantial; protect your investment by upgrading the insulation and ventilation of your shed. Another key factor is sealing off all windows and doors to prevent damage from moisture, rodents, or pests.
Airtight storage that is well organized and labeled will be key to avoid losing some of your supply to spoiling or expiration. While the majority of the food storage you choose will have a shelf life of up to decades, it is helpful to clearly label any foods that should be eaten within a few years, using them and replacing them over time.
If you use your food storage as a pantry of sorts in this way, you can limit loss and make sure you are investing as little as possible for maximum return.
Organize with a Plan
Before you start storing food, develop an organizational plan. Categorize food items based on their type, shelf life, and frequency of use. Create a system that allows for easy access and rotation of supplies to ensure freshness. Consider investing in sturdy shelves, storage containers, and labeling tools to maintain an organized inventory.
You may also want to allocate separate areas for other emergency supplies, such as water, cooking equipment, and emergency lighting. A food storage shed is the perfect place to organize other emergency supplies, taking full advantage of vertical space as well.
Choosing the Food
While there are plenty of pre-made food storage kits that are a good place to start, a truly useful food storage will be more personalized. Focus on acquiring food that has a long shelf life, requires minimal preparation, and provides balanced nutrition, and is something your household will actually enjoy eating.
Include items such as canned fruits, vegetables, meats, fish, soups, and beans. Dry goods like rice, pasta, oats, and dried fruits can also be stored in a shed. Remember to include a variety of spices, condiments, and seasonings to enhance flavor and maintain some familiarity to provide comfort in a crisis. Purchase foods that your family enjoys and consider any dietary restrictions or allergies.
Storage Methods
Food storage should be designed in a way that maximizes freshness. Proper ventilation and insulation is key, as well as limiting sunlight. Proper storage conditions are crucial to maintain the quality and longevity of your emergency food supply. Ensure the shed remains cool, dry, and well-ventilated, as excessive heat and humidity can deteriorate food quality.
Store food away from direct sunlight and potential water leaks. Utilize shelves, storage bins, and racks to keep food items organized and off the ground. Consider investing in food-grade storage containers or Mylar bags to provide an additional barrier against moisture and pests. Regularly inspect and rotate food items to prevent spoilage, using the principle of "first in, first out" (FIFO) to consume items before they expire. Don't forget to take inventory a few times per year to make sure you are maintaining an effective emergency supply.
Ready to begin designing your shed? Contact us any time.