Things You Should (And Shouldn't) Store in an Outdoor Shed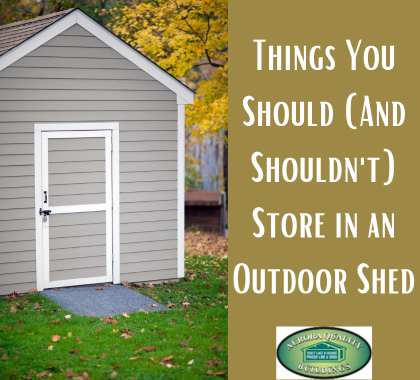 A garden shed can add value to your life in many ways, with storage being one of the primary reasons many of our clients come to us. Storing items in an outdoor shed can be a convenient solution for decluttering your living space and keeping belongings organized.
However, not all items are suitable for outdoor storage, as exposure to the elements and temperature fluctuations can cause damage over time. To ensure the safety and longevity of your belongings, it's essential to know what you should and shouldn't store in an outdoor shed. Some of this will depend on how you design your garden shed and which upgrades you choose, like insulation, a poured foundation, and added ventilation.
If you are wondering what you should plan to store in your garden shed, check out this list of do's and don't's.
Things You Should Store in Your Garden Shed
Garden Tools and Outdoor Equipment
Outdoor sheds are perfect for storing gardening tools, including shovels, rakes, hoes, pruners, and watering cans. Keep lawn mowers, trimmers, and other gardening equipment in the shed to protect them from the elements and free up valuable space in your garage.
Patio Furniture
Outdoor sheds provide a safe and dry space to store patio furniture during the off-season or when not in use. Consider covering the furniture with tarps or furniture covers for added protection. While many climates allow for patio furniture to remain outside year round with a cover, storing them in the shed will likely allow them to last much longer.
Seasonal Decor
Store holiday decorations, such as Christmas lights, Halloween props, and other seasonal items, in your outdoor shed to free up space inside your home. When everything is stored together in the shed by holiday or season, it will be easy to find what you need when the time comes.
Sports Equipment and Outdoor Toys
Keep sports equipment, such as bicycles, soccer balls, basketballs, and other outdoor gear, in the shed to prevent clutter in your garage or home. You can also store outdoor toys, such as sandboxes, water play equipment, and inflatable pools, in the shed to protect them from weather damage. The same goes for camping equipment, fishing gear, and other outdoor recreation items in the shed for easy access and protection from the elements.
Fertilizer and Soil
Outdoor sheds are an excellent place to store bags of potting soil, fertilizers, and other gardening supplies, as they are less likely to attract pests inside the house or garage.
Tools, Paint, and Chemicals
Keep paint cans, solvents, and household chemicals in a well-ventilated shed, away from direct sunlight and extreme temperatures, to prevent deterioration and potential hazards inside your home. This is also a great place to store power tools, such as drills, saws, and sanders, in the shed to keep them accessible and protected when not in use. If you are concerned about keeping these things safe from children, make sure to latch and lock your garden shed to limit access.
Pets, Pools, and Projects
Other miscellaneous items that are perfect for garden shed storage include:
Pet food, bedding, and toys
Pool chemicals and maintenance equipment
Leftover building materials from home improvement projects
Things You Should Not Store in Your Garden Shed
Perishable Food
Avoid storing perishable food items in the shed, as they are vulnerable to temperature fluctuations and can attract pests. There are ways to utilize your garden shed for emergency food storage without compromising the quality, but don't plan on your shed as a backup pantry. The same goes for any medicines or supplements. Medications can be affected by temperature and humidity changes and present a major health hazard.
Electronics
Electronics, including computers, televisions, and stereo equipment, are sensitive to temperature and humidity changes and should be stored indoors in a climate-controlled environment. This also goes for electric appliances such as refrigerators, microwaves, and washers, which should be stored indoors to protect from weather damage and maintain their functionality. You should also avoid storing laptops, smartphones, and cameras in the shed due to the risk of damage from moisture and extreme temperatures.
Valuables
While you can work to secure the items in your garden shed, avoid storing valuable items, such as jewelry, family heirlooms, and important documents, in an outdoor shed, as they are at higher risk of theft and damage. If it is something you cannot easily replace, choose an indoor storage solution instead.
Photos and Artwork
Photos and artwork can be easily damaged by moisture and temperature changes. Store them in a temperature-controlled and dry area inside your home.
Flammable Material
Avoid storing flammable materials, such as gasoline, propane tanks, and other fuels, in the shed due to the risk of fire.
Clothing and Fabric
Clothing and linens are susceptible to mold and mildew in outdoor sheds, in addition to pests. Store them indoors in a dry and climate-controlled environment.
Important Paperwork and Books
Avoid storing important documents, such as passports, birth certificates, and legal papers, in an outdoor shed. Keep them in a secure location indoors. Flood, fire, pests, or theft could threaten any paperwork you choose to store in the shed. Moisture can also damage books and important papers, so avoid storing them in the shed. Instead, keep them in a dry and secure location indoors.
Don't forget that the key to safely storing your belongings in a garden shed is choosing one that is high quality. Our garden sheds are designed to last, and we can help you customize yours to uniquely suit your plans. Contact us any time to learn more.