From Shingles to Metal: Choosing the Best Roof for Your Shed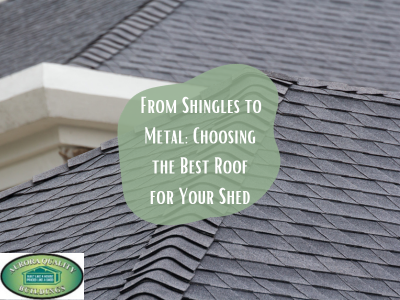 Every shed, regardless of its purpose, deserves a roof that not only complements its design but also offers protection from the elements. With so many options available, from traditional shingles to modern metal roofs, making the right choice can seem daunting. However, understanding the unique benefits and considerations of each material can simplify the decision-making process, ensuring your shed is quality and stands the test of time.
The Role of Climate
The climate of your region is arguably one of the most critical factors to consider when selecting a roofing material. After all, a roof's primary function is to shield the contents of your shed from external conditions.
In areas prone to heavy rainfall, it's essential to choose roofing materials that offer superior water resistance. This ensures that the interior remains dry, preventing mold growth and water damage. Conversely, in regions where snow is a frequent visitor, a roof that can bear the weight of snow accumulation without succumbing to damage is crucial.
Sun-drenched locales present their own set of challenges. Prolonged exposure to UV rays can degrade certain roofing materials over time, leading to cracks and leaks. In such climates, reflective roofing materials that can deflect sunlight and reduce heat absorption are ideal.
Wind can be a formidable adversary for any roof. In windy regions, it's vital to opt for roofing materials that can withstand gusts without getting torn or lifted. Secure fastening systems and aerodynamic designs can make a significant difference in such areas.
Popular Roofing Materials for Sheds
Asphalt Shingles
A staple in roofing, asphalt shingles are renowned for their affordability and versatility. Comprising a fiberglass base topped with mineral granules, these shingles are both durable and water-resistant. While they're a cost-effective choice, it's essential to note that their lifespan, typically around 20 to 30 years, might be shorter than some other materials. However, with minimal maintenance, such as regular inspections and cleaning, asphalt shingles can serve a shed effectively for many years.
Metal Roofing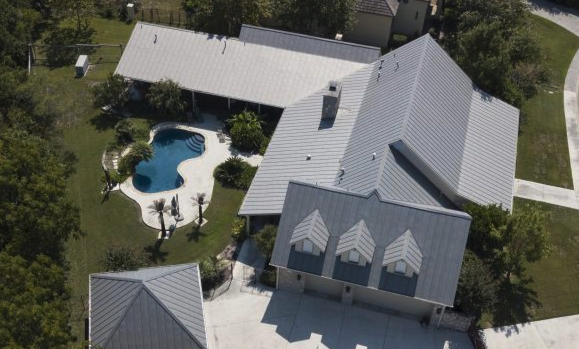 Metal roofing, whether made of aluminum, steel, or copper, are celebrated for their longevity and resilience. These roofs can last upwards of 50 years with minimal maintenance. Their reflective properties make them ideal for areas with intense sun, as they can deflect UV rays and reduce heat absorption. While the initial cost might be higher than asphalt shingles, the extended lifespan and reduced maintenance often justify the investment. Additionally, metal roofs are fire-resistant, adding an extra layer of safety to your shed.
Wooden Shingles and Shakes
For those seeking a more rustic or natural aesthetic, wooden shingles or shakes are an excellent choice. Beyond their visual appeal, wood offers natural insulation properties, helping regulate the shed's internal temperature. Cedar is a popular choice due to its inherent resistance to rot and insects. However, wooden roofs require regular maintenance to prevent moss growth and ensure longevity. It's also worth considering the source of the wood to ensure sustainability.
Clay and Concrete Tiles
Both clay and concrete tiles are synonymous with durability. Their weight and sturdiness make them resistant to most weather conditions. While they can be more expensive and require a robust support structure due to their weight, their lifespan often exceeds 50 years, making the investment worthwhile. Available in various styles and colors, these tiles can enhance the architectural appeal of any shed.
Green Roofs
An innovative and eco-friendly option, green roofs are essentially living roofs adorned with vegetation. Beyond their aesthetic appeal, they offer insulation benefits, reduce stormwater runoff, and promote biodiversity. While the initial setup might be more involved, the environmental benefits and energy savings make green roofs an enticing option for the eco-conscious shed owner.
Factors to Consider When Choosing Roofing Material
When selecting a roofing material for your shed, it's essential to strike a balance between functionality, aesthetics, and budget. Consider the long-term return on investment, factoring in maintenance costs and potential energy savings. Aesthetically, the roofing material should complement the design and purpose of your shed. Lastly, consider the environmental impact of your choice, opting for sustainable and eco-friendly materials if at all possible.
Wrapping Up
Choosing the right roofing material for your shed is a decision that marries form and function. With the myriad of options available, informed decision-making ensures that your shed not only looks good but also stands strong against the elements. As the roofing industry continues to innovate, shed owners have the unique opportunity to blend traditional wisdom with modern advancements. After all, a well-roofed shed is more than just a storage space; it's a testament to quality, durability, and thoughtful design.