Shed or Chicken Coop?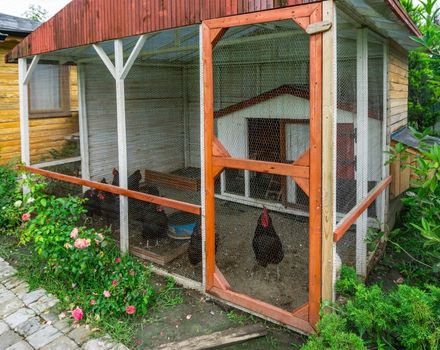 The reality of beginner chicken keeping is that you'll need a chicken coop sooner rather than later. Baby chicks grow up fast! Here's how to turn a shed into a chicken coop so you can easily provide your birds with a safe place to live. Many chicken lovers purchase a garden shed kit from a home store and turn it into a coop. The garden shed takes away the guesswork out of the building part and allows you to integrate new things in your project.
If you've already got a garden shed in the backyard, you may be wondering can I use my shed as a chicken coop? Yes. In fact, you're one step closer to a wonderful coop than we were. You just need to make the adjustments to accommodate your chickens. 
Site
While site selection isn't a huge topic in chicken how-to's, it really should be a significant consideration. If you don't get it right and you don't have a mobile coop, then you're stuck. You want your site to be on the flattest part of your yard. You want it in a sunny area to prevent rot, but you want some nice shade for the run and one side of the coop. You may have to look at providing more shade if it gets too hot.
Local Regulations
Always consider your local regulations; you don't want to be on the wrong side of the law when building a coop. That's part of the beauty of buying a pre-fab shed. Check the specs and you'll normally see that it already meets building codes. If so, you'll usually just be required to get a permit and pay a small fee. Zoning codes can also determine site selection. Some codes regulate how far off the property line your shed can be built. Some also regulate the dimensions and height. Figure this out before you get started – even before you purchase your chickens. If you can't build something that gives your birds enough space, then a smaller flock or no flock at all may be your course of action. 
Space 
Space is important. Too little space leads to disease and behavioral problems like pecking, bullying, and even cannibalism. It's best to err on the side of more space, especially since raising chickens can be addictive and most soon find that their first small flock will expand. You need to consider space inside the coop and space in the outdoor run separately. Minimums are two to three square feet per bird in the coop and three to four square feet per bird in the run. 
The Inside 
Two choices stand out for chicken coops, straw and pine shavings. My preference is pine shavings. They are inexpensive, easy to acquire and store and they dry well. Pine shavings are also kiln-dried so you shouldn't have a problem with the shavings harboring mites.  Shavings should be added to the coop floor about six inches deep to give the chickens a cushion as they jump from roost bars and nest boxes. 
Nesting Boxes
Nest boxes give chickens a clean, private space to lay their eggs where you can easily gather them. When you turn a shed into a chicken coop, you'll need to add nesting boxes. The rule of thumb is one nest box for every three to four chickens. Always provide the suggested amount of next boxes, but know that's a book rule and not a chicken rule. Your hens will sense the most popular box and all want to use it at the same time, creating a squabble and sometimes a tussle as two or more hens try to squeeze into the box at the same time.  Nest boxes are normally 12-inch cubes. You can buy them from a hatchery or farm supply store or make them yourself. Our nest boxes are recycled from a small starter coop that we no longer needed. People get creative with them and use all sorts of things including wooden crates and plastic cat litter boxes.
By having chickens, you've basically put an all-you-can-eat buffet for wildlife in your backyard. If predators can easily get food, they will. It's your job to make it hard for them and that starts with the coop. Once you have the basics in place, and you've turned a shed into a chicken coop, you can make your coop look as decorative as you'd like. Lighting, landscaping, and signs add personality. Just remember that cleanliness, ease of use and safety are the most important factors for a coop that you and your chickens will love.
For more information on outdoor sheds you can turn into a chicken coop or any backyard storage, contact us!
For more information on custom-built sheds in the Puget Sound area please contact us anytime or stop by and see us in the Arlington area.
More on Local Sheds