4 Low Cost Ways to Turn a Shed into an Extra Room
An Extra Room is a great benefit to your home. Many homeowners are looking for more space in their homes, and the number is growing as more people are spending more time at home. Not everyone can afford or would like to spend the money to move into a bigger house to solve the problem of needing more space.
This is why several homeowners are turning to back yard sheds as a low cost means to find an extra room in their homes. If you already have a shed in your yard, the project just became even more budget-friendly.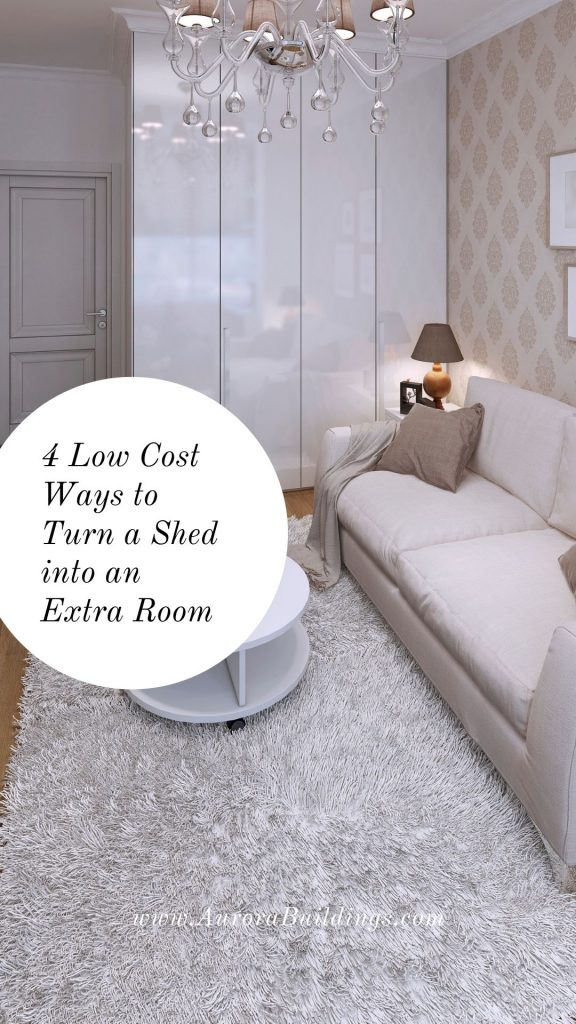 Here are 4 Steps to Turning a Shed into an Extra Room
Run Electricity
Not having electricity can be a fun experiment in living like the early settlers, but you may find you want the comforts electricity brings if you plan to use this extra space often. You may need it for lighting, heat, A/C, and even outlets. It will cost more, but it is smart to hire a professional to do the work.
Climate Control is Important
The shed does provide shelter, but in its current state it is a little rougher than living out in the garage or in an unfinished basement. It can become miserable and unusable in very hot or very cold weather. Add the right insulation and drywall to helping make the space comfortable.
If the area you live in has extreme temperatures consider a small HVAC unit. A window-mounted one is most budget-friendly.
Flooring
The floor will need to be finished out with flooring meant for the inside of a home as well or you have wasted your efforts on climate control. Hard surface flooring is more costly than carpeting but is easier to clean with exposure to the outdoors.
It is a pretty small space so flooring should not cost an arm and a leg unless you choose something super fancy. An area rug will help the room to feel cozier if you feel the space needs it.
Finishing Touches
Now that all of the basics are taken care of it is time for the fun stuff. This includes lighting fixtures, paint, trim/molding, and furnishings. It can also get quite expensive if you do not plan accordingly. Start with remembering what you want to use the extra space for then make a plan of what you need in the space to make it work. List out the items you will need. Once you have this list don't just go shopping at any store.
Look for items that are used, salvaged, returned, or on clearance. You can find some great vintage or gently used items at much lower prices than brand new. This will also help you to create a space that tells a story, one that is truly uniquely all yours.
For more information on building custom sheds in the Pacific Northwest and surrounding areas contact us any time by emailing or calling us or come and visit us in Marysville to see our products in person.