How to Make Sure Your She Shed Adds Value to Your Home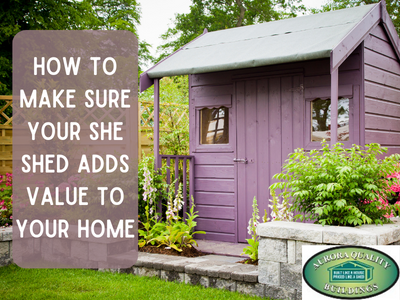 Adding a she shed or other structure to your property is a great way to add value and functionality to your life, creating a space that is uniquely customized to meet your needs. There are also some ways to make sure that this addition adds to your property value.
Not all backyard buildings will be included in the square footage of your home when it is appraised, so some she sheds will only add value in the sense that they may be appealing to your potential buyers. However, with the right strategy in place to you can make sure that your she shed increases both your home's current functionality and its property value for your future benefit.
To learn more about the high quality sheds and mini cabins we offer, contact us any time, and keep reading for tips to make sure your building adds to your property value.
Choosing Your Foundation
The foundation you choose for your she shed is significant for multiple reasons. When it comes to property value, in nearly every state the shed must be set on a poured foundation in order to be included in the overall square footage of the property.
In addition to making it count as part of the square footage, a poured foundation offers other benefits. Poured foundations are known for their strength and durability. They provide a solid and stable base for your she shed, ensuring that it remains secure and level over time. This is particularly important for structures that may be subjected to heavy winds, snow loads, or seismic activity.
Concrete is naturally resistant to moisture, which is crucial for protecting the integrity of your she shed. A poured foundation helps keep moisture from seeping into the structure, preventing issues like mold, mildew, and rot. They are also less susceptible to pest infestations compared to other foundation types.
Climate Control
A climate controlled space is also required to be considered as a part of the overall square footage. In many states this does not mean you have to run HVAC through the shed, though it would be best to check with your local regulations. Other ways to achieve climate control in the shed include insulating it, adding heated floors or space heaters, and installing ceiling fans or window A/C units.
While you may initially be motivated to make sure the shed can increase your property value, climate control is a great investment anyway. Proper insulation and climate control systems allow you to use your she shed throughout the year, regardless of weather conditions. Whether it's sweltering summer heat or freezing winter cold, you can comfortably enjoy your space without discomfort.
And, if your she shed is a space for crafting, painting, or other artistic endeavors, maintaining a consistent temperature and humidity level is essential for preserving the quality of your materials and finished work.
Electricity
Running power to the shed is essential to be considered a permanent structure that is a part of the overall square footage on your property. This is almost always something you should hire a professional to handle, and may be easier than you expected. You can choose to use solar power in some cases, but many homeowners find it is easiest to connect to the electrical system that is already in place on the property.
Added Features
You may want to add more features to contribute to the appeal of the shed, even considering making it a full guest house with a bathroom. Adding plumbing that can include a bathroom, and even a small kitchen or kitchenette, will open up the opportunity to consider it an ADU.
This means you can count it as a part of the livable square footage on your property, and even consider leveraging the shed as a small rental property or extra dwelling for family members in the future. In the meantime, it will be a more luxurious, comfortable, and convenient she shed space.
Ready to order one of our high quality garden sheds or mini cabins? Contact us any time to begin customizing your structure.