Planning Steps Before Building a Hospitality Shed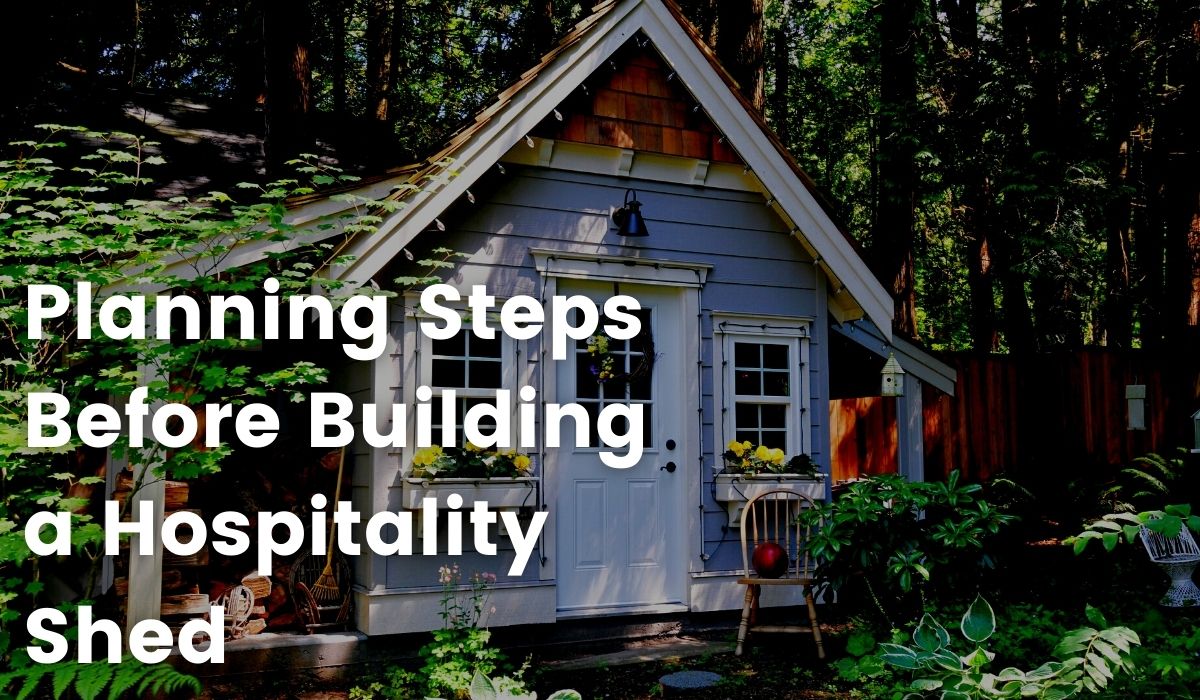 A Hospitality shed are a great way to use a quality custom-built shed structure to create a guest space on your property without the huge financial commitment of building a full guest home or adding on to your existing home.
Before you take the plunge and purchase a custom-built quality woodshed for your guest space you want to take some planning steps. Here are five steps to take before putting up your hospitality shed on your property.
Make sure you have the proper permits
Permits, permits, permits. This is something that cannot be said enough. No matter what structure you are putting on your property you want to make sure that you are within your local zoning laws and that you have the proper permission ahead of time. You do not want to spend the money and put up your hospitality shed only to find out that it is not within local zoning parameters. And that you did not have permission to build it.
Failing to get the proper permits and to make sure you are within local zoning laws could result in a hefty fine or being asked to tear down your shed.
Running electricity to the space
Unless you are creating a rustic old-timey feel for your hospitality space you are going to want some electricity. There is nothing wrong with creating that, but some people might envision creating a hospitality shed something much like a smaller version of the house or a private cottage-style hotel room.
Before just running a line out to the shed you want to consider what items you want to power in your hospitality shed. Are you going to want to run lights, television, air conditioning, or appliances? The amount of electricity you need will play a huge role in what type of setup your hospitality shed will require.
Plumbing
It is a good idea before bringing in your shed to decide if you will want to include any plumbing elements. Some hospitality shed owners decide that they would rather keep the budget and project on the simpler end and have their guests use the bathroom inside the main home.
If you are planning to turn your hospitality shed into a rental you may want to consider having a private bathroom space if your home is not set up where guests can easily access their very own bathroom.
MORE: 4 Great Ways to Use a Hospitality Shed
Heating and cooling
You want to make sure that your shed is well insulated or has a great source of heating and cooling during extreme temperatures. Having a cute space with a comfortable bed is nothing if the room is an unpleasant temperature. Controlling the climate inside your hospitality shed is crucial to guest comfort.
Make sure to order the right size shed
It is a good idea to have what you hope to fit into the space in mind and how you hope to lay it out to make sure that you will have plenty of square footage to carry out your plans. You want to make sure that you are able to fit everything you were hoping to and create the hospitality shed that you were dreaming of.
It is a good idea to draw out your plan complete with furnishings and then add on an extra 2 feet to the width and length to make sure you have plenty of room for everything. It is easier to have more space than expected than to have less.
For more information on custom-built sheds in Snohomish County and Puget Sound as well as surrounding areas please contact us anytime.
More on Converting your Shed or Tiny Home into a Workout Space