Running a Personal Training Business from Your Backyard Shed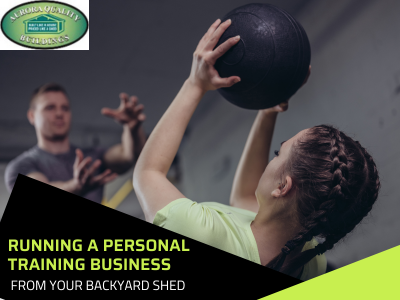 In recent years, the fitness industry has experienced a significant transformation and the demand for personal training is at an all time high. With the rise of online fitness coaching and the increasing demand for personalized training, starting a personal training business from your backyard shed gym has become a viable option with major potential
If you are looking for a plan to help you create a personal training business in your own backyard, this post is for you. Starting with one of our high quality garden sheds or detached garages, you can create a space that is functional and professional. Contact us any time to learn more.
Creating Your Backyard Gym
Before diving into the business aspect, you need to have a suitable workout space. Transforming your backyard shed or detached garage into a fully functional gym is the first step. As you design your Aurora Building, here are some things to keep in mind:
Prepare to keep the space clear and clutter free by choosing the appropriate size. Get measurements of the equipment you plan to purchase and the footprint of any storage furniture you will have, and consider whether you would like to have indoor space to train in, or will do all of the working out in the outdoor space.
Prioritize ventilation in your design. Fans, windows, and upgraded ventilation are all key.
Make sure everything is well lit with a combination of artificial lighting both inside and out, and plenty of natural light sources like extra windows and skylights. This is key to make it feel professional and help people stay safe.
Invest in durable, gym-specific flooring to protect your clients and equipment.
Safety first! Don't forget about safety equipment like first aid kits and fire extinguishers, and ensure your gym complies with local safety codes.
Legal Considerations
Before finalizing your order, make sure you are fully aware of any local codes and legal regulations that might impact your business plans. Make sure you are aware of fire marshal-regulated maximum capacity, your HOA's guidelines, and any other relevant information.
Even in a backyard business, it's important to keep everything legal and professional for your long term success and protection. Here are some things to put on your to-do list:
Register your business with the appropriate authorities and obtain any necessary permits or licenses.
Protect yourself and your clients by investing in liability insurance to cover any accidents or injuries that may occur during training sessions.
Draft legally binding waiver forms that clients must sign before starting training to acknowledge the potential risks.
Consult with a tax professional to understand your tax obligations as a small business owner.
Marketing and Client Experience
As you are planning your backyard gym design, consider how you can make the space marketable and conducive to a great client experience. Focus on aesthetics for marketability, like an attractive color scheme that works with your branding and will photograph well.
More tips to get your business up and running:
Use platforms like Instagram, Facebook, and YouTube to share workout tips, success stories, and promotions.
Set up an online payment system for convenience.
Reward loyal clients with discounts or special perks.
Ask your clients regularly for feedback and be willing to adapt.
Ready to learn more about ordering a space for your personal training business? Contact us any time.