Maintenance Tips to Keep Your Shed in Great Shape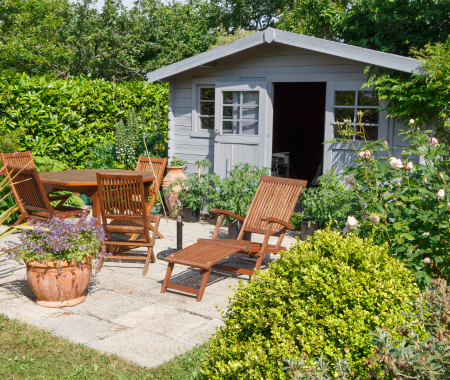 A backyard shed is an investment, just like any other home improvement. To make the most of the time, energy, and finances you put into designing a custom shed for your property, plan to keep up with regular maintenance so it can stay in great shape. Just like your home, your shed needs to be maintained to serve you best.
Here are some regular maintenance tasks to put on your to do list and enjoy your shed for as long as possible.
1. Check for leaks, cracks, and holes at the beginning of every season
About 4 times a year, check the entire shed for signs of damage like cracks, leaks, and holes. The earlier you can catch these issues, the better. Before moisture, pests, or debris make their way into the shed, you can repair the damage. It also helps to prevent any damage from getting worse if you can repair it as soon as it occurs. Most of this kind of repair is quick and easy to tackle yourself, with some caulking or patching the wood.
Check for this kind of damage a few times a year as a routine, and also after any storms or other circumstances that may have caused damage, like a flood, a tree branch falling, or an accident. Remember, some condensation and moisture can be normal depending on your climate, so don't confuse that with an actual leak. If you live in a climate where moisture is likely to be an issue, consider upgrading the ventilation in the shed to avoid moisture buildup.
2. Keep pests out
Pests often love to make themselves at home in a garden shed. With minimal human interruption, protection from the elements, easy entrance, and sometimes a food source, it's a home sweet home. Try to keep pests from getting in in the first place by:
Trimming grass around the perimeter
Avoiding stacking wood or storing things right against the shed
Keeping all containers inside tightly sealed
Sweeping or vacuuming every couple of months
Preventing any standing water from being in the shed – not only can this lead to pests, but mold as well, check out: What Steps Do You Take If There Is Mold Damage?
If you do notice signs of pests, tackle them immediately to avoid a major pest control issue.
3. Stay organized
Take the time to set up a system that keeps the shed organized. This way, you can easily notice if something is broken, missing, or in need of restocking. You can easily keep things in good shape if the inside of the shed is tidy because you will notice if something needs to be patched, given a little WD-40, or replaced.
4. Pressure wash the exterior
When a shed lives in your backyard, it's easy to not notice the slow buildup of dirt or other residue over time. To extend the life of your shed, take the time to wash the outside of it by using a pressure washer a couple times a year. This will be worth the cost to rent one if you don't own it, keeping your shed in tip top shape for as long as possible.
If you don't want to use a pressure washer, soap and water with some elbow grease can get the job done. This will work best if you are committed to keeping up with cleaning it every few months to avoid any major buildup.
Ready to learn more about designing a garden shed for your property? We would love to help. Our high quality buildings can be customized and upgraded to meet your unique needs and add value to your property. Contact us any time to learn more.