Financial Benefits of Owning a Backyard Shed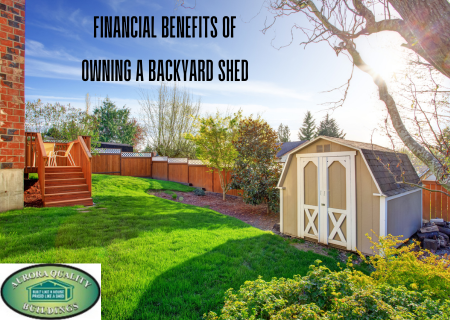 A backyard shed is more of an investment than just a purchase. Often regarded as a mere storage space for old tools and seasonal items, a backyard shed can prove to be much more than that. Beyond its functional aspects, it can also be a smart financial decision with a range of tangible and intangible benefits.
If you are wondering whether you will get enough return on investment from the expense of one of our high quality custom backyard sheds, contact us any time to find out how we can design something that uniquely meets your needs, and consider these financial benefits of owning a shed.
Property Value
One of the most evident financial benefits of owning a backyard shed is its positive impact on property value. A well-built and aesthetically pleasing shed can enhance the overall appeal of your home to potential buyers. In real estate, additional storage and functional spaces are highly desirable features. Real estate experts agree that a strategically placed and well-maintained shed can attract more potential buyers and increase the market value of your property.
Storage and Organization
A backyard shed provides ample storage space, allowing you to declutter and organize your living space. By keeping your belongings and tools well-organized and protected from the elements, you can prolong their lifespan and reduce the need for frequent replacements. This results in cost savings in the long run and prevents the accumulation of unnecessary items in your home.
Home Expansion
For those seeking additional space but not eager to invest in costly home expansions or renovations, a backyard shed can be the perfect solution. Converting the shed into a home office, a workshop, or even a playroom for kids can offer valuable extra square footage without the hefty price tag of structural changes. This adaptability makes the shed a versatile and cost-effective option for expanding your living space.
Potential Income
If you find yourself with unused storage space in the shed, you have the opportunity to turn it into a source of rental income. Many people seek extra storage for their belongings, and some might be willing to pay a reasonable fee to use your shed for that purpose. Generating rental income from your backyard shed can help offset its initial cost and even provide ongoing financial benefits.
For those who want to take this benefit even further, a shed can be turned into a small dwelling that can be rented out as as short term vacation rental or small studio apartment.
Tax Advantages
In some cases, owning a backyard shed may offer potential tax advantages. Depending on your location and local regulations, adding a shed to your property might increase your home's tax assessment slightly, but it could also be considered an improvement, potentially lowering your taxable gains when you sell your home.
Protect Your Equipment
Outdoor equipment, such as lawnmowers, gardening tools, and patio furniture, can be expensive to replace if left exposed to harsh weather conditions. A backyard shed provides a secure and weather-resistant space to store these items, extending their lifespan and minimizing maintenance and replacement costs.
We can even upgrade your shed to feature better ventilation or insulation depending on your climate to be sure your equipment is protected from the elements.
Ready to design the right backyard shed for you? Contact us any time.