Designing Your Dream She Shed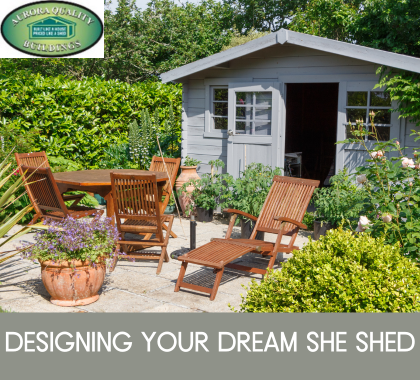 She sheds have gained popularity as unique and personal spaces where women can escape the hustle and bustle of daily life and find solace, inspiration, and relaxation. A she shed is more than just a physical structure; it's a sanctuary that reflects your individual style and needs. Whether you envision a cozy reading nook, an art studio, a gardening haven, or a space for yoga and meditation, designing your she shed requires careful planning and creative vision.
We have a variety of options to help you create your dream she shed. From petite garden sheds that fit compact spaces to more grand mini cabins that can even double as a guest house, we have everything you need to design a custom backyard building that will be your new favorite space.
Contact us any time to learn more about ordering the building you will transform into your she shed, and keep reading for tips to design a space you will love.
Define Your Purpose
Before diving into the design process, clarify the purpose of your she shed. Are you looking for a quiet space to read and reflect, a creative studio, a space for exercise, or a combination of these? Do you want this to be a space just for you, or somewhere you can invite others to join you? Understanding the primary function of your she shed will guide your design decisions.
Identify the Right Location
Selecting the perfect location for your she shed is crucial. Consider factors like sunlight exposure, views, proximity to your home, and the surrounding environment. Make sure the location complements the purpose of your she shed, keeping in mind your neighbors and the proximity to neighboring properties.
Prioritize Comfort
Your she shed should be a comfortable haven. Think about climate control options, such as insulation, heating, and cooling, to ensure your space is usable year-round. Adequate ventilation and comfortable seating are also essential for creating a welcoming environment. We can customize and upgrade your shed to uniquely suit your climate and property.
Let Your Personal Style Shine
A she shed is the perfect place to embrace your personal aesthetic, perhaps in a way that feels too bold for your main house. Let your personal style shine through in the design of your she shed. Consider colors, textures, and décor that resonate with you. Whether you prefer a rustic, bohemian, modern, or cottage-inspired look, infuse your she shed with elements that reflect your aesthetic.
Optimize Natural Light
Natural light can significantly impact the ambiance of your she shed. Maximize windows, skylights, and glass doors to bring in ample sunlight. Proper lighting not only enhances the visual appeal but also creates a pleasant atmosphere for your chosen activities.
Don't Forget About Storage
One of the fastest ways to take the fun out of your she shed is to turn it into a typical storage shed. If you don't plan ahead for storage solutions, you may find that the she shed quickly becomes a catcall space that is too cluttered to be enjoyed.
Ensure your she shed remains organized by incorporating clever storage solutions. Custom shelving, built-in cabinets, and storage containers can help you keep your space clutter-free and functional. If you plan to utilize some of the space to store non-she shed items like seasonal decor, designate a clear space for this purpose.
Keep Privacy in Mind
Privacy is a key factor in designing a she shed. Consider installing curtains, blinds, or frosted glass for windows and doors to ensure your space remains a private sanctuary. Landscaping and fencing can also help create a secluded oasis.
Stay Inspired
Your she shed should be a source of inspiration and creativity. Hang a bulletin board or a gallery wall where you can display ideas, quotes, and artwork that inspire you. Having a visual source of motivation can elevate the energy of your space. This will help your shed continue to meet your needs and stay open to adaptations as your needs change.
Ready to learn more about ordering your she shed? Contact us any time.