Create the Library of Your Dreams in Your Backyard Shed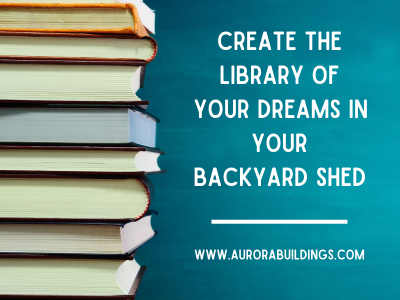 Are you looking around your home and craving a tranquil escape? If your current house does not have the space for a cozy room where you can unwind, consider transforming one of our high quality garden sheds into your own private library just steps outside your back door.
We can help you select a design that makes sense for your property, your budget, and your plans. Contact us any time to learn more about our garden sheds and get started.
In the meantime, check out these tips and inspiration for designing your dream library, in a shed.
Choose the Right Shed
Not all garden sheds are created equal. If you are looking for one you can transform into a peaceful and comfortable space, you need something that is high quality and built to last. There are also some features that are essential for this plan to work well.
Make sure that your ventilation and insulation are upgraded to keep the interior comfortable and protect your books. We can help you design a plan that includes upgraded ventilation and insulation to make it last.
Weatherstripping is also essential, to make the space comfortable and to protect the furniture, books, and anything else from unnecessary wear and tear. Weatherproof all of your doors and windows to prevent drafts and moisture intrusion.
Comfortable Design
In addition to plenty of space to store your books, make sure you choose seating and details that make it easy to relax in your cozy getaway.
Invest in comfortable seating options like a plush reading chair, a small sofa, or a window seat with cushions and throw pillows. Making sure the furniture is proportionate to the shed's size will help the space feel special and balanced.
Install electrical outlets and lighting fixtures to ensure you can read comfortably, even during darker hours. Consider soft, warm lighting to create a cozy atmosphere. LED bulbs are energy-efficient and offer good illumination. With electricity in place, you can even add a mini fridge, coffee pot, or electric kettle so you won't have to leave for a drink or a snack.
Add Your Personal Touch
Because this library is separate from the rest of the house, it is the perfect place to express your personality with some bold interior design choices. Don't be afraid to pick a funky rug, statement wallpaper, or a unique piece of art. Make the space your own, filled with mementos, family photos, artwork, or whatever makes you feel at home.
You can also organize your library in your own unique way. Don't worry about following the system most libraries might have; you can sort them by color, when you read them, how much you liked them, or any other categorization system if alphabetizing or sorting by genre isn't your preference.
Consider different storage options that make the most sense for your personality, your space, and the type or organization you want. You can install bookshelves or wall-mounted shelving units to store your book collection, or consider adjustable shelves to accommodate various book sizes. You can also add storage baskets or bins for magazines, blankets, or other reading materials.
Whatever your dreams for your personal library, we can help you design the shed that is best for your unique plans. Ready to get started on your shed today? Contact us any time.