Benefits of a Home Gym in Your Backyard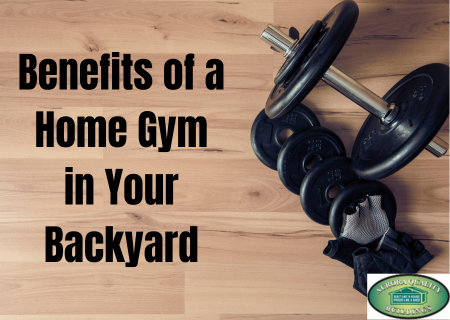 Some of our creative clients have taken our high quality garden sheds and transformed them into a custom home gym. Having a home gym in a backyard shed offers numerous benefits for individuals seeking convenience, privacy, and a dedicated space for fitness and well-being. If you want to talk to someone about designing a structure that would uniquely fit your property to become your home gym, contact us any time.
Still not sure if it's the right move? Consider these benefits of having a backyard gym.
1. Convenience and Accessibility
One of the primary benefits of a backyard shed gym is the convenience it provides. With a gym just steps away from your home, you eliminate the need for commuting to a fitness facility. This saves time and removes potential barriers, such as traffic or crowded gyms. You have the freedom to exercise whenever you want, fitting workouts into your schedule without constraints.
Many people find that this added convenience translates into more time sticking to their fitness goals. When you remove barriers like the commute, the crowds, and the discomfort of working out with strangers, you make it easier to stay on track.
2. Privacy
A home gym in a backyard shed offers the luxury of privacy. You can exercise without worrying about others watching or feeling self-conscious. This is particularly beneficial for individuals who prefer a more private and focused workout environment. With your own space, you can exercise freely, try new exercises, or play your favorite music without interruptions or distractions.
3. Customization
When you pay for a gym membership, chances are there are many features you do not ever use. A backyard shed gym allows for complete customization and personalization, so that you can maximize your efficient use of space and investment.
You can design the space to suit your fitness goals, preferences, and workout routines. Whether you prefer cardio equipment, strength training machines, free weights, or dedicated areas for yoga or stretching, you have the freedom to create a space tailored to your specific needs. You can also decorate the shed to create an inspiring and motivating atmosphere that helps you stay committed to your fitness journey.
4. Cost Savings
Investing in a home gym in a backyard shed can lead to long-term cost savings compared to a gym membership. While there may be an upfront investment in equipment and setting up the shed, you eliminate the recurring expenses associated with gym fees and travel costs. Over time, the savings can be significant, especially if multiple household members utilize the gym and you are currently used to paying for a high-end gym membership.
5. Hygiene
Did you know gyms are some of the dirtiest public places? Even with policies in place that require members to disinfect after use, these tend to be some of the top breeding ground for nasty bacteria and fungus.
A home gym in a backyard shed provides greater control over hygiene and cleanliness. You can establish your own cleanliness protocols and ensure that the equipment and space are regularly cleaned and sanitized to your standards. This is particularly important for individuals with sensitivities or concerns about using shared gym equipment.
6. Family and Community Engagement
A backyard shed gym can serve as a hub for family fitness and community engagement. It offers a space where family members can come together for workouts, promoting a healthy and active lifestyle for the whole household.
Additionally, you can invite friends or neighbors for group workouts or fitness challenges, fostering a sense of community and encouraging social connections. This is a unique way to blend entertaining and hospitality with your pursuit of health and wellness.
7. Work-Life Balance and Overall Wellness
Having a home gym contributes to overall wellness and work-life balance. It provides a dedicated space for exercise, promoting physical fitness, mental well-being, and stress reduction. With a gym in your backyard, you can easily incorporate exercise into your daily routine, creating a healthier lifestyle and better work-life balance.
8. Resale Value
Adding a well-designed home gym in a backyard shed can enhance the resale value of your property. Many homebuyers value the convenience and flexibility of having a gym on-site. A professionally finished shed gym can be seen as a desirable feature that sets your property apart, attracting potential buyers who prioritize health and fitness.
The key to making sure your shed adds value to your home is to place it on a poured foundation and avoid cutting any corners with your design.
Ready to learn more about ordering a custom shed for your home gym dreams? Contact us any time.