Turn Your Backyard Shed into an Epic Movie Theater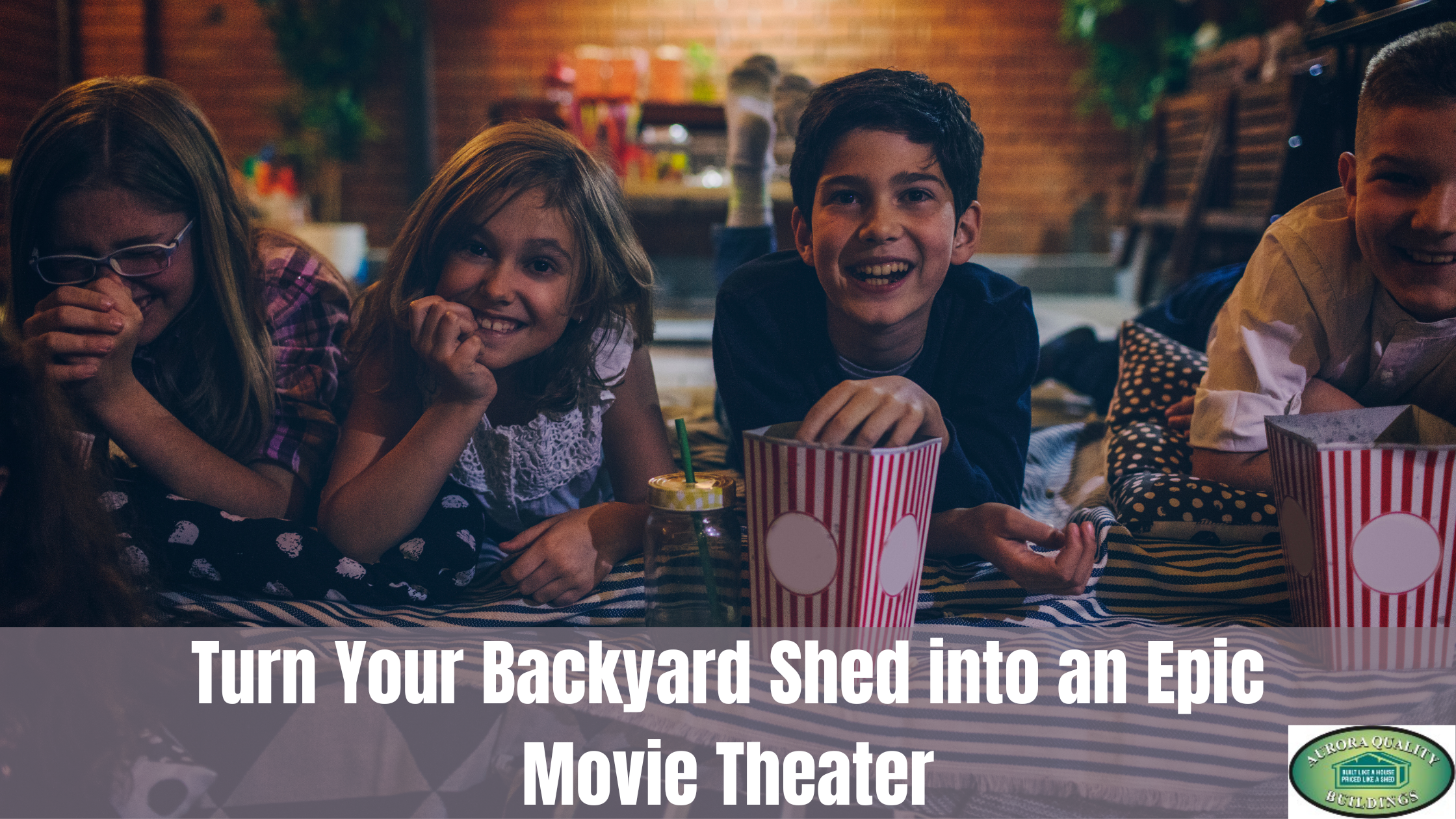 Have you ever dreamt of a backyard movie theater? Transforming your shed may be your ticket to the cinemas! One of the best ways to continue loving your home is to upgrade it along the way. If adding on to your home is not in the budget or doesn't work with your particular home, consider how you might add a shed in the backyard as an extra living or entertaining space.
A great way to do just that is to transform one of our mini cabins or garden sheds into a home theater. Set the space up to screen your favorite movies, creating a space that is fun for the whole family or can become the dream slumber party space for older kids.
To get started planning your backyard building, contact us any time. We can help you determine which structure would work best, choosing from a list of customization and upgrades to suit your budget, climate, and needs.
Looking for some backyard movie theater inspiration? Check out these ideas.
Make It Comfy
Every home theater should be comfortable enough to curl up for a while, or even fall asleep. Even in a small space like a backyard shed, you can prioritize comfort. Decide how many seats you would like to have to determine what type of seating works best. If you only need room for 2 to 4 people, traditional home theater seating like a plush recliner with cupholders might be able to fit with enough space to see the screen and move around.
On the other hand, if you would like to be able to host a bigger crowd, a small sectional or a few plush futons might be better. Consider adding a platform to elevate one of the rows of seating. Make sure to include plenty of throw pillows and blankets so you can really get cozy for the show.
Soundproofing
As your home theater is being constructed, consider added insulation or soundproofing to be considerate of neighbors. Depending on your proximity to neighboring homes, taking into account the location of the building on your property, this may be more or less of a concern. If you plan to install a high quality sound system for a true movie theater experience, soundproofing will be even more of a priority.
Check out this post to learn more about soundproofing your home theater.
Don't Forget the Movie Snacks
Don't forget the snacks round out the movie watching experience. Take your home theater to the next level by installing a kitchenette or snack station so you don't have to rely on the kitchen in the house. Since you will already be running power to the shed for the TV, projector, speakers, and other technology, it won't be hard to add a few extras like:
Microwave for popcorn or other snacks
Mini fridge with drinks and ice cream
Countertop ice maker
Coffee or hot chocolate machine, like a Keurig
Mount some baskets or shelves on the wall to store extra snacks. Individually packaged candies and chips will be best to avoid opened packages being left out too long and attracting pests.
Consider Your Climate
The climate you live in will determine some of the features you add to your backyard shed. We can incorporate extra ventilation if you live in a humid climate, or added insulation for extreme temperatures. You may also want to add fans or A/C units to make your movie theater comfortable in the summer, or upgrade it with a space heater or even radiant heat flooring for a cozy winter movie night.
To learn more or order your backyard movie theater today, contact us any time!